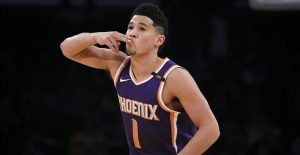 Urbandictionary.com is one of my favorite sites to visit on the internet. When I want the full essense of a word, I go there. It's like when I travel to another city. If I truly want to get a feel for the new place, I've got to go where the streets are not lined with Louis Vuitton stores and people are hovering their selfie sticks in the air. Anyone remember this scene from Boomerang? Ha! Still cracks me up. Anyways, dictionary.com defines booker as: (n) booking agent. Boring. Now, let's see what the urban site has to say. Booker: 1) In pro wrestling, basically he's the one running the show. 2) All around awesome person with unhuman skills a very badass person. 3) A half of a blunt removed of its inerts and replaced with "trees", smoked half way, and saved. 4) An offensive term for a US county sheriff. 5) A type of masturbation that involves…No! Why?! 6) A term used for denying previous sexual intercourse with another person. 7) A person that can run faster than the wind. I was familiar with three of those definitions. How about you? If you knew 5, then I don't know what to say. Good times? So, I titled this piece as "Devin is a Booker." He's not a booking agent. He's not a professional wrestler, but he does run the show. He seems like an all around awesome person. He does exhibit unhuman skills on the basketball court and he is a badass person. He is not a blunt, but he does catch on fire like one. He ain't no 5-0, but he did score over 50 once. I'll skip over 5. He's probably turning down ladies left and right. He does run pretty fast. And, his last name is Booker, so he's undeniably a Booker. With all that said, he made pops very proud last night as he went:
| | | | | | | | | |
| --- | --- | --- | --- | --- | --- | --- | --- | --- |
| PTS | REB | AST | STL | BLK | TOV | 3PT | FG | FT |
| 33 | 9 | 4 | 1 | 1 | 3 | 5/9 | 10/23 | 8/10 |
I'm not writing 300 words for a chump. We knew Booker could score, but he's pulling down a board a game more than last year and dishing out almost a dime more as well. The defensive stats remain the same, but he's still only 21 years old. If he can continue to harness the rest of his game, he could be a top 25 player. As it stands, top 40-50 player is a reasonable expectation.
Please, blog, may I have some more?