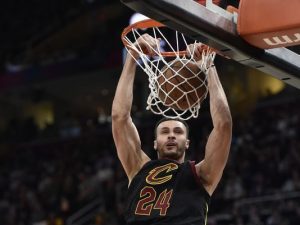 When I was growing up, I would always hear these words…..Be quiet…..Listen…..Don't cry…..Have no fear…..Don't worry…..It was as if everyone wanted me to be a robot. I get it. Being robotic brings many beneficial things, like efficiency, discipline, and the ability to perfect technical things that can be achieved through repetition. But I'm human. We are human. It is emotion that allows us to experience the full gamut of life. It is emotion that allows us to access realms of our brain that no robot can. It is emotion that allows us to feel, for better or for worse. Last night, I was both happy and sad when I watched Larry Nance Jr. get his first start for the Cavs.
| | | | | | | | | |
| --- | --- | --- | --- | --- | --- | --- | --- | --- |
| PTS | REB | AST | STL | BLK | TOV | 3PT | FG | FT |
| 22 | 15 | 1 | 2 | 0 | 0 | 0/1 | 9/15 | 4/5 |
He played 32 minutes, but it could have been a bigger night. Unfortunately, the Cavs blew out the Pistons, 112-90. I've been wanting to see Nance play the small ball 5 for both the Lakers and the Cavs. He can shoot from the perimeter J, grab boards, and play D. His basketball IQ is high, he's unselfish, and he plays his ass off. He is fleet of foot, able to switch multiple positions on D, and has the hops of a flea. A little undersized, but he makes up for it with all the things I just listed. As a Lakers fan, I was happy to see him ball out because he showed that ability in Los Angeles. As a Lakers fan, I was also sad because he is now in Cleveland. Now, Tristan Thompson did not play due to injury, but how can the Cavs not go with Nance going forward? Anyways, there's a perfect song from back in the day that filled me up with emotion and made me bob my head and made me wanna dance. Enjoy. Both the song and fantasy production that Nance will deliver.
Here's what else I saw last night:
Please, blog, may I have some more?