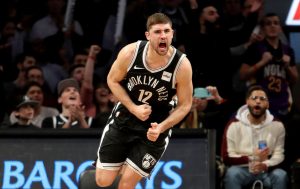 Average. Middle. Meh? I guess it all depends on perception. Someone born into poverty would be praised if he/she achieved average economic status. On the flip side, if you are a one-percenter, I assume that average would prompt seppuku. Average is often associated with boring. He/she was average in the sack. The higher above the line probably correlates well with intenstity of orgasm. For flip side? Supplant higher with lower. Why does average get such a bad rap? It ain't great, but it puts food on the table. It often gives 1.5 children and a white picket fence, if you are so inclined to have either. With that said, we are a "what have you done for me lately" society. We are all about celebrating the highs, while conveniently eschewing the trials and tribulations. Well, yesterday Joe Harris was not your Average Joe.
| | | | | | | | | |
| --- | --- | --- | --- | --- | --- | --- | --- | --- |
| PTS | REB | AST | STL | BLK | TOV | 3PT | FG | FT |
|  30 | 7 | 2 | 1 | 0 | 1 | 6/7 | 11/14 | 2/2 |
The CLE defense is atrocious, but let's not forget about the……REVENGE!!!! Harris was drafted by the Cavaliers back in 2014. He played two seasons there, never averaging more than 10 points or scoring 3 points a game. During the 2016 season, though, Joe underwent surgery on his foot and was traded to ORL a week later. Then he was immediately waived. BKN picked him up and the rest, as they say, is history. Two years with the Nets has produced…..wait for it (an homage to HIMYM)…..average results. This season, in particular, Joe is averaging 10.3 points, 3.3 boards, 1.5 dimes, and 1.8 downtowners in 25.1 minutes a game. He's scored double figures in 41 of 71 games played, but has not eclipsed the 20 point threshold once. Anyways, I clowned him earlier in the season, but Harris is no Average Joe, and the Nets don't think so either. Even with all the wing players that they have, Joe has been getting consistent playing time for most of the season. He can shoot and is able to drive strong to the rack and finish. An Average Joe on most nights, but yesterday, he was anything but.
Here's what else I saw yesterday:
Please, blog, may I have some more?