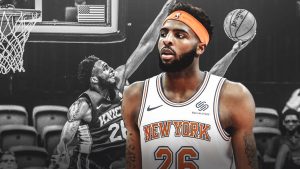 My wife grew up in Brooklyn, New York. More specifically, Bay Ridge. When I first met her, the neighborhood was primarily Italian. Now, it's mainly Chinese. Everytime I head out there, I enjoy exploring, whether it be on foot, subway, or car. If I take the D train down towards Coney Island, it's mainly Russian and Eastern European neighborhoods. If I drive a few miles north, the Orthodox Jews have laid down their roots. If I cross the bridge and enter Manhattan, Chinatown is right on the water front. But the landscape is always changing. Chinatown is now becoming hip with art gallerys and Trader Joe's. And so it is with the basketball team in New York. Not too long ago, Kristaps Porzingis was the King of New York. Now, he's in Dallas. But the vacuum has to be filled by someone. Welcome to Mister RobinSON's Neighborhood.
| | | | | | | | | |
| --- | --- | --- | --- | --- | --- | --- | --- | --- |
| PTS | REB | AST | STL | BLK | TOV | 3PT | FG | FT |
| 17 | 14 | 0 | 3 | 6 | 0 | 0 | 6/9 | 5/6 |
Mitchell RobinSON didn't come out of nowhere, as he dominated in high school and was a McDonald's All-American, but he did not play a game of college ball because he was suspended for violating team rules. At 7′ 1″ and 240 pounds, the physical talent was never questioned, yet he was an enigma and a risk because he did not play against college competition. As a result, he fell in the draft and was selected with the 36th overall pick. We saw what he could do in the Summer League, which would have gotten Mister Rogers to shout a few expletives. During the regular season, the minutes were sparse and erratic early on. He was blocked on the depth chart and he had a penchant for fouling. Despite that, Mr. RobinSON was among the league leaders in blocks per game. Then Enes Kanter got shipped off to Portland, DeAndre Jordan got hurt, and Coach Fizdale decided to give him more run. Over the past five games, Mr. RobinSON has been a top 15 player, averaging 24.6 minutes, 10.4 points, 10 boards, 1.4 steals, and 4.4 blocks! He's even shooting 70% from the line on 4 attempts. The past two games, Mr. RobinSON has played 30 and 33 minutes. Now, Fizdale has been doing wonky things all season with the rotations, so I wouldn't be surprised if he holds Mr. RobinSON down. The Knicks are "Not Tryin' for Zion" after all, so Mr. RobinSON may be too good for that campaign. There's also unknown as to how things will shake out when Jordan returns. Regardless, welcome to Mister Robinson's Neighborhood, as he's an important part of the community no matter how many minutes he gets.
Here's what else I saw last night:
Please, blog, may I have some more?