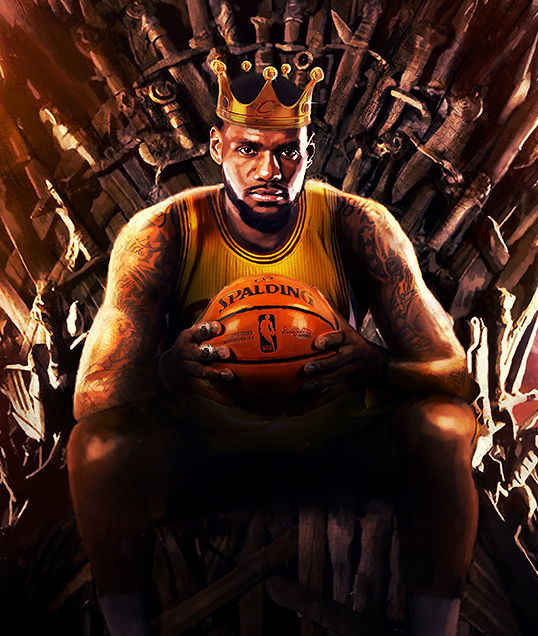 (Image courtesy of brandonspahn.com)
Two days ago, Ben "Fresh Prince" Simmons was the toast of the fantasy basketball world after posting his first career triple-dub. He got the title, picture, and intro paragraph for my nightly recap post. The amount written about him required six scrolls of the mouse. Now, my computer monitor is 12″ in height. I use Google Chrome, so the post without the ad at the top is nine inches in height. Each scroll of the mouse moves the page one inch. That sounds much more impressive than the 387 words I actually typed. Anyways, last night Lebron "King" James reminded us that he's still one of the best basketball players on the planet. You don't know how many times I clicked the back arrow. Is he the best or is he one of the best? I initially went with best, but eventually settled with one of the best because Lebron is not blemish-free and there are a couple of players that are in the vicinity. Anyways, 29 points, 10 boards, 13 dimes, and four blocks in 41 minutes of run last night. He shot 12-for-20 from the field and 1-for-2 from downtown. This came against the Brooklyn Nets and he did turn the ball over eight times, though. In addition, 4-for-8 from the charity stripe. Whatever.
Any excuse to post some Run DMC. Now, Lebron may be in store for an epic, epic fantasy season. Key word being may. It's early in the season, but the Cavs may not waltz through the Eastern Conference this year. Look at the roster. Outside of Kevin Love, who's getting buckets? Jeff Green? Dwayne Wade and Derrick Rose? They will contribute in spurts but can they be counted on consistently? The Cavs just lost to the Nets in a game Lebron went HAM. Granted, it was on a back-to-back. Cavs are now 0-2 on back-to-backs by the way. That just makes the probability of Lebron going bonkers this season even higher. We all know he's gone after this season. At least I know. This will be Lebron's Last Stand. On a side note, why is Lieutenant Colonel George Armstrong Custer of Custer's Last Stand so revered and famous? Didn't he and his men get slaughtered? The FT% will hold Lebron back in fantasy, but the counting stats could be of epic proportions.
Sorry for the long intro paragraph. I just wanted to make sure it was 388 words long.
Please, blog, may I have some more?