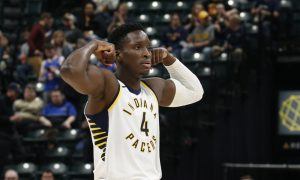 In all walks of life, we yearn for predictability. How long will the commute take? Is it going to rain tomorrow? Will the Big One occur tomorrow (I live in Cali)? What if we could predict the stats for every player on a nightly basis? That would be a good thing, right? Ever do a fantasy draft in NBA 2K or Madden against the computer? How about a fantasy basketball mock draft against the AI? What if your significant other did the exact same routine under the sheets every single time? Life would get boring and mundane. Imagine a world with no surprises. Imagine a world with no highs and lows. Just a living flat line. Fantasy sports would become an efficient market with everyone valuing players the same. I bring all this up because Victor Oladipo's career has been anything but predictable. Selected by the Orlando Magic with the second overall pick in the 2013 NBA Draft, greatness was expected. And why not? At 6' 4″ 210 pounds with a 42″ vertical jump, Oladipo had the physcial tools. Judging from his production at Indiana University, he also had the skills. But then life happened. After three seasons in Orlando, the team traded him to Oklahoma City. After one season in OKC, he was shipped off to Indiana for Paul George. Maybe he wasn't ready. Maybe he didn't gel with his teammates. There are so many factors to consider, but one thing is certain: He's found a home with the Pacers. Oladipo is scoring almost eight more points than last year on four more shot attempts, the shooting percentage has increased substantially (from both the suburbs and downtown), the rebounds are up, assists are up, steals are up, and blocks are up. I guess I could've just said every statistical category has improved, but I like the dramatic effect of spelling everything out. He's the 14th overall player right now!!! Anyways, yesterday against the Nuggets, Oladipo played 45 minutes in an OT game and went:
| | | | | | | | | |
| --- | --- | --- | --- | --- | --- | --- | --- | --- |
| PTS | REB | AST | STL | BLK | TOV | 3PT | FG | FT |
|  47 | 7 | 6 | 2 | 1 | 4 | 6/12 | 15/28 | 11/13 |
Oladipo Ho! Oladipo Ho! Oladipo Ho!
Here's what else I saw yesterday:
Please, blog, may I have some more?