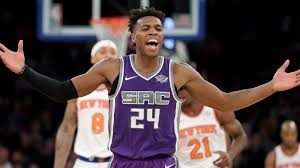 Back in the 80's, Hasbro came out with My Buddy, a doll marketed for boys to teach them about caring for their friends. It was controversial at the time because dolls were traditionally for girls. Yep, took until the 80's. Anyways, there were two things that always stuck with me regarding My Buddy. First, the catchy commercial song. Second, the fact that My Buddy eventually morphed into Chucky from Child's Play. In a way, it perfectly captures the duality of the world, which segues perfectly to Buddy Hield of the Sacramento Kings. Selected with the sixth overall pick in the 2016 NBA Draft, big things were expected from the guard out of Oklahoma. Even bigger things were expected a year later when he was a fundamental piece in the trade for DeMarcus Cousins. Vivek Ranadive, owner of the Kings, said, "Buddy Hield has Steph Curry potential." As my momma always told me, "potential don't mean shit." Buddy had some ugly shooting performances: 1-for-10, 2-for-10, etc. As a result, he was allotted 30 or more minutes in a game just twice. Every time he sucked, we threw him into the proverbial trash and eradicated him from our memories. But….he kept resurrecting. Just like Chucky. Last night in Philly, Buddy helped the Kings best the 76ers 101-95. Buddy went:
| | | | | | | | | |
| --- | --- | --- | --- | --- | --- | --- | --- | --- |
| PTS | REB | AST | STL | BLK | TOV | 3PT | FG | FT |
|  24 | 5 | 2 | 3 | 0 | 3 | 3/9 | 9/19 | 3/3 |
Until I see the Kings actually commit to Buddy, I'm hesitant to trust him. He can get hot, for extended stretches of time, but he will just end up disappointing you. Then you will throw him in the trash and the circle of life will resume once again.
Here's what else I saw last night:
Please, blog, may I have some more?