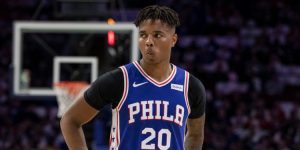 Man…I really feel for Markelle Fultz. He was the #24 recruit out of high school and received scholarships from over 20 colleges, participated in the McDonald's All-American Game, was a member of the Team USA Under-18 squad, First-Team All-Pac-12 and Third-Team All-American in college, and was selected with the first overall pick in the 2017 NBA Draft. On top of the world, as they say, at the tender age of 19 years old. But then the yips surfaced. "The condition occurs suddenly and without apparent explanation…It is poorly understood and has no known treatment or therapy. Athletes affected by the yips sometimes recover their ability, which may require a change in technique. Many are forced to abandon their sport at the highest level." The most well-known athletes to succumb to the yips are Chuck Knoblauch, Nick Anderson, Mike Vanderjagt, and Rick Ankiel. Is Fultz about to join them?
It's looking likely, as TheAthletic wrote an article yesterday saying that Fultz is dealing with wrist and shoulder issues AND would prefer to move to another team. I've been a mental midget at times in my life and have dealt with depression as well, so I empathize but understand some of the realities of the shituation. I was able to hunker down in my cave and deal with my demons, but he's in the public sphere with everyone all up in his business. The pressure and attention must be debilitating. I feel for you Fultz and wish the best.
This is a fantasy website, though, so I must address the implications from a fantasy perspective. The Fultz stops here. Do not use the Fultz, as the issues seems to be mental. He took an entire season off to deal with it, yet it's only gotten worse. If he's having trouble with this, imagine Draymond Green yapping about the yips in his ear. He's a drop in most formats. I guess in the deepest of leagues, you could stash him as a lottery ticket, but that's about it.
Did the Boston Celtics sabotage him? I guess the most important thing to take away from all of this is that one should always be cynical when a team is willing to pass on the consensus number one overall pick in the draft.
Here's what else I saw last night:
Please, blog, may I have some more?