Although kinda late due to the fact it's a Wednesday column, I wish to all you Razzball readers a Happy New Year! May all your wishes come true and your fantasy teams win it all this year. Except if you play in one of the leagues I also play…. If you do, I wish a happy Second Place and a great drafting position for next year's draft.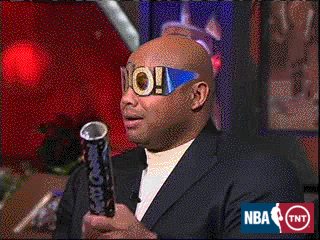 Imagine an extra circle above the last zero in Chuck's glasses because I lack the Photoshop skills to put it there myself and let's review last week's calls. Both Ish Smith and Bismack Biyombo have been on fire since getting the starting job, with Biyombo especially returning top 25 value during these games making me very happy for the calls. They were in fact so much on fire as Vangelis Ioannou, a Greek sportcaster, suggests in the video.
Jaycee Carroll's face says it all…I admit we Greeks are not world-renowned for our English pronunciation skills. Moving on, Jordan Bell and Willie Cauley-Stein were also productive and look to maintain their value going forward. Finally on the sell front, Jonathon Simmons has seen his usage decline and has taken a backseat to Aaron Gordon and Evan Fournier, while Dirk Nowitzki was solid but I still stand by my advice to sell. Let's take a look at this week's candidates now…
Please, blog, may I have some more?