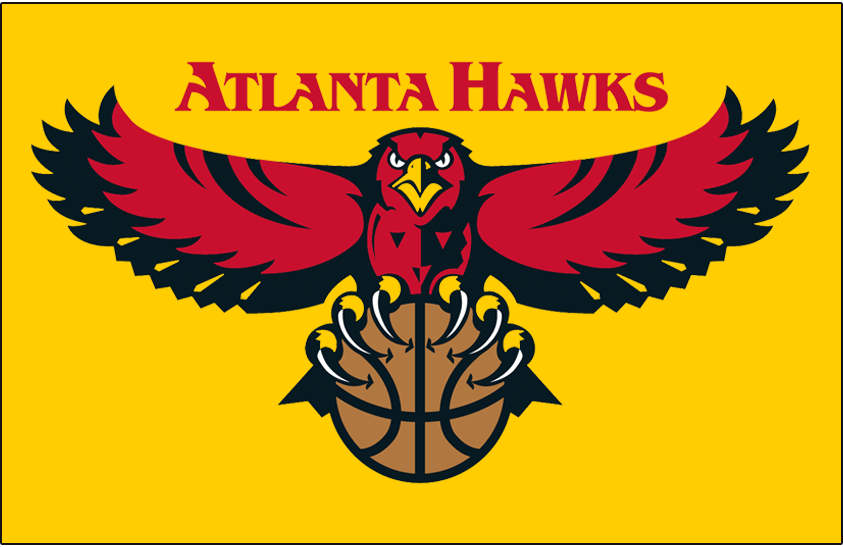 2019-20 Season Preview
2018-19 Record: 29-53
Key Acquisitions
De'Andre Hunter
Cam Reddish
Evan Turner
Damian Jones
Bruno Fernando
Allen Crabbe
Jabari Parker
Chandler Parsons
Key Losses
Kent Bazemore
Taurean Prince
Dewayne Dedmon
Miles Plumlee
Vince Carter
Outlook
The Hawks won 29 games last year, but were a much tougher opponent in the second half. 29-53 is 12 games under .500, but the Hawks were only three games under .500 over the last 41. That was due to the young'uns getting better as the season progressed. The Hawks brain trust is optimistic the growth spurt continues, as they have added even more youth to the mix.
De'Andre Hunter's Final Four heroics moved him up the draft board, and the Hawks paid a ransom to acquire him, but leadership has earned the benefit of the doubt. Their picks, combined with the teaching style of coach Lloyd Pierce and his staff, have drawn visible dividends, but will the expected leaps turn into hops? Not paying Dewayne Dedmon, when they could afford to, may hurt more than they realize.
Most projections have the Hawks winning 30-ish games. That may be conservative, but I expect a minor flirtation with .500 and another round of ping pong balls, as youth continues to mature.
Point Guard
I was dead wrong about Trae Young. Yes, I know it happens from time to time. I considered him too slight of build, turnover prone, undisciplined in shot selection, and a turnstile at the defensive end. That seemed about three too many stumbling blocks. Not only did he survive, but in the second half he thrived, confidently led his team, took big shots, and legitimately pushed Luka Doncic for Rookie of the Year. In every facet, he improved as the season went on. Expect 22+PPG, 9 APG, 4 RPG, 3 3PT, with a steal and a passel of FT's. He is a creative passer who makes things easier for his teammates. His youth makes him even more valuable in dynasty leagues.
Evan Turner was swapped with Kent Bazemore to back up Trae at the point, and provide a bigger defender when Trae gets picked on. Unless in a deeper league, leave Evan alone. Should a calamity hit Mr. Young, Turner's value gets a significant bump up. The Hawks tried to use DeAndre Bembry as a secondary ball handler, but the turnovers, a bugaboo for the young squad, were just too much for Coach Lloyd Pierce to bear.
Shooting Guard
Kevin Huerter is not Klay Thompson, so all the talk about Warriors East that emanates from the mouth of Travis Schlenk can stop. Despite his angelic looks, Huerter is a sniper from the perimeter. Similar to Young, he played better and smarter in the latter portion of the season. His long range stroke is a very nice complement and again, while not Klay, he is long enough and works hard enough on defense to hold his own. He averaged 11 PPG, 2 3's, 3 rebounds, 3 assists, and a steal in the second half. I would expect a slight uptick this season.
DeAndre' Bembry played 82 games last year and showed flashes, but the logjam at the wings make him fantasy irrelevant.
Cam Reddish will get every chance to show he can be more efficient and consistent than at Duke. He landed in a good situation, where he is not counted on for gigantic production early. His stroke is smoother than what we have seen and, once he gets used to the longer distance, he should be a productive player. Don't overpay for his services. Sit back and wait to see how he develops.
Small Forward
De'Andre Hunter will start at small forward, since both Taurean Prince and Kent Bazemore were traded away, and the Hawks gave up a ton of assets to acquire him. The University of Virginia basketball team is known for their defensive prowess, due to Tony Bennett's system. Hunter is being billed as a prime 3-and-D, mostly D player, but I have a few reservations. UVA players always look strong defensively in that scheme, so De'Andre will have to show me that he is not just a product of the scheme. It wasn't that long ago the Hawks picked a long, lean defensive stopper in the first round, who was destined to be the defensive linchpin for the team. Taurean Prince is now with the Nets. Hunter and Reddish have all the physical size and athletic tools to be a lethal wing combination, but expecting more from Hunter than we saw from both Mikal and Miles Bridges last year, who came out with the same sort of pedigree, is a reach. Use their rookie numbers as sort of a guide and then add a pinch more since Hunter should start from day 1.
Allen Crabbe will soak up minutes here and at SG, providing long-distance marksmanship, but he has an expiring contract, so is not a part of the long-term outlook.
Power Forward
John Collins is a walking double-double, and he and Huerter are proof that quality contributors can be found outside the lottery. I am thinking an All-Star campaign here for Collins with 20 PPG and 10 RPG, sound percentages, an improvement in 3-point efficiency, and a SD camera card full of highlight dunks from Trae Young pick-and-rolls. You will have to pay for Collins, but the consistency will make you happy.
Jabari Parker gets a fourth second-chance to show he is worthy of being the no. 2 pick of the 2014 NBA draft, but he has to have Vinnie Johnson-esque scoring spurts to offset his lack of rebounding and defense. Expect the Hawks to work on the latter areas, while trying to showcase his scoring ability as a second team playmaker. Hopefully it finally clicks for Parker. We put Dickensian-sized great expectations on these one-and-done players, as if at age 19 they should have it all figured out. Jabari is only 24, so I am hoping he can still become a more complete player. My recommendation, though, is to let another owner take the leap of faith.
That whole 2014 class has been a Harvard Business case in unrealized potential. Joel Embiid, if he can stay healthy, may be the exception, but Andrew Wiggins, Elfrid Payton, Aaron Gordon, Nik Stauskas, Dante Exum, and Noah Vonleh were all in the top 10 that year, and none have fulfilled the potential.
The Hawks parted with Solomon Hill, who came over in the draft day deal with the Pelicans, and Miles Plumlee, who were both overpaid, and received back Chandler Parsons, who is extremely overpaid. Not his fault, though, as injuries derailed his career. How nice a story it would be if Parsons could provide meaningful minutes.
The Hawks saved a spot for Uncle Vince Carter, who played well in small doses as a small-ball 4, but drafting Hunter and adding Parker means those minutes will be sparse. Vince provides locker room leadership and will help teach the youngsters how to take care of their bodies and which clubs to stay away from on the road.
Collins is the only draftable option, although you could take a late-round flyer on Parker, hoping for some microwave spurts.
Center
Alex Len and Dewayne Dedmon were a productive tag team at the center position last year. Len now gets a starting gig, could play 30 minutes, and provide solid numbers. Last season, Len averaged 11.1 PPG and 5.5 RPG, a block, and a three while splitting time with Dedmon, so expect an improvement on those numbers with his improved 3-point accuracy and confidence.
Damian Jones was acquired from Golden State for Omari Spellman and will fight second-rounder Bruno Fernando for backup minutes. Jones started for the Warriors before succumbing to injury, but everyone knew he was just keeping the position warm for when Boogie returned. Bruno is raw, but the Hawks really believe in him, as they moved up in the second round to draft him. Stash him in dynasty leagues.