As I steadily stood fast next to Stephen Curry as my #1 player, I was reminded of Triumph the Insult Comic Dog Friday night.  With all that Lakers yellow and Curry missing all his treys, I was like "somehow that song Yellow, makes me want to pee!  I think because when it's over, it's a big relief to me!"
This is why you don't panic on shooters, even if they're the most elite players in the land.  Unlike your big man studs, they're going to have more peaks and valleys.  We didn't really see much of that inconsistency last year, but we got about the most epic cold-then-hot consecutive games we've ever seen.  After snapping his 3PTM streak at 157 games going 0-10 Friday, Curry comes out and BREAKS THE NBA RECORD FOR 3s LAST NIGHT!  WTF IS THAT?!
46/5/5/2/0 on 16-26 shooting, including 13-17 from downtown.  Crazy talk.  Dudes in the 3-point contest don't even shoot that well!  And it's almost kinda sad that the Warriors NEEDED that kind of output, only beating the lowly – now 0-7 – Pelicans by 10.  Curry is suddenly at 47.7% from the field with 4.6 treys a game: my argument for him #1 – FG% mixed with league-best 3s.  While the rest of his numbers are down a tiny bit, the last 3 games he's at 7.7 AST and 2.0 STL.  So those are coming around as well.  I only had one RCL with a top-7 pick, thankfully in the Slim vs. JB League, where I was able to nab him #2 and I'm still thrilled about it.  This game was a big relief to me too!  Here's what else went down last night in fantasy basketball:
Derrick Favors – Well, it looks like this knee thing is behind him, going 16/14/1/1/3 on 6-11 shooting last night, on the second leg of a back-to-back.  Cure for anyone off injury – play the Sixers!
Gordon Hayward – Spread out the stats a little better after his debut, going 20/7/5/1/0.  Looking good after his finger bone had a hard part!
George Hill – Sat with a sprained thumb.  He said he was unconcerned after Sunday's win, so this was likely a precautionary "we're playing the Sixers" DNP.  Shelvin Mack got the start, and was a meh 8/0/5/2/0.
Robert Covington – Bringing that 17% FG% up!  12/8/1 with no TO on 4-5 shooting (3-4 3PTM).  Wait a minute, when your ice cold shooter who you want to be your wing of the future is finally hot, you give him 5 shots?!  EMBIIIIIID might need to take some of his raging hard usage and try to distribute (ew).
Dario Saric – Had a couple nice games, but still just looks like "a guy" to me.  Back to back duds, giving him 4 absolutely unusable games out of his 6.  I think they should've been developing Jerami Grant as their SF of the future.
Jahlil Okafor – Had some pretty nice dunks, taking it right at Monsieur Elbow!  Although both could've been offensive fouls…
Watch that off arm, Oke!  Gus Ayonin'!  Nice 15/4/2/0/1 line on 7-14 shooting, the 14 shots leading the team.  This team continues to be in absolute disarray.
Ryan Anderson – Also feeling the Curry hot-stroke love, hitting 5 treys in a 23/7/2/1/0 line.  Suddenly the Houston D'Antonis are over .500!
Clint Capela – A sight for sore eyes, going 14/6/0/1/4 on 7-10 shooting in 27 minutes.  Only had 5 blocks through the first 6 games in a mad slow start.  I held strong on my FT punt team and it paid off, but he really is only worth owning in 12ers for the true FT punt squads.  0-2 FT in this one, putting him at 2-13 (15.4%) on the year.  Wow.
Otto Porter – Ol' Otto leading the Wiz in minutes, going 20/8/2/3/1 with no TO on 6-13 shooting with 2 treys and 6-6 FT.  That's beyond just metrics-whoredom, that's friggin' awesome!  It's been pretty up and down though – he had no 3s in his first 4 games, had 3 assists total in his first 5, and was 2-3 FT TOTAL before this game.  I'd sell high, as his metrics-ranking is now absurd thus far (33rd on Yahoo).
John Wall – Eject-a-mundo.  Got two techs and bumped an official, which could spell a suspension.  Even though he doesn't do much, super deep leagues might want to keep a keen eye on this to stream Tomas Satoransky tomorrow again Boston if you have an open spot.
Spencer Hawes – With Roy Hibbert still ailing on a bad knee, Hawes went 13/13/1/2/0 with a trey off the pine.  He won't be uber-consistent, but is playing almost 20 minutes a night with a decent line – deep leaguers could do worse.
Michael Kidd-Gilchrist – Was balling and leading the Hornets in scoring before exiting with a back injury in the 2nd quarter.  13/1/1/1/1 with no TO in 18:30 on 4-4 FG and 5-5 FT, and he came out for a few minutes in the second half.  But with the Hornets up big, he sat down the finish.  Sounds minor, but keep an eye on it.  I still think he is must-own in 12ers.
Kemba Walker – 24/2/10/2/1 on 7-11 shooting with 5-6 treys.  Yeah, in 25 minutes.  Wow.
C.J. Miles – The only Pacer who showed up, going 23/4/0/1/0 with 5 treys in his typical ThrAGNOF line.  While this hot, he's a must-own ThrAGNOF for sure!  His 23 points nearly doubled the next highest Pacers scorer (two with 12).
Taj Gibson – This Bulls/Magic game sucked on all levels.  Taj was decent going 16/11/3, Rolo was the worst player in basketball going 8/7/0/0/1, anddddd…?  Nikola Mirotic didn't hit 3s so he had a bad game.  Yawn.
Elfrid Payton – Ugh.  4/0/6/1/1 – at least he gave you a steal and a block – and shot 2-3 from the field with no FT, so no %-killing!  Yay!
Serge Ibaka – The trajectory keeps going down, but at least gave you a full 7/7/3/1/2 line with a trey last night.  This was a blowout the whole way, so his 25-and-a-half minutes after getting benched the game before I don't think is a harbinger of things to come.
Bismack Biyombo – Multi-blocks in 3 straight now, going 2/7/1/0/2 in this atrocious game.  Turning into the blocks streamer we were expecting.
Steven Adams – While I may have unjustly questioned the blocks, when Dion Waiters just gives you a cupcake, you THROW IT ON THE GROUND!
6/6/0/3/2, but another 2 TO…  Not awful, but wish we could see those dry up.  If you look close, you'll see Adams hot his hand taped up in this one, which may have limited him a bit.  He apparently just "banged his thumb", so for Adams, the South Park song would be "thumbbang".
Domantas Sabonis – I was rather harsh on his game through preseason and the first few games of the year, but I watched most of this game and he looked pretty damn good.  15/10/1/0/0 with 4 treys; he's not going to get many D stats, but if he can step out for 3s and bail out Russell Westbrook on some drives, then he'll make his bacon.
Victor Oladipo – After OKC took off in the 3rd quarter, Oladipo got a lot of junk time PG burn down the stretch.  What did he do with it?!  17/2/2/0/0.  Ugh.  At least he shot 6-9, but man he's just not creating…
Justise Winslow – I think you still hold through this shooting funk, but he airballed a 3 and looked more labradoodle-ish than Gordon Hayward!  2-13 FG, but it'll get better.  Every other part of his game looks great to me.  But I guess shooting a basketball is semi-important…
Hassan Whiteside – 5/12/0/1/2 on 2-8 shooting.  #AdamsD!
James Johnson – Got a lot of extra burn off the bench, going 18/6/1/1/2.  Huzzah for an REL $0 FAAB bid!  Looked really friggin' good too, at least 3-4 of his misses (5-12 shooting) were post plays or layups that barely rimmed out.  Not like he was Winslow-ing it!  7-7 FT was nice too, giving him a small sample 12-12 on the year after shooting 57.4% from the stripe last year.  Not enough consistency in standard leagues, but he needs to be owned in deepers.
Terrence Jones – Yeesh.  See, this is why I couldn't bring myself to fall in love with him again like last year.  15 minutes of "AHHHHHHHarghargharghARGOF%&KYOURSELF!"  4/1/0/1/0 with 3 TO.  15 minutes from a beacon of hope for your 0-7 Pels.  Yikes.
Tim Frazier – This is the sell-high you're looking for.  13/4/10/2/0 on 5-11 shooting, nabbing a dimebag as he's about to cede major minutes to Jrue Holiday.  That said, if you're in a deeper league, I think Frazier is still going to have a role.  So if you can't get anything for him in like a deep 14er or beyond, I would just hold.  Not like Jrue is a stallion of health, and c'mon, it's the Pelicans medical staff…
Kevin Durant – 22/3/5/1/1 on 8-17 shooting.  Pretty solid, but this was obviously the Curry show.
Klay Thompson – Found his stroke!  24/4/1/3/0 with a couple of treys on 11-20 shooting for his best or second best line on the season.  The commonality with the 28/2/4/2/0 line he had on Oct 28?  Both against the Pelicans.  The Klay remedy!  Although each of the big 3 have good games and they only beat the Pels by 10 in a game that shouldn't have been this close…  Interesting…
Kentavious Caldwell-Pope – My addiction fell to a Requiem For A Dream low last night…  0-6 FG, 1-3 FT (what in the world?!), 1/1/0/0/0.  The Pistons as a whole looked absolutely off last night, falling behind 62-32 at half.  Ouch.
Jon Leuer – Another blowout means more Leuer run, going 14/6/2/0/0 with a trey in 28-and-a-half minutes.  I've seen him atop some most-added lists, but I'm not buying this for a second for standard leagues.  He's a nice deep-league play when he's getting run – I like him as a player – but the 1.0 BLK he's averaging and 26:48 MPG both seem mad high right now.  Take a look at the Pistons scores thus far.  They've been in one close game – the 101-109 loss to the Nets, where they were actually down 71-55 at half.  The next closest score was a 13 point win at NY.
J.J. Redick – 20/1/0/0/0 with 3 treys.  ThrAGNOF!  It would make my life if he tattooed that on his arm rather than the goth gargoyle he's rocking right now.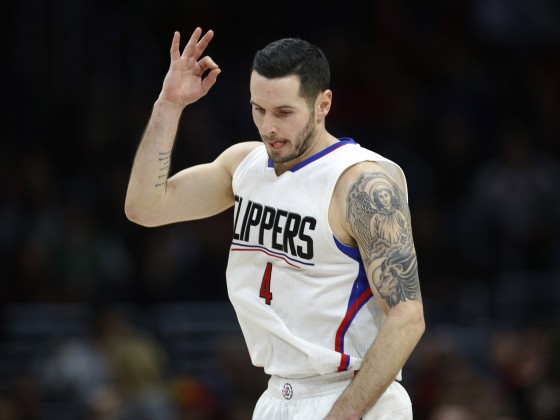 Raymond Felton – This happened last year too!  The weirdest source of a rainbow line!  10/4/3/2/2 on 3-5 FG (1-1 3PTM 3-4 FT).  He's actually turned into a plus plus reserve player after the whole being fat and owning guns in New York thing…
I hope everyone had a great start to their week 3, and I'll catch you on Thursday morning for my next Daily Notes!