It's only appropriate that Halloween looms around the corner because the Charlotte Hornets are officially spooky; fantasy wise. Rising talent? Check. Shiny new first round draft picks? Check. Scary Terry? Check, check, check.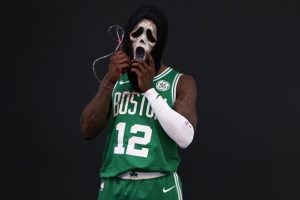 Photo Credit: Maddie Meyer/Getty Images
The Hornets will be gunning for a late playoff position to give their young guys some playoff experience and, while it's uncertain whether they'll get there in a loaded Eastern Conference, player development is at the forefront of their priorities. 
We have to be intrigued about this team's fantasy prospects this season. But why? 
They finished 10th in the East last season! 
Miles Bridges is probably not even playing this year! (rightfully so) 
Steve Clifford said their starting center is Mason Plumlee! 
Gordon Hayward has played over 55 games just once in the past five seasons! 
The Hornets were 6th in offensive pace last season. They're a young team and LaMelo Ball is a force on the fast break and can easily find guys running the floor. What does pace mean for fantasy? Value, baby. Ball's ascension to NBA stardom is also a big part of the equation. Last season, he comfortably hovered in the top-ten range on a per-game basis for a large part of the season before ultimately finishing 21st. The dude is a highlight reel with the full offensive package: cross-court dimes, no-look alley oops, snappy crossovers, questionable pull-up bombs. Ball is consistently going in the back end of the first round of fantasy drafts, setting managers up for a strong punt FG% or block team with decent points and volume assists and triples. 
There may also be a needle in the rotational haystack named Mark Williams, the 15th overall pick in the draft, who is somehow third on the center depth chart behind Mason Plumlee and Nick Richards. At the moment, we're all befuddled at Clifford's decision to start Plumlee because he doesn't exactly fix the Hornet's rim presence issues. Last season they were 20th in points allowed at the rim; why not give your first round pick, a seven footer who averaged 2.8 BPG at Kentucky, a chance to plug that defensive hole? Regardless, Plumlee should have fantasy relevance if he sees more than 25 minutes per game due to his strong FG%, rebounds, and his ability to dime from the center position. Probably only worth a flier if you're punting FT%, though. 
And boy, am I high on Terry Rozier this season. Scary Terry is turning 29 this season and was the 30th ranked player last season on BasketballMonster, and I'm actually expecting a jump with the usage left behind by Miles Bridges (22.6%). There are a ton of shots to go around and he boasts a balanced fantasy profile with strong points, threes, steals, FT% with low turnovers and decent assists. Fun fact: before LaMelo Ball arrived in Charlotte, 32% (2-pointers) and 81% (3-pointers) of Rozier's shots were assisted; after LaMelo Ball arrived in Charlotte, 44% (2-pointers) and 84% (3-pointers) of Rozier's shots were assisted. Regardless, Rozier's ADP in the 50-60 range looks to be an absolute bargain.
Depth Chart:
It'll be interesting to monitor how Gordon Hayward fits into the picture here. His ADP of 111 on Yahoo! is actually solid value for the upside that Hayward can offer, but this low price factors in generally low confidence regarding his health. If he's healthy, he has mid-round upside and will help the Hornets secure a playoff position. 
P.J. Washington's close enough to the 1/1/1 club (one three, one steal, one block) where I can consider him a member. At 6' 7″ he's actually a bit undersized for a PF but he'll get good minutes and will absolutely be a top-100 guy this season. His Yahoo ADP of 103 feels pretty accurate, and there's some room for upside as well. Maybe he beats his ADP by 20 spots or so if we're optimistic. 
James Bouknight is a shiny piece. As the 11th overall pick of this year's draft, I'm not too high on his playing time this season due to the numerous guards ahead of him on the pecking order, but the Hornets would be stupid to not give him minutes. He may see around 20 minutes per game with the second unit and probably won't be fantasy relevant barring some streaming opportunities while Rozier or Ball are out.
While this team may not be a contender, they are exciting because of such interesting questions we have surrounding their roster: How high is Ball's ceiling? How high is Rozier's ceiling? Who's going to take over the starting center spot? What happens with Miles Bridges? Why is Clifford starting Mason Plumlee?