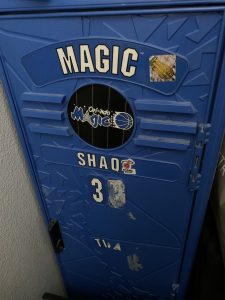 Yes, the 1995 Magic with Shaq, Penny, 3D, Nick Anderson, and Ho Grant were my favorite team as a kid. Yes, I still have the Magic locker in my house that I got in 1995. Oh, and yes, I am currently rocking a NBA Jam shirt with Shaq and Penny on it.  Unfortunately, those guys are all retired and while some call Orlando the happiest place on earth the Magic were a pretty sad team in 2020-21. They struggled with injuries starting with Jonathan Issac who didn't play a single game. Starter Markel Fultz played only eight games before tearing his ACL, and regular rotation guys Cole Anthony, Michael Carter-Williams, and Terrence Ross played a combined total of 126 out of a possible 216 games. The Magic finished last in FG%, 26th in 3PM,  28th in assists, and they traded two-time All-Star Nikola Vučević to Chicago at the deadline. All this led to a 21-51 record and a resignation from head coach Steve Clifford.
The Magic were a bad team but a bad team can have some great fantasy value. Orlando played with fewer than 10 guys multiple times and a few games with the minimum allowed of eight. That translated to major minutes, big usage bumps, and a lot of value. Magic players became regular DFS chalk due to their high projected minutes and low price tags. Guys like Mo Bamba and RJ Hampton averaged 33 and 31.7 fantasy points per game over the last 10 of the season. They were a fun team to watch for a few games.
How will they do in 2021-22? Let's take a look.
Head Coach:
Jamahl Mosley (1st season as head coach)
Key additions:
Jalen Suggs, G – 5th pick in the draft, 14.4 points, 5.3 rebounds, 1.9 steals, and 4.5 assists per game at Gonzaga
Franz Wagner, F – 8th pick in the draft, 12.5 points, 6.5 rebounds, and 3 assists per game at Michigan
Robin Lopez, C – Free agent, 9 points, 3.8 rebounds, in 19 minutes per game last season with Washington
Jonathan Isaac, F – Returning from ACL surgery, 11.9 points, 6.8 rebounds, and 1.4 assists per game during the 2019-20 season
Projected depth chart: 
| | | | | |
| --- | --- | --- | --- | --- |
| PG | SG | SF | PF | C |
| M. Fultz* | J. Suggs | T. Ross | C. Okeke | W. Carter Jr |
| C. Anthony | RJ Hampton | J. Isaac* | F. Wagner | M. Bamba |
| E. Moore | G. Harris | M. Carter-Williams | M. Wagner | R. Lopez |
Fultz and Isaac will return from ACL injuries at some point, but we don't know when. A rookie (Suggs) will start at SG. Carter Jr, who finished 58th in defensive win shares among qualified players will start at center and there's a rookie head coach. This team is in full rebuild mode and it's going to be a while before any magic happens.
2021-22 prediction: 22-60, 15th in the East
Fantasy Outlook/Guys I'm targeting in rotisserie drafts: 
J. Suggs (90), Mo Bamba (120), T. Ross (167), C. Anthony (190)
I like Jalen Suggs as he'll get big minutes and likely a high usage rate but that will come with a low shooting %. Mo Bamba averaged 1.3 blocks in just 15.8 minutes per game last season.  He's only 23 years old and entering his fourth season as a pro. I anticipate ~25 minutes per game this year giving his block rate a very high ceiling. Terrence Ross is a solid scorer and will hit a ton of 3s as he's averaged 2.4 makes on 6.6 attempts over the last three seasons. Finally, Cole Anthony is entering his second season and averaged 12.9 points and 4.1 assists per game in his rookie campaign. With more experience and a few more minutes, he has the talent to bump his numbers to 15 points and six assists this year, making him a nice late-round value.
I hope Orlando limits the amount of times the city pride uniforms are worn because that orange color just doesn't work for me. Thanks for reading and I'll see you guys every Thursday for DFS analysis and advice right here on Razz!
– Cousin Timmy
@Lefthandlayup on Twitter