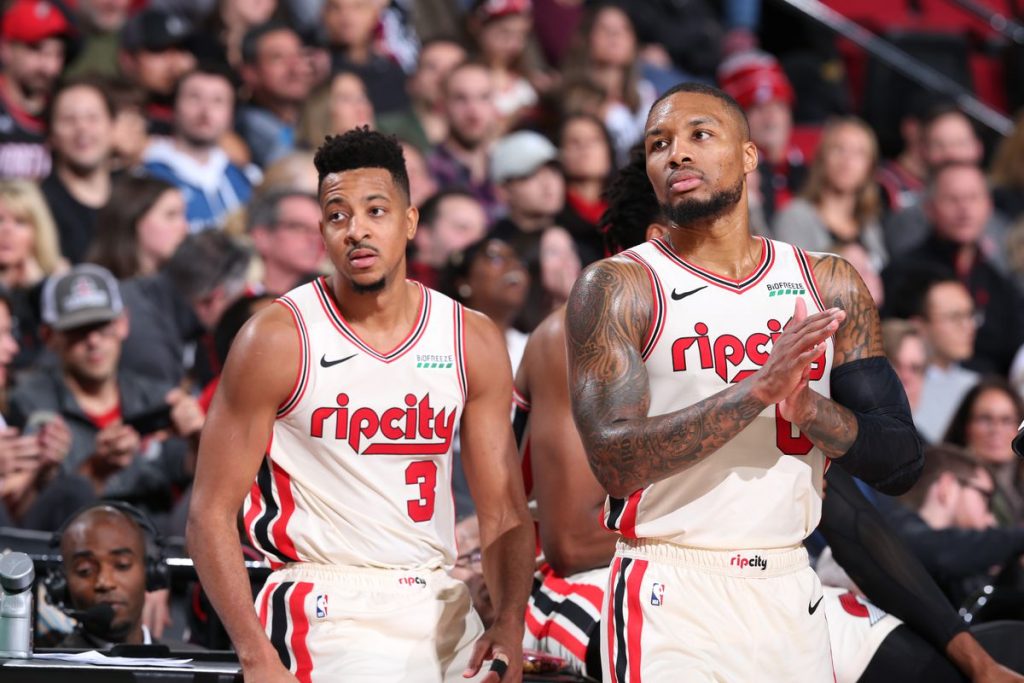 2019-2020 Record: 35-39
Key Acquisitions:
Key Losses:
Outlook
Portland took a step back last year, falling from 3rd in the Western Conference to 9th despite the best efforts of Damian Lillard, who recorded his best season since turning pro. On the face of it, the most glaring difference was the absence of the Bosnian, Jusuf Nurkic, who sat the entire season with a leg injury. Losing Nurkic and later Zach Collins seriously crippled the Blazers, as they were forced to trot out a starting frontcourt of Hassan Whiteside and Carmelo Anthony for much of the season, though Whiteside owners weren't complaining. The much-maligned big man absolutely demolished his ADP, ranking within the top-20 on the season. Say what you will about Whiteside, but given the minutes, he's always produced.
Outside of Portland's big man woes, they also lost a lot of depth overall—Mo Harkless, Al-Farouq Aminu, Seth Curry, Evan Turner—these guys were all contributors in 2018-2019 and Kent Bazemore, Mario Hezonja, Anthony Tolliver and Nassir Little weren't enough to patch the hole left in their wake.
As of right now the Blazers have 14 players on their active roster, so it's more or less finalized with just the last spot still up for grabs. The big acquisition is Robert Covington, acquired from the Houston Rockets in exchange for Trevor Ariza, the draft rights to Isaiah Stewart and a conditional first round pick.
Guard
Damian Lillard was obscenely good for fantasy last year, posting top-3 value on averages of 30.0/4.3/8.0, 4.1 threes, and 1.1 steals. Dame Dolla is still shy of 30 years old. Coming off of a season averaging career-highs in points, assists, 3PM, FG%, and minutes played, his value is at an all-time high. After James Harden and Anthony Davis, ordering the top eight or so fantasy players is a bit of a crapshoot, and even Harden isn't guaranteed this year with rumors of him going to Brooklyn. Even so, I'd be happy to get Lillard anywhere from the 3-to-8 range, as he's just an enormous talent and has stayed remarkably healthy throughout his career.
The second half of Portland's star backcourt, CJ McCollum, is just not an elite fantasy asset, despite the name recognition and his phenomenal podcast. Points, threes, and a smattering of assists are what you're looking at. I will say that his 75.7% free-throw-shooting was most likely a side effect of the shortened season. Moving forward, I fully expect McCollum to shoot 80+% from the line. McCollum's not hurting you anywhere, so he'll remain an early mid-rounder.
Rodney Hood was decent before going down last year. In the 21 games he played and started, Hood shot an incredible but unsustainable 49.3% on three-point shots. With Bazemore gone, Hood is easily Portland's third biggest threat from beyond the arc. It remains to be seen what his role will be on this revamped Portland squad, but between Covington's arrival and Melo's return, Hood will most likely be relegated to the bench. He should be a late-round value, with potential to outperform his ADP if he can stay healthy.
GM Neil Olshey is on the record dismissing the need for a backup PG because of Anfernee Simons. That shows that this team has high expectations of the 21-year-old. Simons showed flashes last year but his final averages of 8.3/2.2/1.4 with 1.1 threes left a lot to be desired. The problem with Simons' game is that it's still too one-dimensional for him to be a fantasy asset. He'll need to learn to pass the rock and/or log the occasional swipe to increase his value.
Forward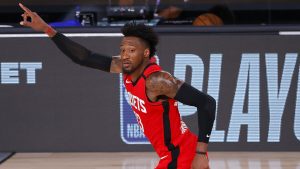 Robert Covington should slot in very well in Portland. Unfortunately, he'll lose the valuable center designation that he had in Houston's small ball lineup. RoCo is the darling of all fantasy-heads because of his ability to contribute in the ever-valuable threes, steals, and blocks categories, and on efficient shooting to boot. He will probably regress a bit—playing as Houston's starting five was really a dream scenario for fantasy value—in twenty games, Covington really showed his positional flexibility, blessing us miserly owners with 8.0 boards and 2.2 blocks a game. He'll still be a good player to target in the middle rounds.
Gary Trent Jr. probably won't break out this year. I just think there's too much competition for minutes, given that he hardly played before Rodney Hood got hurt—on top of that, Covington and Derrick Jones Jr. are new, and will demand more minutes than Hezonja and Bazemore did. It's too bad, because Trent proved to be a pretty capable scorer in the games he played.
As a Knicks fan, I will always be grateful to Portland for giving Carmelo Anthony a chance to redeem himself when it seemed like the entire league had labeled him a stubborn has-been. To be fair, Melo is definitely stubborn, but it's that stubbornness that makes him a joy to watch. So much of his game is predicated on second attempts, whether it's his jab series on repeat or his second jump while converting put-backs. I'm relieved Melo didn't come back to New York, like he was rumored to be considering. That chapter is over, and even though a part of me wanted to see the reunion, I know it would've only left a sour taste in our mouths. For fantasy purposes, Melo is a top-150 guy. We'll see who gets the starting job with RoCo in the picture and Collins and Nurk getting healthy, but it shouldn't impact his production much. Points, boards, threes. Obligatory #stayme70.
Derrick Jones Jr. was brought in to bring Portland a title—the title of 2021 NBA Slam Dunk Contest Champion. Airplane is pretty useless in fantasy basketball, and Nassir Little, CJ Elleby, and Harry Giles III are in a similar boat. This is a team that's supposed to be competitive, so I'm predicting a value-killing platoon situation. 
Center
With Whiteside out of the picture, Jusuf Nurkic is going to have a clear path to minutes, if he didn't already. Just two years ago, Nurkic was a top-50 kind of guy, averaging 15.6/10.4/3.2 with 1.0 steals, 1.4 blocks and 2.3 turnovers. Those are some very nice numbers, save for the turnovers, and he was doing similar things in the Bubble. There's no reason he can't return to that kind of production. Speaking of the Bubble, Nurkic was already averaging 30+ MPG in August, so there shouldn't be heavy minutes restrictions on the Bosnian, if any.
Zach Collins logs more minutes at PF, but I've put him in the 'Center' section anyway for the sake of visual symmetry. The King of Quiff missed nearly all of 2019-2020, and he'll be sidelined to start the upcoming season as well. He's only slated to miss a few weeks, but still it's concerning. RoCo, Derrick Jones Jr., Enes Kanter are all here to take a slice of the pie and Collins isn't even around to defend it. I can't see him making much of an impact on fantasy hoops.
Enes Kanter is back in Portland, baby. Reminds me of this treasure: https://www.youtube.com/watch?v=Zp2JAB1ykVs. Anyways, Kanter could maybe be a late-rounder if Collins misses time. Even then I wouldn't be too keen on his outlook—Kanter playing big minutes is a recipe for an infinite supply of double-doubles with nothing on the side.