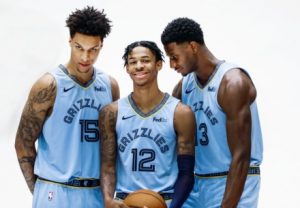 2019 record: 34-39: 9th in the West.
Grizz projection for 2020: 42-30: 6th in the West.
Key Returning Players:
Jaren Jackson Jr.
De'Anthony Melton
Justice Winslow
Key Free Agents:
NFBKC IS LIVE FOR THE 2020-21 NBA SEASON
The NFBKC is now LIVE for the 2020-21 season. All contests are available on Registration with Draft Champions leagues ready to begin 30 minutes after they sell out with 2-hour and 4-hour options available. Here's a look at what we're offering hoops players this season:
Sign up and join the action TODAY.  
Outlook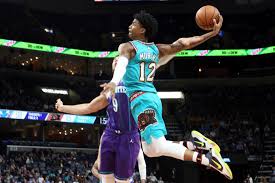 Guard
Ja Morant is a revelation.  His jerky, jabby moves and smooth, low sprint combine for a dynamic bee-bop rhythm that is a joy to watch.  His vision and creativity are on another frequency, and his down hill pressure is second only to the aging Russell Westbrook.  Ja posted a solid rookie campaign of 17.8/3.9/7.3 in 31 mpg.  Despite an inconsistent 3-point shot (33%), Ja's otherworldly ability to penetrate and finish kept his FG% at a lovely 47%.
Assisting Ja in the back court is the platoon of Tyus Jones and De'Anthony Melton.  Both are savvy thieves who can efficiently set up the half court offense when Ja is resting.  Melton's 1.4 steals in 18 minutes last season is elite, but he remains a work in progress with offensive confidence.  Both may continue to get their minutes squeezed, as their size limits them against bigger shooting guards.
Dillon Brooks took off like a rocket last year.  With averages of 16.2/3.3/2.1, the Grizz now have a reliable gunner and go-to scorer in isolation.  His best fit is as an elite 6th man sniper assassin.  Expect Dillon to uptick in minutes from last years 28 mpg to around 32 mpg this year, if he can tame his league-leading foul rate.
To complement the offensive game of Brooks, the other Memphis shooting guard is the multi-talented, Slo Mo, also known as Kyle Anderson.  Anderson has the handle of a guard and the slow power of a stretch power forward.  There are rumors that he has improved his 3-point shot accuracy.
With the 30th pick in the 2020 draft, the Grizzlies went with sharpshooter Desmond Bane, who is a 3-and-D specialist out of TCU. He posted a respectable 1.5 steals per game to go along with 44% 3-point shooting and 6.3 rebounds per game.  Expect him to crack the rotation and become a versatile wing.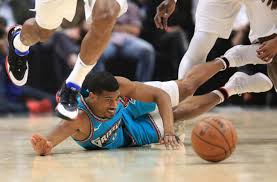 Forward
Jaren Jackson Jr. continues to define the new school PF.  When healthy, he is an impactful 3-and-D big with great efficiency.  Last year's averages of 17.4/4.6/1.6 are legit.  One would love to see him scrap for offensive boards more regularly and up his rebounds above the 5.0 mark.  Nevertheless, his 3-point percentage of 39% is elite for a 7-footer and the 1.6 blocks make up for his slow defensive rotations.
Brandon Clarke does all the glue things to make a playoff team thrive, as he aeraged 12.6/5.9/1.4 on 61% shooting.  His second season should see an uptick in minutes from 22 to ~28 minutes per game this season.  Slo Mo also slots in here as a dynamic point-forward playmaker whose averages of 5.8/4.3/2.4 are always a stabilizer to any second unit.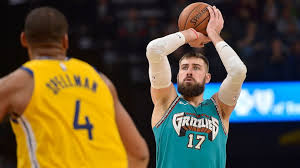 Center
Both of Memphis' returning centers are the humble, scrappy vets of this roster, who lead with hard-nosed rebounding and reliable mid-range jumpers.
Jonas Valanciunas' pick-N-pop is so nasty with downhill racer, Ja Morant.  Jonas is thriving in Memphis, as the averages of 14.9/11.3/1.9 will attest.  He is the Grizzlies actual grizzly bear, battling the largest player on the other team night after night.  Last year, J.V. achieved career-highs in both field goal percentage and rebounds.
Gorgui Dieng (7.4/5.6/1.2) is the perfect back-up center for a franchise with aspirations of the post season.  He can do a bit of everything without being a detriment.  The Senegalese vet knows his game and knocks down the top-of-the-key 3-pointer, though at 25% efficiency, maybe Gorgui should stop.  The good news is that he is humble enough to foster the development of the newly drafted incoming big man out of Michagan State: Xavier Tillman.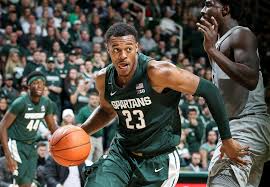 This guy slipped to the 2nd round, for the same reasons as another short, pass-first power forward from Michigan State. He's only 6′ 8″, but with long arms, active hands and a great eye to see the two-way game, I see him cracking the rotation.  Look for Tillman to get ~12 minutes per game.
Question Marks:
Grayson Allen: Can "Tripper" Allen become more than a corner three stand still?  Shows little awareness nor defensive grit.
Justise Winslow: Winslow, Like Slo-Mo, can do a bit of everything.  Averages of 11.3/6.6/4.0 is rare in a 6′ 6″ frame.  The issue is his health.  Though only 24 years old, he has missed nearly two full seasons due to nagging leg issues.
Follow Grizz on Twitter: @NativeSunGarden