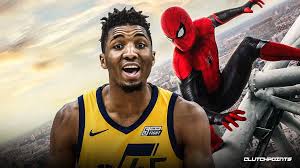 2019/'20 Record: 44-28 –6th in the West.
Key Aquisitions:
Key Losses:
Outlook
The very name Utah Jazz evokes a strange and out of place image.  New Orleans Jazz. Well, that makes sense.  Alas, we live in a funny world where the funkiest thing in the state of Utah is, beyond epic snowboarding, epic wild water rafting; the Utah Jazz basketball team.  This city thrives on their pro sports franchise and warms the hearts of the players who play here with down home charm.  In today's fast paced, metropolis based NBA landscape, the Utah Jazz play to their own trumpet.  They develop players, extend them, and build year after year upon the prior year's efforts.  Last year's Jazz made ripples in the West, garnering the 6th seed without the 20 ppg from Bojan Bogdanovic.  They would fall to the Nuggets for a first round exit in the Bubble.  Will this snub from the 2nd round provide some grit and determination?
The core is all returning, one year more gelled into their chemistry and roles.  The Big 3 of Rudy Gobert, Donovan Mitchell, and Bojan Bogdanovic is dynamic if all three can stay on the court.  Bojan and Mike Conley Jr. are two major X factors who will determine whether this club can ascend in the West from last years 6th seed finish.
Derrick Favors returns to provide a boost to their front court.  Jordan Clarkson was wisely brought back after having career bests last year in field goal efficiency (46% overall and 52% on two-pointers).  These two are brilliant role players who can get their stats off the bench or as spot starters.
In addition to the veteran core, at the time of writing this the Jazz have picked up a total of four incoming college players.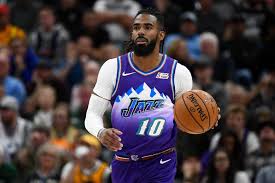 Guard
Donovan Mitchell is a joy to watch.  The ascent of Spider is apparent in his first three NBA seasons. His improved scoring averages of 20.5, 23.8, and 24.0 points per game show the evolution of the confidence this club has in this kid.  Donovan's assists and rebounds have taken a similar arc of improvement.  All of this points towards his depth of character to work and hone his skills, as well as the organization's keen ability to develop their core guys in-house.  Offensively, we are witnessed the masterful improvements of Spider in nearly every way.  Defensively, however, he has declined in steals and blocks each of the past two seasons.  Can he find his two-way dominance here in season four?
Michael Conley Jr. brings veteran leadership, playmaking, and top of the key laser marksmanship to the starting unit.  Last year's averages of 14.4/3.2/4.4 are a far cry from his prime years in Memphis, but Conley still gets down in many ways.  He is no longer a defensive stopper.  This, coupled with Mitchell's decline in perimeter defense could spell trouble for this club.
Good ol' Jingles, Joe Ingles can do a bit of everything.  He can play back up point guard (5.2 apg last year).  He also defends and strokes the 3 at a high rate (39% from range last year).
Jordan Clarkson has a green light from Quin Snyder.  His 15.6 points per game are always helpful with this club.  Expect an expanded role this year.
Miye Oni and Florida State defensive wing, Trent Forrest, may make ripples this year if any of the above mentioned vets fall limp.  Nigel Williams-Goss was snagged in the 2nd round.   This Gonzaga product comes with college averages of 16.8/6.0/4.7 to go along with 1.7 steals per game.
Forward
Bojan Bogdanovic is the real deal assassin.  Last years averages of 20.2/4.1/2.1 bring much to the starting unit.  His efficiency is incredible, as he averages 44.7 % from the field, 41.4% from long range, and 90.3% from the charity stripe.  Can he come back from injury to provide a surge for the first unit?
Royce O'Neil has garnered the sixth man role due to his sticky defense.  His stats never wow, but his effort and efficiency are always appreciated.  The blue collar Baylor product has improved in his three years in the Association in points, steals, blocks, assists, and rebounds.  This is the type of hardworking self-reflecting player that this franchise loves.  Expect an expanded role in year four.
Georges Niang, like O'Neil brings grit, hustle, and the ability to switch on defense.  A physical specimen, he can battle down low and still step back and convert 40 % from 3-point range.   However, he is a bit slow and has poor rebounding numbers due to hanging out on the permiter.  1.8 rebounds in 14 minutes last year will not cut it at 6′ 7."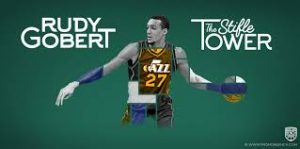 Center
Rudy Gobert is a force of nature.  I bet he can reach all the fruit in the orchard without a ladder!  Here are some of his accolades:
4x All-Defense 1st Team.
2x Defensive Player of the Year
All-Nba 2nd Team.
2x All-Nba 3rd Team.
Dude is a legend and every franchise wishes they had a center with averages of  15.1/13.5/1.3 to go with 2 blocks per game!  With career-highs in field goal percentage and rebounds last season, the Stifle Tower is still growing in what will be his eight NBA season.
Derrick Favors slots well as the de facto back-up to Rudy.  Under sized height-wise at 6′ 9″, but strong as an ox at 265 pounds, he can teach incoming rookie center, Udoka Azubuike, how to grind.  His tricks of the trade have made Favors a steady producer at the NBA level.  Expect an up-tick from last year's averages of 9.0 points and 9.8 rebounds per game.  I'm a big fan of Big Fav because he will get his, no matter the score.
Udoka Azubuike comes into the Association with two great teachers.  Last year's college averages of 13 points and 10 rebounds per game to go along with 2.6 blocks per game show the instincts of his two mentors.