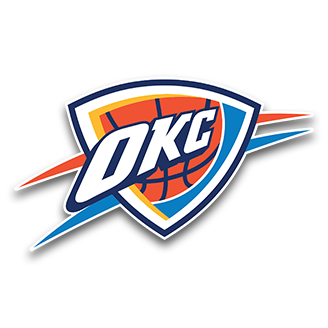 Back in September, I wrote a little something something that conveys my thoughts and feelings regarding this Oklahoma City squad. Click HERE for satisfying clickbait.
2016 record: 47-35
Key acquisitions:
Key losses:
Outlook:
I'm a believer. Barring health issues, I think this squad can challenge for one of the top four spots in the West. The offense is going to be devastating, while the defense will be better than most expect. Depth is a concern, though, but there will always be at least one player that will be able to create offense at all times. ALL YOU CAN EAT, BABY!!!
PG – I'm convinced that Russell Westbrook is not from this planet. Or he's a cyborg. Dude is just on another level both physically and mentally. Westbrook did have a PRP injection on his right knee back in September, which I take to mean that some screws needed to be tightened and oil needed to be greased on some nuts and bolts on his cyborg frame. When Kobe Bryant says that Westbrook "reminds him most of himself," you know he's on a different plane. Now, last season was a total FU tour for Westbrook. Why did Bruce Banner turn into the Hulk? Emotional stress, which led to destructive rampages. It wasn't really about winning last year for the Thunder. It was letting Westbrook be Hulk. I love the Thunder organization for allowing it to happen. Now, things are different this year. There are team aspirations and goals. Westbrook is still going to get his, but the 41.7% usage rate is coming down. The 31.6 ppg will also come down, although I can see the rebounds and assists being close to 10 per game. As a byproduct of lower usage and more weapons surrounding him, the 5.4 turnovers per game should come down into the four-range. Backing up Westbrook will be Raymond Felton. Felton is a solid veteran, but he doesn't shoot the three-ball particularly well or contribute much in any category. He's there to give Westbrook a rest and provide the Thunder with someone that has experience in the league. Basically a, "Don't-be-a-hero, Don't-fuck-things-up" player.
SG – Andre Roberson could be the key for the Thunder this season. We know he's a great defender (1 steal/1 block) and will help out on the glass (5 boards). Offense is where the questions arise. Who else are teams going to help off of? Defenses are going to try and funnel the offense to Roberson. Can he make them pay when it happens? He shot 24% from three-land last season. If he can make the open J, watch out. Alex Abrines will be the backup. Abrines is basically everything Roberson is not. Conversely, he can't do anything Roberson can. Abrines shot 38% from three-land last season. I love the athleticism of Terrance Ferguson, but he's probably going to be in the G-League.
SF – Paul George seems to be a perfect complement to Russell Westbrook. It kind of reminds me of the Michael Jordan/Scottie Pippen dynamic. Both are long, athletic, can score, and play excellent defense. Jordan had a really intense personality and Russell Westbrook seems to be of the same mold. Pippen and George are both competitive, but they seem to be fine playing the Robin role. I don't need to delve deeper into George, as he will contribute in every category except for blocks. Kyle Singler and Josh Huestis are listed behind George on the depth chart. Remember when I talked about the lack of depth? Will George be the first player to average 48 mpg? There's plenty of rest time between quarters.
PF – Will the NBA allow hoodie Melo? If so, the Thunder are going all the way. I've never been the biggest Melo fan because he's been a black hole most of his career. With that said, I always remember a quote that Kobe said a long time ago. I tried to find the exact quote on the internet, but I couldn't. If someone can, please share. Anyways, I believe it was during the Smush Parker days, when he'd shoot over three defenders instead of passing it to the open man. He would say that he felt that he had a better chance of making a shot against three defenders than a Smush Parker draining an open J. An asshole quote, no doubt, but a revealing one for many of these superstars. How does this relate to Melo? I've seen him make the proper play on the Olympic teams. When he has respect for his teammates and believes in them, he'll dish the ball to them. Now, he will still jack up his shots, but he's more willing to make the correct play when he's surrounded by players that are "on his level."
OKC ?? pic.twitter.com/6KHyGRKEpV

— NBA Central (@TheNBACentral) October 7, 2017
Patrick Patterson will back up Melo. Unfortunately, he's recovering from a knee scope procedure from back in August, so it will take some time to get back into the groove. When healthy, he's a nice piece for the Thunder as he can spread the floor (37% from three-land).
C – Steven Adams is the starter. I think he's going to have a fantastic season. He's a double-dub threat (points and rebounds) and will steal and block around one per game. With Enes Kanter gone, Adams could see a slight uptick in minutes. In addition, since we are past the FU Westbrook Tour, Adams could be a little more involved. Nick Collison is the backup. He's talked about retiring after playing 14 years in the league. Kids, grow up and be tall. That is the path to success. Dakari Johnson was the 48th pick in the 2015 draft. He is 22 years old, 7′ 0″ 255 pounds and played college ball at the University of Kentucky. He balled out in the Summer League and could carve out a little niche for himself.