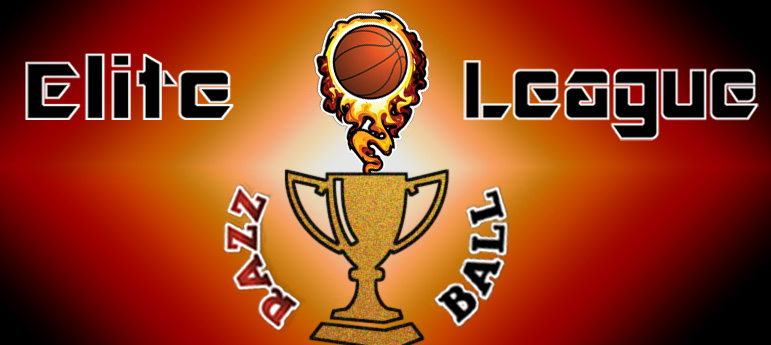 The semis are here!  Only 2 weeks left in the REL and 4 teams left standing for the coveted gold jersey.  If I don't get a title this time out, I'm going to give the winner a white jersey that I just made gold, if you know what I mean!
With some big deadline deals to improve their depth, High as Greg Kite is looking high and mighty as I thankfully miss that juggernaut for at least one more week, as they tackle Scurry to the Left.  But I have to deal with the friggin' Clippers team, argh!  So I'm not too happy with the scheduling, but I guess I was going to have it rough one way or the other.  Good luck to everyone alive in the REL, and all you readers out there primed for a dynasty title!  Here's how the quarterfinals wrapped up in week 20 in the REL, plus a preview of this week's semi-finals in week 21:
Quarterfinals:
6th seed High as Greg Kite DEF (6-2-1) 3rd seed Yappers

Yappers: Entering the fantasy playoffs, I had High as Greg Kite (with the acquisitions of Lebron and Ibaka) as the #1 rated team on my board. To have a chance against him I felt that I needed to win at least one of the ratios (as well as turnovers) and have the advantage in games played. Instead last week was one of our worst weeks this season in the ratios (we lost both of them) and (trying hard not to whine here because I can't honestly say we were injury decimated) it really seemed that Greg Kite did not miss a game this past week while both Batum and Gallinari missed games for Yappers. Hence the 2-6 loss. Wasn't all that close. 'nuff said – books closed.
In preparing for next season I observe that Yappers has 10 $1 dollar players and 7 players for over a dollar. Of the 7 players over a dollar (Nic Batum $44, Marc Gasol $43, Jeff Teague $32, Pau Gasol $20, Wes Matthews $14, George Hill $13, Danilo Gallinari $11) my only keeper debate is Batum, and that only because I'm thinking $44 is a tad overpay and I might prefer spending that money on a big anyways. The remaining players I am thinking would go for significantly over current cost if released back into the pool, but situations change from year to year and we shall see.
I have three categories for my ten $1 players. (1) A part of my core (Mason Plumlee, C.J. Miles and this year's acquisitions of Andre Iguodala and Joe Ingles. These are obviously safe. (2) Young and (hopefully) not hit their ceilings (Sam Dekker and Spencer Dinwiddie). These also are safe but will need to show improvement next year (3) Typical $1 players in this leage (D.J. Augustin, Raymond Felton, Dante Cunningham, and Manu Ginobilli). I will be dropping two or three of these. That leaves about $12 or about $56 dollars for next year's auction pending the decision on Batum.
So, to wrap this up a short list of lessons learned this year.
(1) It is better to drop a player one year too early than keep a player one year too late. Yes the decision to release Deron Williams prior to this year's auction was correct. I actually enjoyed this year partly because there was nobody on my team that I came to hate with an eternal hatred (looking at you Carlos Boozer).
(2) When will I learn not to spend a significant FAAB chunk after week one on the season (James Ennis $32). I have done this every year of the league, and none of these early big ticket items lasted till end of season. I am thinking I need to budget about $30 for end of season acquisitions.
(3) Speaking of FAAB, some of my best buys this year were not the big ticket items (looking at you Joe Ingles ($3) whom Yahoo tells me is ranked 102 which is in the C.J. Miles tier). Even $1 Raymond Felton was useful and managed to last the season.
(4) Either you are all in or all out. Maybe I should have been more aggressive on the trade front having made the "all in" trade of Kyle Lowrie (a trade that I do not regret even though it did not work out as hoped). But then again I am thinking I would have lost this matchup anyways because we totally sucked on the ratios. So who knows.
(5) I have not invested in the draft even once at auction time in the four years being in the league, fearing that I would be the one investing $30 in Anthony Bennett 2.0. But given the most recent auction prices, maybe I should rethink this. Sometimes rookies acquired at draft time make great trading chips.
4th seed Metamucil DEF (6-3-0) 5th seed Slim – Razzball
Semi-Finals:
1st seed JB Gilpin – Razzball vs. 4th seed Metamucil
JB Gilpin – Razzball: Time to shine!  But dayum if I don't have the fantasy gods stacked against me.  Stupid NBA schedulers giving the Clippers a 5-game week, and of course I play the team with Chris Paul and DeAndre Jordan.  Oh, and Marreese Speights too, just for good measure!  Smh.
Metamucil has a really strong team, and somehow even with DJ, had a 81.5% FT% last week, so I dunno if there's any cats that I'm really favored in.  208 dimes like they got last week to only 82 TO is really rough.  They got plenty of treys and good scoring too.  7 blocks from Taurean Prince?!  Every roster spot is contributing for them; I just need a nice CP3/DJ rest day somewhere, and I think it would be pretty even.
On my end, I thankfully have a 4-game OKC week, and thank the lord KCP got out of his funk yesterday.  Going to need some big weeks to close this out.  While I had the best regular season team, I didn't make one of the huge go-for-it trades like Greg Kite or Metamucil made, so I'm fearing my chances.  Hopefully keeping my core together can still sneak their way through.
2nd seed Scurry to the Left vs. 6th seed High as Greg Kite
Good luck to everyone in your dynasties this week, and hopefully your's truly can make the REL Finals!