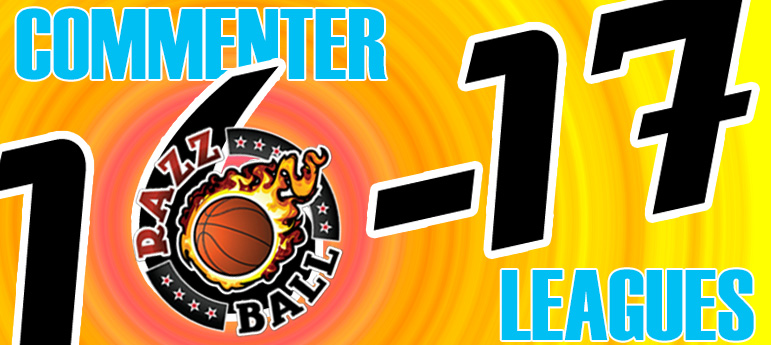 Soooooo, a big mea culpa from your's truly.  On top of an epicly busy weekend (is it epicly or epically?  Even online it's hard to get a definitive answer!), I at least had an epic (no adverb!) epiphany…  Doing the RCL recap post on Fridays was just plain silly, as half of the next week had already gone by.  Due to having multi-posts dedicated on the other days, and two posts on my plate for Monday, I thought Mondays would be rough doing it then.  I mean, who wants 3 posts of "me", and who would want the world to know I have no life and write all day on Sunday and Monday morning…  Oops!  Too late!  So we're going to do these on Mondays now, except, well, probably not the next few Mondays…  Stupid holidays!  But earlier in the week than Friday, and on Mondays once we flip to 2017 and get through all this awful Christmas music…
We're still all chasing Cronos's in the Take on the Jay league, sitting pretty with a 46-16-1 record, good for 93 RCL points.  A 5 point lead on the field!  I'm going to yell at Jay, both for letting this happen, AND for my Panthers beasting his Bolts…
Check out how your teams stacked up after weeks 6-7 in the 2016-17 RCL Master Standings Table table, and here's some notable takeaways from the past two regular season weeks across our 23 RCL Leagues:
Take on the Jay – Cronos's be owning's!  It's like Cronos deleted what he's being possessive of!  Is it "… Team"?  Or "… Squad"?  Or "…p0wners"?!  6-3 win last week keeps Cronos's atop the leaderboard, with Chris Paul still owning and great value on Kevin Love.  Gets Chris Kaman UR Face this week; with a name like that, we need to see some numbers get sprayed all over the place to bring Cronos's down a few points!
WE-GOT-A-TROPHY! – With a 44-19 record, Greek Squad remains in 2nd.  But #1 in my heart with the best team name/owning Giannis and the best logo!  Check it out if you haven't yet.  The huge start from Trevor Booker has helped, but losing Mike Conley still looks like an uphill climb.  I believe in you, Greece, don't let the world economy slipping bring you down!
Philzilla's Pac Coast Razzer – Also at 44-19 and tied with those Greeks is the surging A Very Solid Team!  Geez, is this team in fantasy witness protection or something?!  After a 3-6 start, things have mightily turned around, with 8-1 and 6-3 wins these past two weeks.  It started runny, but after some fiber, things are staying solid!  But man, they don't have a single guy ranked top-20 thus far!  Getting 60 from Klay Thompson was fun though!
JB's RCL 3: "RCL Harder" – I figured I'd check in with at least ONE of my teams, so alas, my best team went from RCL title contender to blah/barely in the playoffs.  Had a rough 2-7 loss, but actually the rest of the year has gone pretty well!  This is my Brow/Lillard team, so I'm expecting the big Anthony Davis injury to derail me…  How it always goes!  At least I held my own and got a 5-4 win over first place ImpOSHible Mission, who is sitting in 5th on the leaderboard at 42-20-1.  I'm trying my best to keep things close!
Thanks again to everyone playing in RCLs this year, and I'll be back probably ~mid-week next week to update the standings through week 8.  Good luck this week!