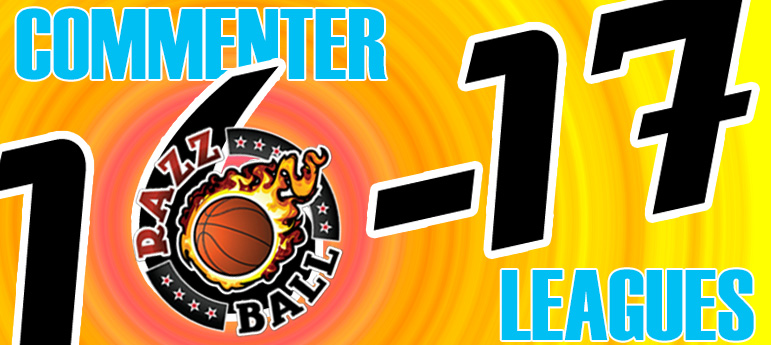 5 weeks down, 14 to go!  Well, 15 technically, as Yahoo smartly defaults to have the All-Star Break worked into a two-week matchup.  So 5 outta 20 means we're 25% through the fantasy regular season!  But if that sounds like it's going by too fast, remember how boring 1st quarters usually are in the NBA.  It's not until the 4th or the 1st or 2nd OT (like last night) until things get interesting… That is, unless you own Kevin Love!
Check out how your teams stacked up after week 5 in the 2016-17 RCL Master Standings Table table, and here's some notable takeaways from the 5th regular season week across our 23 RCL Leagues:
Take on the Jay – And the Jay has been taken on indeed, as Cronos's remains our fearless RCL leader with 69 (teehee) RCL points, at 34-10-1.  Give someone else a chance!  Another 6-3 win last week has Cronos's on cruise control towards RCL contention, and is sitting on a 6-3 lead this week.  Cronos's doesn't have a disparaging amount of breakouts, just working as a well-oiled machine!
WE-GOT-A-TROPHY! – Greek Squad is certainly looking like they're getting a trophy!  Hey, the Greeks need SOMETHING right now as their economy rebounds.  Have Giannis donate some of his salary!  "Only" a 5-4 week last to get Greek to 33-12, good for 66 RCL points.  Still love dat logo, doe!  Twin towers of Myles/Kristaps next to the Greek is some crazy young length!  Bet Greek wishes this was a keeper!
Slim's League – After a tough start, it looks like Slim is starting to bounce back in his RCL!  But the powerhouse of EMBIIIIIIIID just keeps surging, and is pitching a tent towards the tip of the RCL leaderboard!  That might be my finest sentence ever written at Razzball…  7-2 win last week, but they did lose the mad hot Mike Conley.  EMBIIIIIIIID will need to keep from going half-mast with a little less wind in their sails.
H2H 9-12 RCL – What better way to segway from EMBIIIIIIID, than to talk about Dicks Out 4 Harambe?!  Just as poor Harambe got taken out, so did Inglorious Ballers, as Dicks took all 9 cats out for Harambe with a perfect victory.  Finish Him!  Fatality!  With the monster W, Harambe moves into a tie at 14th place.
EmasculatingThroatLozenges RCL – 2 9-0 victories, 1 cup!  I mean, 1 RCL week…   Andrew's Cool Team was just too cool for school, dispensing of Anson's Noob Team like they were indeed super n00bs to get pwned!  Only TO was close, with a nary 1 TO victory.  Andrew still has a big hill to climb though, in the large tie at 74 with a 25-20 record and behind in their matchup this week.