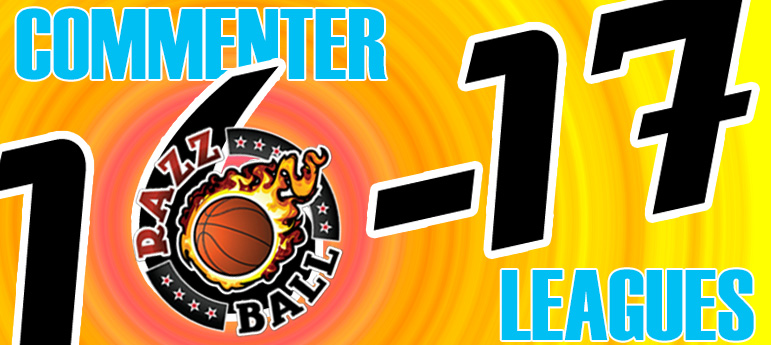 Through 4 weeks and halfway through week 5 and we're still all chasing the powerhouse over at Cronos's!  28-7-1 is our best RCL record, as the other 10 teams taking on Jay – and Jay himself – need to start banding together to keep this from a runaway.  C'mon guys, we need one of you to Pass that Cro – what?! – nos's of Narnia!
Check out how your teams stacked up after week 4 in the 2016-17 RCL Master Standings Table table, and here's some notable takeaways from the 4th regular season week across our 23 RCL Leagues:
Take on the Jay – The Jay is certainly getting taken on by our RCL leader Cronos's!  Another 6-3 win last week got Mr. Cronos to a 28-7-1 record, good for 57 RCL points and a single point in the lead.  Who let this team get a CP3/Dray connection?!  And they just got that 34 point 1st quarter from Kevin Love, so the gravy train ain't stoppin soon!
WE-GOT-A-TROPHY! – A mere point behind Cronos's is the powerful Athenians of the Greek Squad, winning a huge 8-1 matchup last week to go to 28-8, with 56 RCL points.  Cronos and Greek leading the field by 4 points, with 3rd place a 5-way tie at 52.  Complete with an awesome logo mimicking Best Buy's stupid service and loaded with the Greek Freak himself, the Squad looks to be a strong RCL contender!
JB's Random Commenter League – Wooooo, I got an 8-1 win!  This team of my was struggle-a-ling!  Luckily my FT punt came through and only lost my punt.  Even had a .766 FT% too!  But nice to see this team coming around…
JB's RCL 3: "RCL Harder" – My best team luckily has an erection lasting 4 hours, as I held strong to a 5-4 win over tied-at-3rd-place ImpOSHible Mission.  Two of the RCL elites getting an early-season matchup!  I was down most of the week, so dayum it was nice to win this one!  Had close losses of 5 3PTM, 16 Pts, and 8 AST, but squeaked by with wining by 1 STL and 1 TO.  Talk about down to the wire!
Philzilla's Pac Coast Razzer – A nice 7-2 win got the awesomely named Kristaps Dat Ass up to 23-13 and tied for the league lead.  Just wanted to mention that Dat Ass is now on the top of the list for favorite team names!  Go Kristaps' Ass!
I hope everyone is having a fantastic Thanksgiving weekend, and we'll catch you at the end of next week, RCL Nation!