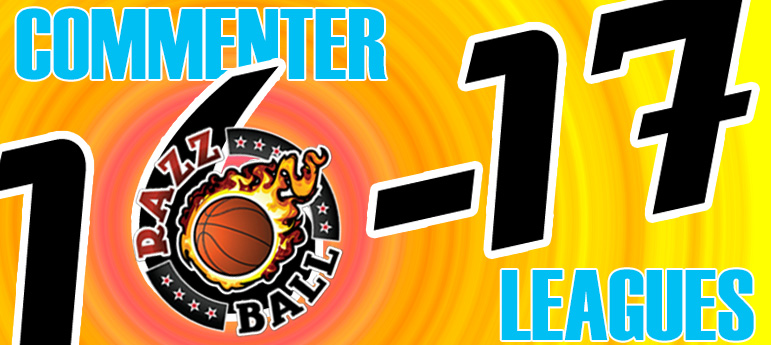 Want to hear something crazy?  We're 3.5 weeks in, and that's about 17.5% of the fantasy regular season!  In terms like that, sound the panic alarms!  My crappy teams are toast!
As I mentioned on the Pod this morning, I have some RCL anger this week.  Too much Goose.  Goose on the loose!  Ugh.  But there's still like, 82.5% of the season left, so everyone going against Goose can turn it around!
Check out how your teams stacked up after week 3 in the 2016-17 RCL Master Standings Table table, and here's some notable takeaways from the 3rd regular season week across our 23 RCL Leagues:
Take on the Jay – The fearless RCL leader is like a drug in a weird train movie (hope you get it), Cronos's!  Who is that a picture of?!  Quickly dispensed of The Superemes in a 7-2 victory, and moved to 22-4-1.  Two 7-2 wins and an 8-0-1 victory…  My teams are so bad, I could snort from Chrono right now!
JB's RCL 3: "RCL Harder" – Our only 9-0 victory this week came from the merciless hands of Eric's Team, taking out the Bearsloths in a flawless victory.  YOUR SOUL IS MINE!  Narrow wins by 4 treys, 1 AST and 1 BLK had this one go to the absolute wire!  We also had ImpOSHible Mission win 6-3, moving them to 22-5 and second in the RCL standings.  My 20-7 team is up against them, and not hanging tough.  Being a Brow owner is already killing me!
JB vs. Slim Year 3 – In the JB v Slim league, Big Baby's Lovechild has taken over the Civil War with a 21-6 record – good for 3rd in the RCL standings – thanks to a 7-2 win over the awesomely named EMBIIIIIIIIIIIIIIIID.  I can't even get mad if I lose to EMBIIIIIIIIIID, it's too funny!
Slim's League – Big week in wk 3 for Stuck in Saigon, going 8-1 over… and I swear I didn't do this intentionally, I just saw an 8-1 score…  Slim – Razzball.  Don't worry Slim, my RCL teams have been mostly sluggish too!  I think I stream too much and miss the hot pickups…  Anyway, Saigon moves to 20-7 on the year in a big deadlock at 7th.
The Semi Mediocre League – With an absolutely awesome league logo, Walk 500 Myles got inspired to walk all over the Early Risers 8-1, and move into the 7th place deadlock as well, at 20-7.  I love the team name too, go Myles Turner!  Turning into one of my fav RCLs…
I hope everyone is looking forward to a nice holiday weekend, and we'll catch you at the end of next week, RCL Nation!