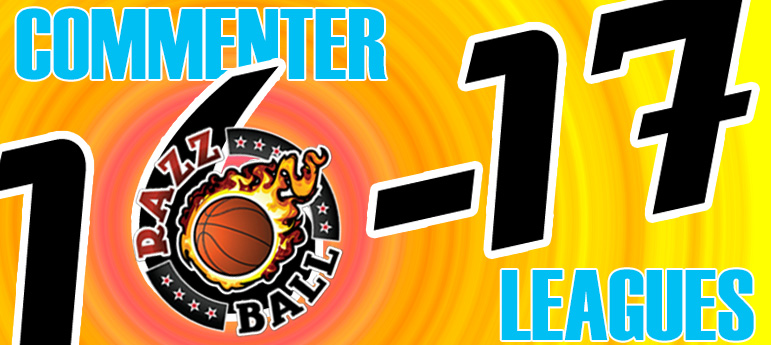 Week two has wrapped, week 3 is halfway home, and the RCL picture is starting to be drawn!  Welllll, that's not exactly true at all.  We're still barely scratching the surface on the NBA season!  So have no fear if you started slow, add some upside guys off the wire, and turn this baby around!  I already have a team or two that needs a full 180!
Check out how your teams stacked up after week 2 in the 2016-17 RCL Master Standings Table table, and here's some notable takeaways from the 2nd regular season week across our 23 RCL Leagues:
JB's RCL 3: "RCL Harder" – Duuhuhuhuhuhuhuhuh, duh!  Ding, ding, duh duh, ding ding!  Trying to type out the Mission Impossible theme music is tough, OK!  Our first RCL 9-0 week goes to  ImpOSHible Mission, who bested poor Sheed. in all 9 cats.  I have been doing this a long time, and I think I've only ONCE had a 9-0 week!  Hard to do!  But not like it was a runaway – .013% wins in both FG and FT, and only 1 TO got Mission to perfection!  The big win also propelled them to 16-2, and is our early RCL leader.  My best RCL squad so far is in this league at 14-4, so I'm gonna be coming for ya, Mission!
Take on the Jay – Two huge wins in the Jay league: 1. Cronos's coming up oh so short of a perfect week as well, besting Boston Tea Party 8-0-1.  The only tie being blocks, but Cronos eked out wins by .003% FG%, 1 trey, and 5 rebounds.  Just needed more tea in that party, Boston!  2. Ewwwww, 8-1 win for a team calling themselves "Dick Champagne!"…  How does it stay carbonated?!  Champagne moves to 13-5, but Cronos remains the toast of the ball with a tied-for-second 15-2-1 record.
JB's Random Commenter League – Tied with Mr. Champagne is the ferocious elbows of the Hassan's Whitesiders!  Although not for long, the JB squad is making a comeback!  I'm currently up 5-4, but it's going to be a battle through Sunday in several cats.
RazzBlueBalls – All alone in 4th place at 15-3 are the Nami's Chickadees.  The team name actually makes some sense, as Nami went with all guards!  Very G and wing (I guess that fits too) lineup, but it's working right now!
WE-GOT-A-TROPHY! – Nice 8-1 win for Hopefully not last, who with a 6-3 lead thus far this week, is looking like definitely not last!
Slim's League – Love it!  The Slim leader is EMBIIIIIIIID at 13-5!  Laying the long stick of the law out on Slim's RCL!  I wish you continual ascension and success, may it last over 4 hours good sir!
I hope everyone is enjoying the RCLs thus far, and good luck to your squads wrapping up week 3!  Catch you with the update next Friday!