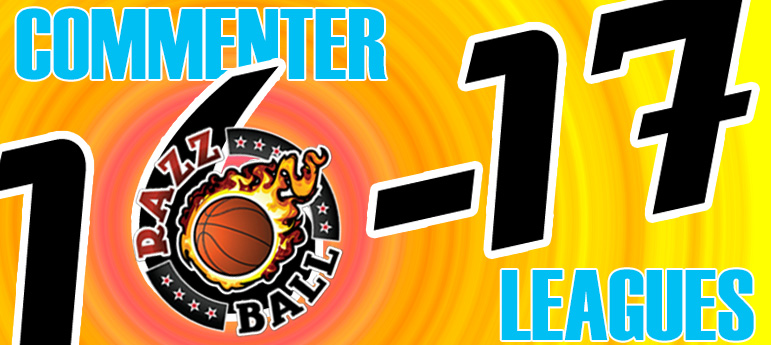 The REL season is back!  And I'm still as lazy as Brad Pitt in True Romance with paying off my YouTube bet to Nick is Razzy!  Nick, it's coming my man!  It's on the docket!  I have my food contest all picked out and everything…
With the season kicked off, we're now 1.5 weeks in for our run at Hall of Fame immortality.  If you started rough, one week certainly doesn't sink your chances at glory, and the first week of the season wasn't even quite a full week of action…  So if you started with an L, keep your head high, and Keep Pounding!  Oh wait, that's my real-life football team…
Check out how your teams stacked up after week 1 in the 2016-17 RCL Master Standings Table table, and here's some notable takeaways from the 1st regular season week across our 23 RCL Leagues:
JB's Random Commenter League – I'm bringing some weak bacon in the first-created RCL league!  Rough 2-7 loss for my FT punt team, although two games of Chris Paul was mad annoying.  We also house the overall RCL leader!  Hassan's Whitesiders was the only RCL squad to not suffer a loss, going 8-0-1, only tying with 25 steals.  Obviously Whiteside started strong as the namesake of the squad, then the Whitesides did well by following Razzball's advice and nabbing Elfrid (I think I got sniped there), and the big one – Avery Bradley.  I have a feeling he's going to be an RCL-winning staple.  Our league also had My Little LeBronie go 8-1 and 3 teams go 7-2 for an epic decide in class warfare.  My team needs to get its ish together!
RazzBlueBalls – The menacing Nami's Chickadees is off to a great 8-1 start, but the 7-2 KAT's Out of the Bag are giving them a tough run in a 5-4 battle through Thursday's games.  Who wins in a fight, a chickadee or a KAT?!
The Effing Catalina Wine Mixer – Our Step Brothers themed RCL, repped by your's truly as the Boats n Hoes!!!!! squad, saw Beardy Ballers start off hot 8-1.  Not on my watch though, bruh!  I'm gonna throw all my boats and all my hoes at ya!
The Cavs Did It – QueefJames Baldspot – which I'm not sure is run by a Cavs fan or a Cavs hater… – also put together an 8-1 start, riding the coattails of Cleveland's winning ways.  Or losing ways…  Browns are awful!
Kap vs. Razzball Round 2 – Round two of the Kappers belongs to Bryce's Best Team thus far.  What they bring in fantasy dominance, they lack in team name creativity!  Really needs to use our Razzball Basketball Team Name Generator!  Big 8-1 start, but is locked in a 4-4 deadheat thus far in week 2, during a sophomore slump.  Needs a clever team name boost!
JB vs. Slim Year 3 – Slim narrowly bested me with his slimy ways with a 5-4 win, but it was Big Baby's Lovechild who was the cock of the walk with an 8-1 W, in the tie for 2nd.  I just imagine this team is literally run by Glan Davis's kid…  I sure hope it is!
BestCoast – Our final 8-1 winner, stevend's Rad Team gets a big head start, despite repping the West Coast (West Coast I'm guessing is the best coast…?) with some creativity shortcomings.  Although I shouldn't talk, I just call my teams "JB"!  Maybe next year I need to put the generator to good use, and people can figure out who I am with my avatar…
I hope everyone is enjoying the RCLs thus far, and good luck to your squads wrapping up week 2!  Catch you with the update next Friday!