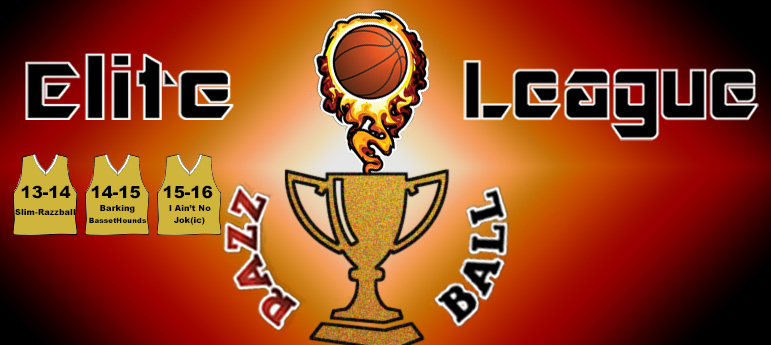 None of this "wait until the home opener next season" ish, we hang the gold jersey on the rafters right away in the REL!  Congrats to I Ain't No Jok(ic), winning their first REL title after not making the playoffs and rebuilding the first two seasons.  Playoff experience is overrated!  3 years are now in the books, and we have 3 different champions.  No "dynasty" team yet!  Good luck to everyone in their offseason dynasty prep, as we all look forward to competing for 16-17 titles in our dynasty leagues.  I want that golden jersey dammit!  Here's how the finals went down in the REL:
Finals:
4th seed I Ain't No Jok(ic) DEF (5-3-1) 2nd seed Slim – Razzball
I Ain't No Jok(ic): Yeah Baby!! Victory is mine!
I Ain't No Jok(ic) will now live on forever. That feels good. Damn good! Is my jersey on the REL Banner yet JB? Let's get this done!  [editor's note – you really doubted me?!]
It was another tough matchup that came down to the final day, in the end though I managed to knock Slim off to complete a great season. Both teams suffered from DNP-REST and injuries all week, so I think those ended up being fairly even overall. Somehow my guys won turnovers again, and once again percentages were my friend as I won both FG% and FT%. Oh yeah, and my guys also managed to put up an epic rebound number which was 3 off of the all time single week record with 336, despite missing Nerlens Noel all week. Oh, and that all-time record that they just missed? That was set by my team in week 16 earlier this year. Shout out to Slim though, who did set the all-time record for most assists in a week with an amazing 200! Well done sir. And thanks for a great championship matchup Slim!
Looking ahead to next year now. While I did trade away a solid keeper in Porter in order to make this run to the championship (as well as a $1 DMo earlier in the year), other than that I didn't sacrifice the future for this year. I should still be able to return a core of George, Oladipo, Noel, Middleton, Aaron Gordon, Jonas, DeRozan, Carroll, Jokic, and Schroder. Throw in possibly Tim Hardaway and WCS and I should be competing for a title again next year. On the downside I doubt I can afford to keep Batum, and Ibaka is way too pricey for what he brought to the table. I also will be pretty capped out so there won't be any flashy draft picks next year unless something changes, but I'm okay with that as all my guys are young and improving.
Thanks for a great season guys, and I'll be looking forward to trying to be the first to successfully defend the title next year!