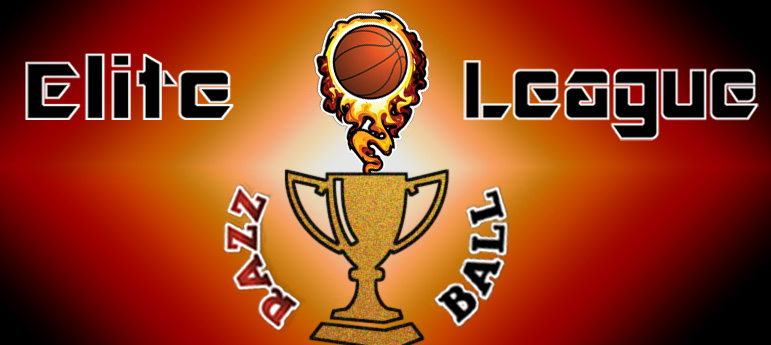 The quest for the golden jersey starts here!  I'm now going to use that term to describe winning the REL title, just look at how sexy that graphic at the bottom is!  I want to be on there!  With the playoffs now set, we had some crazy jostling between teams #2-#5, with Slim sneaking in to second for a first-week bye.  Damn that sneaky Slim!  We also had a few high-priced waiver adds as we wind down the season and NBA opportunities are created.  Here's how week 19 wrapped up the regular season in the REL:
1. HateUsCauseTheyAnus (112-57-2)
FAAB Remaining: $0 FAAB Moves this week: n/a
2. Slim – Razzball  (110-60-1)
FAAB Remaining: $0 FAAB Moves this week: Justin Holiday ($0)
I didn't think it would actually happen but look at that *pinkie to mouth* someone's got a 1st round byyyye.  Oddly enough 3 of the 6 playoff teams lost 4-5 to non-playoff teams in the last week of the season while I coasted to a 7-2 victory and the bye.  This came at a very opportune time for me.  Nurkic, who was in DNP hell, broke out in a major way last time out and I've got my fingers crossed that continues.  Henson has been out for over a month but rumor has it he may get back into the rotation sometime this week.  Getting my top shotblocker back is obviously huge.  The last piece of dead weight on my team would then be Alec Burks who after missing 2 months, according to reports, should be back to practice very soon, if my luck holds I'll have a full roster by this time next week.  If Burks isn't ready to go I also have the option to lose Dejean-Jones, move Burks to IL, and add a FA.  I do like having options.
After a very up and down showing from Larkin $10, I've finally had enough.  I put in a bid for Derrick Williams and Briante Weber but I never had a chance at either with $0 of FAAB left, oh and btw I've been thrilled with my last 2 pickups of Jamychal Green and Josh Richardson.  Instead I got my 3rd (and last) choice in Justin Holiday, a player who I had kept going into this season.  I liked his multicat upside but Bazemore beat him out for the job and all seemed lost.  But that was a whole nother team ago.  We all know about the Bulls injuries and there's a chance both Butler and Rose suit up tonight.  But what if Butler isn't 100% and has to sit more games, what if Rose stubs his toe and misses the next 6 months?  I'm willing and able (1st round bye remember) to hold Holiday and his 38 minutes last time out to see what happens.  Even in a 20 minute role I'm sure he'll be useful, and if by some miracle I make the finals there's even more upside with his 5-game slate.
My side of the bracket has JB vs Yappers.  JB is one of the hottest teams out there right now and with Yappers adding youth at the deadline and with Gallo, Mayo, and now Pau Gasol down it doesn't seem like he has much of a chance.  My guess is that I'll see JB in the semis next week.  The other side of the bracket is Jokic vs Martyball.  Jokic has an unreal team after adding so many non-keeper rentals and considering I have him pegged to win it all I would predict he squeezes past Marty, only to face the top team in Adam in the semifinals.  A match-up that I think most everyone thought would be the finals, or at least should have been the finals.
3. Yappers  (107-60-4)
FAAB Remaining: $10 FAAB Moves this week: n/a
4. I Ain't No Jok(ic)  (107-62-2)
FAAB Remaining: $0 FAAB Moves this week: Briante Weber ($30), Carl Landry ($3)
First off let's start out with something positive. This is my first playoff appearance in the REL in 3 seasons so hooray for that! Now onto other news. It was a rough week for my team that got me into the playoffs with a whimper after rolling through the second half of the season. I lost out on my chance at a first round bye thanks to losing 4-5, which would be my first loss since way back in week 9 when I was still injury ravaged. This loss can be partially chalked up to that as there were 9 games missed due to injury and I only lost rebounds by 5. There were also some oddities this week that I hope don't crop back up, like WCS getting 6 minutes, Schroder getting benched after 3 minutes, and Ibaka going scoreless in a game (WTF?)!
That said, my big trade has netted me Mario Chalmers who managed to rupture his Achilles and is out for the season. Though, in some sort of cruel Yahoo oddity, he was only eligible for the IL spot for a couple hours until Memphis waived him and Yahoo proceeded to make him NA. Which made him a must drop since he'd be clogging a bench spot right through the championship round if I made it there. I also got Iggy, who proceeded to hurt his ankle badly, which puts him out for at least 2 weeks. Again, making him an easy drop since he'd at best be back for me in the championship round if I made it there. Then I also got Ibaka, who as mentioned managed to play a game and put up zero points, for a weekly total of 22 point, 18 boards, 0 assists, 4 steals, and 1 whole block! All of that on 9/31 shooting! Let's hope he gets it together after what is surely his worst week of the season or this could be over quickly. On the plus side, Batum was very solid, haha.
As mentioned, Iggy and Chalmers had to go because of injuries and replacing them are Briante Weber and Carl Landry. Landry is one of many bigs that I would have been happy to nab with my second waiver move and he should get some playing time and help my percentages, points, and boards. Weber was the big get in FAAB. He cost me $30, which I raised from $28 to make sure Martyball couldn't get him with his $29 that he had left. It proved to be just enough as not only did Martyball bid $29, but Niko-Cola bid $30 as well which narrowly let me win him based on waiver priority. Whew! I was in desperate need of a PG after trading Price/Livingston and losing Chalmers/Iggy. Weber should get plenty of playing time if he plays decently since he only has Lance and McCallum to deal with in Memphis now. With those moves I used up all of my saved up FAAB, needing every penny of it too.
Finally, the seeds are set and the playoffs are here! Slim managed to sneak into the #2 seed and nab a bye week, kudos to you sir. I get to play Martyball this week in what should be a tough matchup, but one I feel like I have a decent chance to win. If I do manage to pull it off, next week would pit me against the #1 team again for a rematch of our showdown from last week. Here's hoping I get a chance to find out if I can beat him again. Good luck Martyball!
5. Martyball – IFBL  (107-63-1)
FAAB Remaining: $22 FAAB Moves this week: James Johnson ($7)
6. JB Gilpin – Razzball (99-67-5)
FAAB Remaining: $1 FAAB Moves this week: n/a
Woooooo!  Back-to-back seasons making the playoffs… So what if it was 6th both times?!  In is in…
While it felt great getting Brandon Knight back, it felt like that monkey's foot short story where whatever you wish for actually brings something worse to make it happen…  I was thinking over the weekend I might need to drop a keeper to activate Knight – and secretly was hoping a minor contributor would get an ouchie – but instead Jae Crowder got a high kankle sprain… Why couldn't Tyson Chandler just get hurt again?!  Sounds like I'll be without Crowder for the rest of the playoffs, but luckily I'm healthy everywhere else to try for a Cinderella run…  Hell, it is March Madness, idn't it?!
For the quarterfinals, I get Yappers on the schedule who as Slim mentioned, traded away some vets for youth.  And eesh, he's losing Pau for at least 2 games due to knee swelling at absolutely the worst time.  I'm cautiously optimistic I will move on and play in the epic JB vs. Slim REL semifinals.  I'm already in talks with Pay-Per-View to broadcast the matchup for $100.  Better watch those ears, Slim, I'm a biter!  What heavyweight matchups are all about!
7. Scurry to the Left  (97-72-2)
FAAB Remaining: $98 FAAB Moves this week: n/a

8. Niko-Cola  (90-75-6)
FAAB Remaining: $68 FAAB Moves this week: Gerald Green ($0)
9. Hard-N-Tha-Paint  (90-78-3)
FAAB Remaining: $0 FAAB Moves this week: n/a

10. Kap's Team  (86-81-4)
FAAB Remaining: $53 FAAB Moves this week: n/a
11. High as Greg Kite  (85-82-4)
FAAB Remaining: $0 FAAB Moves this week: n/a
12. Heat Apologist  (82-88-1)
FAAB Remaining: $0 FAAB Moves this week: n/a

13. Hardenoutherr4apimp  (78-92-1)
FAAB Remaining: $62 FAAB Moves this week: n/a
14. Hoopus Alleyoopus  (67-101-3)
FAAB Remaining: $13 FAAB Moves this week: n/a

15. Pete Nice – Razzball  (65-104-2)
FAAB Remaining: $83 FAAB Moves this week: n/a
16. Foreign Affairs  (66-105-0)
FAAB Remaining: $40 FAAB Moves this week: Derrick Williams ($15)
Well that wraps up my teams season with a 2-7 loss to JB, it was Kobe getting revenge on me this week for trading him and not Tony Snell on JB since I blame his presence for the poor games out of Clarkson and the lesser role Russell got to play. Mitch probably got worried they might be getting to into a flow to end the year and they need that draft pick so I smell sabotage.  Since my big trading away Butler, Isiah Thomas and Hayward my teams gone winless the rest of the way with 5 weeks of 4-5 and 7 weeks of 2-7, so you can say that was the turning point for the year, but im happy with the trades and how my team looks heading into next season, though Wiggins remains whom I feel most conflicted about and if I didn't get Embiid I would be kicking myself for the Thomas trade.
I jumped again into FAAB this week picking up Derrick Williams for Robert Upshaw. Upshaw getting cut from his d-league team for a drug violation, along with his history of having those issues in school made me feel he wasn't worth keeping on since it sounds like hes in some debt from loans and might try to play overseas next year to get better money.  As for Williams i've been interested in him since he was drafted but felt that he never has had the right team and system to truly get the most out of him and thus have stay away from him in all my fantasy leagues till now.  My thinking is the Knicks clearly still suck, they have no draft picks this year (hahaha Bargnani trade) melo is looking like he really shouldn't be around for this rebuild and even if they do maybe there is a Kristaps at the 5, melo and Williams at the 4/3.  Either way it looks like I might get a good look at Williams down the stretch here and thought I should jump on him early to lock him down.  I thought about Tony Wroton but didn't want to part with Jodie Meeks yet and didn't like the report that Tony will be monitored throughout  the summer for his continuing recovery and the competition already there in the Knicks backcourt.
As for my team now that the season is done, PG feel really secured here with the growth from Russell and Mudiay and Joe Young and Fingers crossed Austin River getting a bigger role next year gives a nice backup combo.
SG- Clarkson is absolutely fantastic here for me once the year ends and Kobe is done, his running mate has been Wiggins being shifted there but I hope either Sean keeps things up for the not going anywhere fast Nets, even if he's just a ThrAGNOFI'll take that scoring punch, or Jodie Meeks… yep spending alot of time looking at college guards right now and small forwards…speaking of which.
SF- With Wiggins over at SG a bunch im left with my cluster of cheap players who I hope someone emerges as useable on a consistent basis, Tony Snell, Quincy Pondexter, Derrick Williams, Shumpert, MKG  and apparently… Donatas… are my cluster of young guys that haven't really done anything in the league substantial for longer then a month of two, but hey Marcus Morris was pretty unimpressive till this year so fingers crossed, though maybe Saric gets sf eligibility and is massively productive for the Sixers next year I always for get about him with the Jason Richardson place holder.
PF- This is where I stick Donatas since the only other guy that can play pf on my team besides newly acquired Williams is Gorgui so they've been camping out there full time Gorgui is fantastic there as a glue piece since he only hurts me in 3's, im looking to draft another pf next year especially with this draft class looking like they might have some really solid sneaky guys that "could" be had for cheap, but given the scouting that happened this past year on guys like Trey Lyles and Portis I doubt it.
And that brings me to C….so knocking on all the wood that Embiid is no Oden and steals one of Noel and Okafor's roles i've really got nothing else there unless I move over Gorgui, Nogueira is better for bench hope at this point having done nothing in the actual nba and this draft class looks…well uninspiring compared to the crop of rookie centers we just got this year.
I've got some big holes to fill on this team and might have to make some dramatic moves before next years draft to get in position to address it but Im excited about the process and had a fun time this season taking over this team and molding it towards my vision of where it needs to go to compete for the championship in the future, I'm also alot more comfortable then at the start since this has been my first every auction league and I think I have learned a lot and gotten very comfortable about how it all works without sending my team into the toilet with no foundation young guys…just ignore some mistakes on draft day…like Kobe.
And to wrap up CURSE YOU DAVID LEEEE useless for the whole year until your long gone from my team and then you start producing close to 10-10 lines to maybe entice a contender, you stunk so bad for so long you didn't even help the team I trade you too when I lost patience, I don't even think you helped the first waver wire team that nabbed you.. waste of everyone's time and auction money…grumble grumble.
Good luck to everyone for the playoffs, and now I my team goes fishing at lake March Madness without a Ben Simmons to catch…good job LSU!!!
17. Cigar Smoking Monkey  (63-106-2)
FAAB Remaining: $100 FAAB Moves this week: n/a
18. The Nature Boy  (61-108-2)
FAAB Remaining: $75 FAAB Moves this week: Tony Wroten ($0)

19. No Glove No Love  (60-110-1)
FAAB Remaining: $35 FAAB Moves this week: Marcus Thornton ($4)

20. The Chosen Ones  (55-116-0)
FAAB Remaining: $0 FAAB Moves this week: Tyler Ennis ($1)