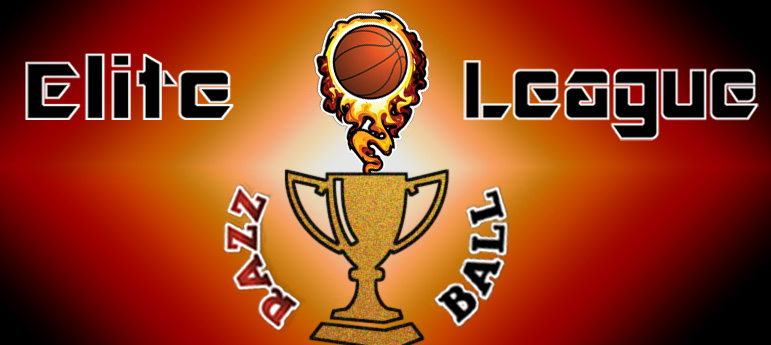 Whew-ee!  Look at our graphics dept. putting together some sick new logos (aka, hurray for some extra time this weekend)!  Man, look at our shiny new one at the bottom of the post too, I want my jersey retired in the rafters!  Although as we passed through the trade deadline, it was I Ain't No Jok(ic) who really put the pedal to the metal in acquiring a big haul of rentals.  I haven't seen rentals this abused since Blockbuster was in business!  The top 5 teams claimed playoff berths with a pretty big margain between 6 and 7, so it looks like the playoffs are set.  All that matters now is the jockeying for seeding, with all of the top 5 in range for a coveted bye week.  Here's how week 18 went down in the REL:
1. HateUsCauseTheyAnus  (105-55-2)
FAAB Remaining: $0  FAAB Moves this week: Marcelo Huertas ($1)
2. Yappers  (103-55-4)
FAAB Remaining: $10  FAAB Moves this week: n/a
3. I Ain't No Jok(ic)  (103-57-2)
FAAB Remaining: $33  FAAB Moves this week: n/a
Well my big pre-playoff test is complete. I came away with a 5-4 victory over the first place team. Which managed to actually knock me down in the standings as it turns out, so no longer in position for a first round bye going into the final week. Incredibly, by knocking off #1 I've made it so that 2.5 games separates the top 5 teams! So I'm looking at finishing anywhere from 1stto 5th at this point, though I did mathematically clinch a playoff spot at least.
I'm a little disappointed in my team's performance this past week despite the win. I think minor injuries and missed games by Nene, Oladipo, Noel, and of course Carroll contributed, but there was also the criminal lack of playing time for WCS and Aaron Gordon. I think the lack of WCS, Aaron Gordon, Noel and Nene caused me to lose boards and blocks with easily my worst week in either category for quite some time. Based on that I guess I should be happy I won 5-4, though I feel it could have been 7-2 if a couple things fell my way (like George Karl and Scott Skiles opening their eyes).
I wasn't planning on making a trade, but, in the end I decided to move one future piece for a couple of now pieces. I hope I didn't screw up the chemistry on my team though, I know the trade rumors effected the outgoing Otto Porter who was horrible all week leading up to the trade. Sorry Otto, we still love you. Coming back are Batum, Ibaka, Chalmers and Iggy (in exchange for Porter, Nene, Price, and Livingston). I don't think there's much of an upgrade for the last two guys but, I definitely added an extra top 60 player in this deal. Here's hoping it's enough to put me over the top!
4. Martyball – IFBL  (103-58-1)
FAAB Remaining: $29  FAAB Moves this week: n/a
5. Slim – Razzball  (103-58-1) 
FAAB Remaining: $0  FAAB Moves this week: n/a
6. JB Gilpin – Razzball  (92-65-5)
Whew.  Yes, that's right, I started both the intro and my recap with whew…  It was a grinding week!
After a slow start, where I was even down 3-6 at some points to Pete Nice on Wednesday, my guys got it together and I put together an 8-1 win.  With Scurry winning 5-4, I expanded my 1.5 game lead to 4.5 games.  Now, I still don't think I'm good enough to do major damage in the playoffs, but back-to-back playoff nods after a rough inaugural season has been a nice turnaround.
I was fairly close to making one final deadline deal that fell through, but through the past few weeks I've been able to assemble some rentals to maybe get lucky through the playoffs without damaging my keepers.  I still feel like I'm more of a "next year" team, so here's to hoping some of my young guys barely playing/not playing (cough, Powell) can shock the world with some PT and I can sneak some 5-4 playoff wins in there.  We need miracles baby!  A Cinderella run!
FAAB Remaining: $1  FAAB Moves this week: n/a
7. Scurry to the Left  (89-71-2) 
FAAB Remaining: $98  FAAB Moves this week: n/a

8. Niko-Cola  (84-72-6)
FAAB Remaining: $68  FAAB Moves this week: K.J. McDaniels ($0)
9. Hard-N-Tha-Paint  (85-74-3)
FAAB Remaining: $0  FAAB Moves this week: Reggie Bullock ($0)

10. Kap's Team  (84-74-4)
FAAB Remaining: $53  FAAB Moves this week: n/a
11. High as Greg Kite  (80-79-3)
FAAB Remaining: $0  FAAB Moves this week: n/a
12. Heat Apologist  (80-81-1)
FAAB Remaining: $0  FAAB Moves this week: n/a

13. Hardenoutherr4apimp  (73-88-1)
FAAB Remaining: $62  FAAB Moves this week: n/a
14. Hoopus Alleyoopus  (65-94-3)
FAAB Remaining: $13  FAAB Moves this week: n/a

15. Foreign Affairs  (64-98-0)
FAAB Remaining: $55  FAAB Moves this week: Sean Kilpatrick ($35)
I finally got my guy in Joel Embiid $11 who I've been chasing for months now to pair up with Gorgui up front and if if starts sniffing his potential and is putting these injury issues behind him should be a massive bump for my weak rebounding and block numbers. And if the following link is any indication he might be a decent ft% and 3s big…wooo getting alittle hot in here.  https://www.reddit.com/r/nba/comments/498rr4/joel_embiid_casually_shooting_corner_threes_with.
Giving up $14 Ryan Anderson doesn't bother me to much as while he is an excellent stretch big who could get a starting spot next year by leaving the Pelicans im hoping a healthy Donates can reproduce a discount version of what he gives at only $1. Also at 27 he is abit old for the core of my team and before this year he was abit injury prone so maybe a wash with Embiid in that regard…lots of knocking on wood.  Moving Bojan as well didn't bother me since I feel like I am selling high on him especially since maybe Sean Kilpatrick guy just replaced already, and boy did I over pay on Sean, I had a $13 dollar bid right up till 3 minutes before closing and jumped it to $35 feeling like I would need to go that high to nab him seeing other prices in FAAB and the fact alot of teams still had money to spend with little season left, Also had a bid for Beasley that would have easily gone through but after not playing last game and looking like I would be dumping a soon to return to playing Jodie Meeks I decided to skip doing that, just see to many bigs that should be playing instead of Beasley in Houston…if that team you know actually was functional for a few weeks. Upshaw fits with Nogueira as my $1 flier bigs to see if something happens this offseason that makes them valuable, I still need one more big to have a nice rotation there so hopefully one of them pans out and on a plus side the Lakers center spot is terrible with Hibbert probably gone this year and the free agency centers that would likely consider the Lakers aren't really all that much better then Hibberts "back-ups" so summer league here we come.
Its been a long time coming but I finally go up against JB this week, and while this will be the last match-up for my team since I'm well out of the Consolation playoffs I have a very slim chance to play the spoiler for JB holding onto that last playoff spot.  Unfortunately for him he goes up against my team fresh of a 4-5 loss where Russell has free rain and is tearing it up, Mudiay is getting all the counting stats and killing % but he his to's have gotten better and 2 of his last 3 games had good fg%. I expect to lose but look forward to watching my young guys give it there all and who knows maybe Butler's knee explodes and Snell rises like the unexpected hero in a sports
16. Pete Nice – Razzball  (62-98-2)
FAAB Remaining: $83  FAAB Moves this week: n/a
17. Cigar Smoking Monkey  (60-101-1)
FAAB Remaining: $100  FAAB Moves this week: n/a
18. No Glove No Love (55-106-1)
FAAB Remaining: $39  FAAB Moves this week: Chase Budinger ($8), Ray McCallum ($1), Vince Carter ($1)

19. The Nature Boy   (54-106-2)
FAAB Remaining: $75  FAAB Moves this week: n/a

20. The Chosen Ones  (54-108-0)
FAAB Remaining: $1  FAAB Moves this week: Michael Beasley ($4)