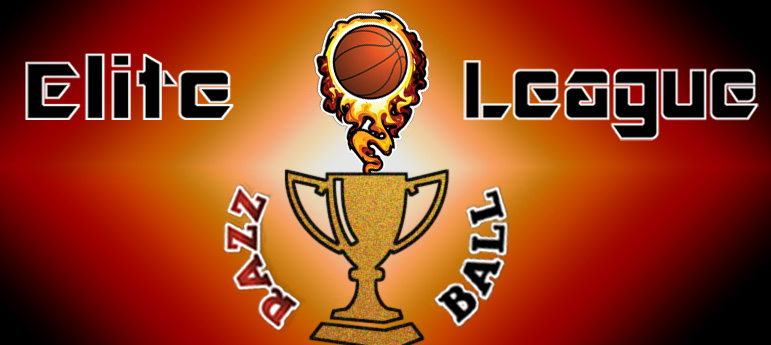 Man, things are tightening up at the back!  Wow, that sounds wrong…  No changes to the top-6 seeding for the REL playoffs, but the race for the #6 spot remains close.  Yours truly is currently there and trying to limp in, but I've got Scurry and Niko on my heels.  Damn losing two close cats last week!  We had another big purchase on the FAAB market this week, and with the trade deadline looming this Thursday, we should see a few more big deals go through the trade market.  Here's how week 17 went down in the REL:
1. HateUsCauseTheyAnus  (101-50-2)
FAAB Remaining: $1  FAAB Moves this week: n/a
2. I Ain't No Jok(ic)  (98-53-2)
FAAB Remaining: $33  FAAB Moves this week: n/a
Another win last week, though I was a little disappointed to lose FG% in the final minutes of the final game thanks to what I think was Amare Stoudemire making a FG for my opponent at the end. So a 7-2 victory it is, which continues to leave me in a tie for second place with Yappers. I'm also a little worried that Derrick Rose missed the whole week with an injury, but it sounds like he will be fine as he was apparently close to playing. Well, as fine as Derrick Rose can be health wise anyway. Then there is DeMarre Carroll for whom I'm still waiting on an update. Hoping for round 1, or round 2 if I can manage a round 1 bye.
This is the big week though. A showdown with the number one team in the league. I'd like to say a win here and I'll be in first, or I'll guarantee myself a first round bye. But, I don't think either of those are necessarily true, though a convincing win (unlikely) would give me a shot at both of those. Most likely I just want to avoid a bad loss here which will knock me down in the playoff seeding. It's not going to be easy, that's for sure!
More trades by my fellow playoff competitors this past week as they stock up for the playoff run. More standing pat and turning down multiple offers for me. There's always the possibility that I make a move, but I don't think it'll bother me too much if I don't make one. I realize there's been some turnover with playoff teams selling the future for now, and occasionally teams are resting guys to hold onto percentage or turnover categories (though not much lately since I've been checking). That said, in the past 5 weeks if I match my team up against the other 5 (current) playoff teams my record would be a whopping 24 – 1 against them. So 24 times I would have beaten them and moved on, and only once would I have lost (which would have been a 5-4 loss way back in week 14). That said, I still feel my team is well rounded and strong enough to win the title this year even without making significant moves.
I guess we'll start to find out this week though…
3. Yappers  (97-52-4)
FAAB Remaining: $10  FAAB Moves this week: n/a
A few pre trade deadline notes
* With the injury to Gallinari following the injury to Marc Gasol I am most definitely in next year mode, my current position in the standings notwithstanding.
* I am not terribly anxious to make any moves, but I would consider some types of moves if I think they help me next year. For example I plan to renew Deron Williams but if I receive a trade offer that I prefer to renewing (considering the auction cash it would free) I will consider.
* I like McCullough and Vonleh because they make my team younger. However I realize that getting younger and winning next year may be contradictory goals. So I will consider trades of one or both of them (and Dekker) for more certainty if the player returned is one of substance and is of better value than what I might expect at an auction.
* I am probably set for $1 players and may have a problem next year deciding which ones will make the keeper cut next year (I want three openings for about $60-$75 at the auction). It has occurred to me that the 4-4-5 playoff schedule of Dunlevy may make him more valuable to a savvy owner wanting a playoff edge than he is to me. I am also open to any deal involving two of my $1 players for one of better value.
* The only untouchables are Lowry, Gasol, and Gallinari (his injury does not impact his value to me). I would put Teague, Matthews, Plumlee, and Mickey in the category of "you can ask but you probably ain't getting". The end.
4. Slim – Razzball  (97-55-1)
FAAB Remaining: $0  FAAB Moves this week: Josh Richardson ($2)
Injuries… the story of my life.  In fantasy basketball at least, well, this year I mean.  Whatever, it isn't easy not to exaggerate when you're watching guys go down every week.  With 2 weeks to go until the playoffs I have 3 injuries that don't appear to be getting better anytime soon.  Bryce Dejean-Jones is out for the year.  John Henson has been out over a month and if I were a betting man I would bet he doesn't play again this year.  Alec Burks has been out for nearly 2 months and even though I still have hope he comes back to help at some point when that will happen is anyone's guess.  We have the 1 IL spot I've been hiding Burks in and if he comes back I'll be able to slide Henson right in behind him.  But then what to do with Bryce's roster spot?  It didn't even cross my mind until this morning that I can drop him for a FA but I'm going to avoid that for as long as I possibly can in hopes that I can either deal him for someone better than a FA add or that Henson miraculously heals and Bryce can occupy my IL spot.  Only 3 days left until the trade deadline and only 2 weeks left until the playoffs.  Time is running out…
Aside from Bryce the bottom of my roster is Shane Larkin, JaMychal Green, and Gerald Green.  Larkin is giving me assists and a couple steals and still getting 20ish minutes per game.  I simply can't replace that off the wire.  I was going to drop JaMychal this week with Wright coming back but PF is probably my biggest need, oh and spoiler alert: Wright is injured again.  A solid hold for me and 25 minutes should be all but guaranteed at this point.  Gerald Green had what might be the worst week I've ever gotten from a healthy player.  A 4-game week of 0/11 shooting to go with 2 boards, 2 assists, 1 steal, 1 block, and 2 TOs.  Even if he didn't get a DNP-suckage Sunday night I was still going to move on.  My 1st choice wasn't even picked up?!?  I say 1st because I assumed Joe Johnson would send Josh Richardson back to bench, but in game 1 of the Joe Johnson era (all 25 games of it) Richardson got 30 minutes with Green and McBob picking up the DNPs.  I don't expect JRich2 to light up the scoreboard but he should give me a solid helping of steals and blocks and chip in a few 3s.  Nothing spectacular but very much capable of filling up a box score, as evident from his top 100 ranking since the ASB in only 25 minutes per game, and at only 22 year old he's even got some keeper potential.  Needless to say I was surprised to find him on my team this morning with my last $2 of FAAB.
My final 2 regular season match-ups are against 2 teams in the bottom half of the league.  I'm somehow only 1.5 games away from a 1st round bye but it is't something I have much control over anymore.  However, I can still root for someone else to get me there.  Whoop dat ass Anus!  Hmm, that sounded a bit redundant.
5. Martyball – IFBL  (96-56-1) 
FAAB Remaining: $29  FAAB Moves this week: n/a
6. JB Gilpin – Razzball  (84-64-5)
FAAB Remaining: $1  FAAB Moves this week: n/a
Well, pretty frustrating that if just a few more shots go in, I go from a 5-4 win to a 7-2 W, and probably put too much distance on Scurry or Niko for 6th.  I end up losing by 13 Pts and .007 FG%, in a week ending on a .385 FG% and without a full week of my Melo rental…  But it is what it is, and I have two easier matchups to round out the reg season and Scurry only gained 1 game on me.  My lead is 1.5, but I think if I can take care of business it should work out.
I thought I had only one trade left in me, but I hit up the trade market twice this past week.  I was able to get a Melo rental ($40) for the pretty low price of Jeremy Lamb ($11) and Archie Goodwin ($1).  Goodwin has gotten rolled way down into the rotation since the deal, so I sold at the right time.  But even with giving those two up, I still had all of 1 empty spot on my roster for next year, and $55 of budget, thanks to dealing away expensive contracts and building up a few more $1 keepers.
So I decided to make one final deal for rentals, and a deal I dunno if I would've even made if not for my roster constraint.  I moved Tristan Thompson ($7)/Tyler Johnson ($1) – both of which I feel are on nice keeper deals given their long contract/youth & upside, respectively – for Dirk Nowitzki ($22), Luol Deng ($13), and Taj Gibson ($10).  What I like about that return is I could choose to keep one of Deng or Gibson, but I'm probably not.  Now I have 3 spots to fill with $55, which will be nice as I need more depth up front.  Dropping $55 (or whatever he ends up going for) on the best big avail in next year's draft just didn't appeal to me, since it would be a rental.  I could end up bidding $32 on, I dunno, Marc Gasol, and the rest of the room drop out and be left with $23 wasted dollars.  No bueno, I HATE wasting money in auctions.
Anyway, a few rentals there should make me interesting in the playoffs.  I still don't think I'm good enough to really go all the way, but I feel pretty good about all my cats except AST and BLK.  I'm almost certainly losing those to the top teams.
7. Scurry to the Left  (84-67-2) 
FAAB Remaining: $98  FAAB Moves this week: n/a

8. Niko-Cola  (82-67-4)
FAAB Remaining: $68  FAAB Moves this week: John Jenkins ($12)
Well, that's all she wrote. After a feverish comeback attempt we decided to throw in the towel on Thursday of last week. Our start was just too bad to overcome and we had some key contributors either come up injured or just plain lose steam down the stretch. With that being said we have been in FULL sell mode for about 4 days now ahead of the deadline. We hope by Thursday that our roster is full of only potentially keepable guys. Batum… On the block, Ibaka… On the block… You get the idea. If you are trying to make a late push or want to try and buy the ship this year then let us know.
Speaking of which we did make a deal with JB we get Tristan Thompson and Tyler Johnson while giving up Deng, Gibson, and Dirk. Our thoughts were that Thompson is a younger cheaper Taj while Johnson could be a nice player down the road. Certainly no show stopper for us, but a fair haul for 3 guys that are likely only rentals.
Good luck in the in the playoffs!
9. Kap's Team  (79-70-4)
FAAB Remaining: $53  FAAB Moves this week: Kevin Martin ($37)

10. Hard-N-Tha-Paint  (80-72-1)
FAAB Remaining: $0  FAAB Moves this week: Alan Anderson ($10), Richard Jefferson ($8)
11. High as Greg Kite  (77-73-3)
FAAB Remaining: $0  FAAB Moves this week: Robert Upshaw ($0)
12. Heat Apologist  (77-75-1)
FAAB Remaining: $0  FAAB Moves this week: n/a

13. Hardenoutherr4apimp  (71-81-1)
FAAB Remaining: $62  FAAB Moves this week: n/a
14. Hoopus Alleyoopus  (61-89-3)
FAAB Remaining: $13  FAAB Moves this week: n/a

15. Pete Nice – Razzball  (61-90-2)
FAAB Remaining: $83  FAAB Moves this week: n/a
16. Foreign Affairs  (60-93-0)
FAAB Remaining: $90  FAAB Moves this week: Jodie Meeks ($0)
17. Cigar Smoking Monkey  (57-95-1)
FAAB Remaining: $100  FAAB Moves this week: n/a
18. The Nature Boy  (51-100-2)
FAAB Remaining: $75  FAAB Moves this week: n/a

19. No Glove No Love  (49-103-1)
FAAB Remaining: $49  FAAB Moves this week: n/a

20. The Chosen Ones  (48-105-0)
FAAB Remaining: $5  FAAB Moves this week: n/a