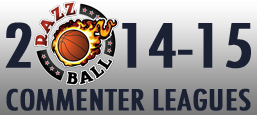 Pops is running away with it!  Hurricaning away with it!  Hoverounding away with it!
Yes Pops's Team has moved even further into the RCL lead, winning 7-2 last week for a 61-19-1 record and 123 RCL points – 9 ahead of 2nd place.  C'mon JayWrongers!  We need to put a stop to da Pop!
We'll all hoping Pops falls down a peg or two inWeek 10 in the The 2014-15 RCL Master Standings table, and here's how the action went down in week 9 across our 12 RCL Leagues:
JB's Random Commenter League – The #1 crushing the #12!  A lot of that this week!  Hayward Ginobili with a big 8-1 win moves them closer to RCL glory with a 54-27 record.  Our league is probably as set for the playoffs as any RCL, as spots 1-6 have a 10 game lead on spot 7.  So good job on making the playoffs everyone in the top 6!
EmasculatingHoopsLozengesRCL – A week of close scores with everyone in 6-3 or 5-4 matchups, with Drew says '#KD2DC!' winning 5-4 to maintain a narrow 1 game lead over The Handsome Lads.  Drew says #RCLchampionship!
Slim's RCL – Slim – Razzball is putting me to shame with his RCL performance!  A 7-2 win last week moves him to 54-26-1, good for 4th in the RCL standings.  Tobias and the pickup of Covington have been stomping over the competish the past month.  End this reign of terror this week, Rondobarda!
Hoops fanatics only league – With a 4-5 loss, Medley lost hold of the #1 spot with Injuries Fo Dayz taking a half game lead with a 6-3 victory.  Shake-up at the top!  Led by the eliteness of Anthony Davis and the strong play of Danny Green, Injuries has been killin' it the last 30 Dayz.
Razzball League Awesome – A tough tough 2-6-1 loss for Big Deng Theory moves Hibbert Forever into a commanding 3 game lead in the Awesomes.  Brian's Team was like, "I hate that show!"  After pulling the upset over Deng, Brian goes back-to-back against the top two teams against Hibbert this week.  Mid-season surge!
Take On The Jay(Wrong) – Another week, another big Pops's Team victory.  The Appalachians 2 gave him a good effort, but the wily old vets led by LeBron could not be stopped!  All up to the Mirotic Fantasies this week!
JB vs. Slim – Ugh, get healthy Durant!  My team is struggling, while razzball rookie never seems to lose with another 7-2 victory.  Beginner's luck!  PS – thanks Jordan Hill for only 2 rebounds in the final game of the week to have me lose boards by 1… Thanks a lot!
Take on SethDaSportsMan – The empire strikes back!  The Emperor of Ice Cream (were you always that name?  If so, nice work surging into the lead!) with a 6-3 win moves into first place but only 41st in the RCL standings.  This league is a bloodbath!  The top 10 teams are only 6.5 games apart, and the winner is going to come out more battered around than Arnold in Terminator 2.
Kap vs. Razzball – Wooooo, let's go Kap Razzball!  Reppin' his RCL with that swagger, beating Drew Holiday 5-4.  The hero beating the villain!  Drew still has that epic combo of Brow and Lowry, and tied for 4th in the RCL standings is still a juggernaut.
Razzball Snipers – Even with "only" a 5-4 win, the Akron Lebrons are still 2nd in the RCL standings with a 57-24 record and 114 RCL points.  Akron has a 7 game lead over the Snipers, but 2nd place Hannover Hotspurs has got something to say about that!  The 1 and 2 face each other in a battle for Sniper supremacy.
Jedball – micoolj79's Team is back on the hot track!  A big 7-2 win has them only 2 RCL points from 2nd place, and a 10 game lead over the Jedballers.  Only 50 TO in your mathcup too!  Man, it must be nice having Brow throw up huge numbers every week with only 3 TO…
Latecomers! – Look out for the Murder Castle!  I wonder if that's a nickname for White Castle… In the battle for first place against previous #1 DunkercornApocalypse, Murder Castle won 6-3 and tied Dunkercorn atop to the league.  Top 4 teams are separated by only 1 game, so it's anyone's league in the Latecomers!
Thanks again for playing in 14-15 RCLs and good luck to your squads in Week 10!