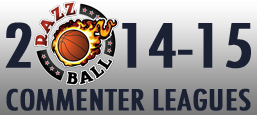 Nobody can stop da Pop!  Once you go Pop, you'll never stop…?  I imagine a grandpa using that line!  Even if it does sound like the Pringles slogan…
Only a single point ahead of the field last week, a huge 8-1 win propelled Pops's Team into a commanding RCL lead with 109 points.  Team of vets pulling through!  Three teams have now passed the 100-point threshold on the leaderboard with Pops at 109, the Akron Lebrons at 104, and the Razzball-antagonist Drew Holiday at 101.  Let's pull it together, Kap vs. Razzball league!  We can't let name-changers win!
We'll all be chasing Pops in Week 9 in the The 2014-15 RCL Master Standings table, and here's how the action went down in week 8 across our 12 RCL Leagues:
JB's Random Commenter League – Oh no, Hayward Ginobili is going to lose some hair over this one!  A 4-5 loss while #Occupy DGreen won 6-3 to tie them up at the top with 46-26-0 records.  Go #Occupy!  He owns both D Greens, so it stands to reason they're on a rampage lately.
EmasculatingHoopsLozengesRCL – Perfect games alert!  Out of nowhere CHIC BALLS let's em hang out and swing all over the place beating Heisenberg 9-0.  Heisenberg, the former top team in this league several weeks!  Ugh, now I'm scared I have a price on my head mentioning that…  And I did say "perfect games" as Drew says '#KD2DC!' also laid out a walloping, beating Boogie Cousins' cuz 9-0.  Two 9-0 wins, one league!  Best internet video ever!  Drew is now tops in the league and good for 20th in the RCL leaderboard.
Slim's RCL – Slim – Razzball continues to walkabout his RCL!  A 5-3-1 win keeps the podcast co-host 1.5 games ahead of the league and all the way up at 5th in the master standings.  I bow to you, sir!  Harden has been making Slim harden, plus Kemba making him tremba.  Eh, stretch there…
Hoops fanatics only league – That team Medley is starting to lose their headly!  One of the longest running league-leaders this season lost 3-5-1 and has lost 3 straight weeks.  Injuries Fo Dayz is only a game-and-half back even with their injuries for days!  DeRozan, STAT (sorta) and Teague banged up right now, but still climbing the standings.
Razzball League Awesome – Whoa, another league with two teams tied at the top with 46-26-0 records!  Just like my RCL!  A 4-5 loss for Big Deng Theory and a 5-4 win for Hibbert Forever locks up these two RCL titans.  They don't face each other again until week 15, so let's see if they can hold up their #1/2 spots until then.
Take On The Jay(Wrong) – Pop's Team, we are in awe of your greatness!  8-1 victory over Jason's Team, losing only assists and the percentages the only cat close.  Well, it certainly helps Jason only had stats brought in from 7 players due to injuries/not setting their line-up.  C'mon JayWrongers!  10.5 points ahead of 2nd place, it looks like there's 4 dead teams at the bottom.  Jay, e-mail your league, get em goin'!
JB vs. Slim – The razzball rookie finally having some of that beginners' luck run out!  A 3-6 loss knocks them right back down to the field, but they still have a 3 game lead.  My team is keeping a .500ish pace, but I think I've got a big run in me.  Get healthy Durant!
Take on SethDaSportsMan – Yet another league with a tie at the top of the standings, with Dr. Dirkenstein and aCHANGEY locked up at 40-32-0.  Still the all parity league!  First through eleventh are only 8 games apart.  Fight to the death!
Kap vs. Razzball – Drew Holiday, your changed team name is the ire of the RCL community!  Although I may be fueling their reign of terror, as a 7-2 win moved them to 3rd in the RCL standings.  We will sing legends of your treachery!  Let's go Kap, need ya to bring us a Christmas present of a 9-0 victory!
Razzball Snipers – Another solid win and the Akron Lebrons maintain a #2 spot in the RCL standings at 52-20.  Since Week 3 they're 43-11!  En fuego!  Up 9 games over the Snipers field, it's your league to lose!  You could always move to South Beach…
Jedball – It's been a struggle for micoolj79's Team, who I was rooting for!  A narrow 5-4 win this week, and miccolj is 9-9 the past two.  Still 4th in the RCL standings and killin' the league (7 games ahead), they've lost that top spot in the RCL leaderboard.  You'll get back on track this week against My Team!
Latecomers! – The DunkercornApocalypse still apocalypsing!  A 6-3 win over the Hound Dogs moves them to 44-27-1, good for a 2.5 game lead amongst the Latecomers and 13th in the RCL master standings.  Led by the Brow, they're going to be a tough team to bring down while he's healthy!
Thanks again for playing in 14-15 RCLs and good luck to your squads in Week 9!