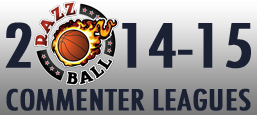 The Pops keep winning, as a 6-3 victory in the Take on Jay(Wrong) league has Pops's Team still first overall in the RCL Master Standings.  "I gotta have my Pops!"  Pops also lost dimes by a single assist last week, but held on just enough to tally 93 points on the leaderboard.  But we have a surging #2, and I don't mean that feeling you get after eating a breakfast burrito!  Look out for the Akron Lebrons in the Razzball Snipers league, who have gone 37-8 the past five weeks.  C'mon Snipers, let's get that Bobby Lee Swagger back!
We'll be chasing Pops and Akron in Week 8 in the The 2014-15 RCL Master Standings table, and here's how the action went down in week 7 across our 12 RCL Leagues:
JB's Random Commenter League – Those baldies at Hayward Ginobili keep winning, making everyone else's hair fall out! A 6-3 win moves them to 42-21 while Metal Face Doom moves into 3rd with an immaculate 9-0 victory.  Spelled doom to Donna's Mate, that's for sure!
EmasculatingHoopsLozengesRCL – The shady, shadowy, menacing Heisenberg continues to sit at #1, but had a crushing 3-6 loss to 4th place The Handsome Lads.  A myriad of injuries have plagued Heisenberg, so it's time to pounce, Lozenges!
Slim's RCL – Slim – Razzball is just dumping on his RCL!  An 8-1 win last week moves him to 42-21 in 1st place, as our resident bearded one is at least 6-3 the past four weeks.  Harden, Markieff, Tobias… All been so hot right now!
Hoops fanatics only league – Team Medley has been one of the steadiest RCL teams this year, but suffered a 4-5 loss this past week.  Still #1!  But the field is catching up as we have a huge #1 vs. #2 matchup in the fanatics league, with Injuries Fo Dayz the two seed looking to hopscotch those Medlies.
Razzball League Awesome – The ratings just keep getting better for the Big Deng Theory!  A 5-4 win moves them to 42-21, tied with Slim and Hayward Ginobili for #6 on the RCL leaderboard.  Hibbert Forever is a mere game back, and with a big week could take over a stronghold on #1 in the Awesome league and top 5 in the RCL leaderboard.
Take On The Jay(Wrong) – Our fearless leader!  Pop's Team continues to bowl over the JayWrongers, with that 6-3 win over Buss Crash last week.  Haha, I like that team name…  Pops is still riding those vets like he's the Spurs, but the Spurs do nothing but win titles!  Gus Ayonin'!
JB vs. Slim – The razzball rookie has nothing but beginner's luck!  Absolutely bludgeoned me 7-2, even though I like my team!  But it was mad close – rookie won by 3 Pts, 28 Reb, 9 Ast and 9 TO.  Could've easily swung 6-3 my way, and I was without Bogut, who I can't really drop…  Tied for 4th in the RCL standings, rookie better be happy this close matchup went his direction!
Take on SethDaSportsMan – The all parity league!  Spots 1-11 are separated by 5.5 games!  And in a league like that, a 7-2 win can emit shockwaves, as Emperor of Ice Cream moves even with Dr. Dirkenstein for the #1 seed with 35-28 records.  Dr. Dirkenstein and the Emperor of Ice Cream sounds like a hilarious children's book idea!
Kap vs. Razzball – Drew Holiday, the antagonist of the RCLs for changing their team name mid-season, had a winning week again… C'mon Kappers!  But it was only a 5-4 victory, tying them with razzball rookie for 4th in the RCL standings.  The big week was from Red White Blues, who showed some true patriotism winning 8-1 against Communism!  Moves them into 2nd place 4.5 GB.
Razzball Snipers – The hottest team in the RCLs get hotter!  The Akron Lebrons are #2 in the RCL Master Standings by a single RCL point, with a shimmering 46-17 record.  Over the past month, CP3, Danny Green and Kyrie Irving have been top 10 players… Yeesh!  It'll be up to DK to KD! to bring em down a peg this week.  Let's do this DK!
Jedball – micoolj79's Team loosening their grip!  A 4-5 loss moves them to 44-19 on the year and down to third in the RCL Master Standings.  You can come back from this, mico!  Almost all of that struggle can be tied to Anthony Davis getting hurt over the weekend… They'll look to bounce back – with Davis returning tonight – against Adam M's Team.
Latecomers! – The DunkercornApocalypse out of nowhere!  I don't think I've thrown them a shout yet this year, but a 7-2 win moves them into first place in the Latecomers league, surging with a 38-24-1 record.  7-2 wins in back-to-back weeks in another league with parity can do that!  Dunkercorn will hope to keep Apocalypse-ing this week against the Hound Dogs.
Thanks again for playing in 14-15 RCLs and good luck to your squads in Week 8!