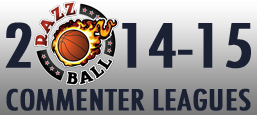 After a  7-2 win in the Take on Jay(Wrong) league, it's back to the top for Pop!  With a record of 40-13-1, Pops's Team has retaken the #1 spot in the RCL leaderboard over micoolj79's Team.  Thank the lord, Pops is so much easier to type!  The team of vets continue to impress, and the rest of RCL needs to fight harder to bring down that mess!  [my attempt at rapping, awful]
It'll be a big week as we try to catch Pops's and micoolj79's Teams in the The 2014-15 RCL Master Standings table, and here's how the action went down in week 6 across our 12 RCL Leagues:
JB's Random Commenter League – Another win for Hayward Ginobili notching a 5-4 victory to move to 36-18.  But look out for my JB team!  A 7-2 win catches me up to the top of the standings, only 4 back at 32-22.  Viva la Curry!
EmasculatingHoopsLozengesRCL – Heisenberg won't stop pedaling that blue ice!  A 6-3 win moves them to 34-19-1, good for 13th in the overall standings.
Slim's RCL – Whoa, look at that Slim – Razzball there!  A 6-3 win moves our resident Slim into 1st in his RCL league, tied with WrongSideof27.  And don't count out Hibbert Forever, with a brutalizing 8-1 win to move them to only 2 back.  The rich get richer, and the poor poorer!  Way to prey on the weak, Slim….
Hoops fanatics only league – Team Medley is steadily cruising ahead, as even after a 4-5 loss is still 4 games ahead of the field and 8th in the master standings.  Man this is a good team with Draymond and Jimmy Buckets, plus Al Horford starting to turn it up.  Look out for Medley!
Razzball League Awesome – AWESOM-O with another week of trouble!  A .500 4-4-1 performance, allowed the huge 8-1 win for Big Deng Theory to retake the #1 spot!  Big shakeup in the Awesome.  Deng riding Gasol and Harden, on top of weathering several injuries, could give him a strong chance at #1 in the RCL field.  Plus, awesome avatar man!
Take On The Jay(Wrong) – Those vets of Pop's Team continue to plow through the JayWrongers with a 7-2 win over Andrew's Team.  The pedal is on the metal!  And JayWrongers, you let him flank those vets with a Lou Williams pickup?!  Sweet Lou is such a good get for Pops, as he won points by a meager 698-282 margin last week.  Way to rub it in, Pops!
JB vs. Slim – The razzball rookie wins again!  Beginner's luck!  Oh man, my team better show up this week after an eembarrassing showing only winning 5-4 with Durant back his first week.  You're going down, razzball rookie!  We face each other in a big test for my squad.  Especially since ahead of me, Champs – Slim 1 JB 0 and Primo Pasta's MVP with 8-1 and 8-0-1 wins this past week knocked me lower in the standings even after a win!  No parity in this league!
Take on SethDaSportsMan – Whoa, talk about the flip side of parity!  Another week with no lopsided wins, as everything stays in the 6-3 range.  Only 10 games separates first from worst, with Dr. Dirkenstein still leading the Sethers with a 32-22-0 record.  It's a bloodbath!
Kap vs. Razzball – Ugh, so the former Amalbec Stoudemire changes his team name, and it throws everything for a loop!  If you want to avoid my ire, don't change your RCL team name mid-season!  DK Razzball, twas rooting for ya man!  But the newly named Drew Holiday came to win with a 7-2 victory, moving to 38-15-1.  You're my new mortal enemy, Drew Holiday!  Go Run TMC LIves! this week!
Razzball Snipers – Whoa, hottest team in all RCL alert!  The Akron Lebrons with back-to-back 8-1 victories, moving to 39-15-0 and good for 3rd overall in the RCL standings.  It can happen that fast!  The combo of Kyrie, Chris and Klay have owned for Akron the past three weeks, as he's become a danger to Pops's and micoolj79's Teams for #1 RCL team!
Jedball – It's tight enough at the top that even after a 6-3 win, micoolj79's Team moves into 2nd in the RCL master standings by just half a game.  40-14 and still cruising, while this league is turning into a full out caste system!  Top 6 teams won 6-3 or better.  C'mon bottom 6 in Jedball, we need you to step it up to bring Mico down!
Latecomers! – In the now infamous Cats Like War Milk vs. Hound Dogs matchup, in that epic Cat vs. Dog throwdown, advantage to Dogs!  Hound Dogs took it 5-4, giving Brixton Guns back the #1 spot in the league standings.  Nice work Hound Dogs!  Still, War Milk is just a game behind, and will lick their wounds and be back at em this week.
Thanks again for playing in 14-15 RCLs and good luck to your squads in Week 6!