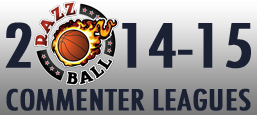 A shake-up atop the standings!  Pops's team couldn't quite handle being the hunted, but still put together a 6-3 week to be a mere single point behind our new leader.  micoolj79's Team!  A 7-2 win has Mico (what I'm going to call them for short) at a 34-11 record and the sole possessor of the #1 spot.  It's a two horse race right now!  But the rest of the RCL field is ready to pull a scene from The Godfather.  "Mini-me put roadkill in my sheets!"  Paraphrasing the legend Seth Green right there…
It'll be a big week as we try to catch micoolj79's and Pop's Teams in the The 2014-15 RCL Master Standings table, and here's how the action went down in week 5 across our 12 RCL Leagues:
JB's Random Commenter League – The balding managers at Hayward Ginobili cannot be stopped, ripping the hair out of the opposition with another 7-2 win this past week.  This fantastic run by Jimmy Butler is killing my JB team!  He should be with me!  I'm a healthy 25-20 off a solid win, and other than that 3-6 loss to Ginobili, have pulled out Ws every week.  Never again, Hayward G!
EmasculatingHoopsLozengesRCL – Even with "only" a 5-4 win, Heisenberg is still cookin' the league like that blue ice with a 28-16-1 record, 18th in the master standings.  It's a tough league here in the Emasculaters!  Anyone has a shot to make a good run amongst the Lozenges for RCL supremacy.
Slim's RCL – Hinrich Maneuver, what are you doin' man?!  The fantasy karma is low since you don't own Hinrich!  A 2-7 loss for the former leader of the league has opened the door for WrongSideof27 to take the #1 spot, and a 6-3 win for Slim has him a single game behind.  Killin' your RCL better than me!
Hoops fanatics only league – Team Medley is a force to be reckoned with, clobbering My Cousin Boogie 8-1 for a sizzling 31-13-1 record.  Running away with it from the fanatics!  Another dominant team getting some huge numbers from Jimmy Buckets.  Tied for 3rd in the overall standings, Medley is steadly…  Moving towards that title!
Razzball League Awesome – AWESOM-O ran into a little trouble last week, but secured a 5-4 win to stay atop the awesomes at 31-14-0, good for 5th place in the master standings.  That team is awesome sauce!  Great starts from Danny Green and Trevor Ariza have been some X factors flanking the always awesome Boogie.  taylor hamrick is gonna need to step it up this week to drag AWESOM-O back down to the pack.
Take On The Jay(Wrong) – The legends of Pop's Team are still rolling with that sizzling 6-3 win, but still looking at a single point down in the standings.  Look out for Hibbert Forever, putting together an 8-1 week and slowly creeping towards Pops down 4.5 games in the league's standings.
JB vs. Slim – I don't know if we'll ever catch razzball rookie!  A 5-4 win moves them to 30-14-1 with another iteration of Hibbert Forever 2 games back at 28-61-1.  All I'll say is look out for yours truly, as I'm getting Durant back baby!  And have survived without him at 23-20-2.
Take on SethDaSportsMan – Whoa, talk about parity!  Every matchup last week was 5-3-1 or 5-4.  Dr. Dirkenstein has the tentative lead at 26-19-0, but this is looking like a drag em out, pound em out brutal league right hurr!
Kap vs. Razzball – At 31-13-0, Amalbec Stoudemire continues to dominate the Kaps and is tied for 3rd in the master standings.  We're rootin' for ya DK Razzball!  An early 7-1 lead this week over Amalbec, and a big upset would shake up the leaderboard.
Razzball Snipers – Stop the presses!  The Hannover Hotspurs and their reign of terror is now over, getting passed by the 8-1 winning Akron Lebrons moving to 31-14-0, a game ahead of the Spurs 30-15-0 record.  Both are still killin' it in the master standings, with Akron at 5 and Hotspurs at 9.  Gonna be a two horse race in the Snipers!
Jedball – Our fearless RCL leader, micoolj79's Team!  Off a 7-2 win, that #1 RCL spot is theirs at 34-11-0.  Ballin'!  Although virtually all teams with the Brow are starting hot… Not bending over and taking it, the rest of the league is still comin' for ya with ReasoNoahable Doubt off an 8-1 win and moving to only 5 games behind.
Latecomers! – The Cats Like War Milk like beating up on the Latecomers, that's for sure!  Huge 8-1 win last week to thrust into first place at 29-16-0.  Beatin' up on the last place team, huh?!  The War Cats will try to keep it up this week against the Hound Dogs in an epic Cat vs. Dog throwdown.
Thanks again for playing in 14-15 RCLs and good luck to your squads in Week 6!