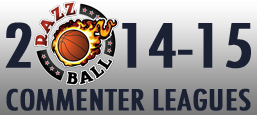 Through four weeks and the seasoned, elderly, over-the-hill-but-still-owning Pops's team cannot be stopped!  Three straight weeks atop the RCL leaderboard, but the top of the pedestal is tightening in a vice-like grip in the bottleneck.  I think I combined like three separate metaphors and made that incomprehensible…  With 55 total points, micoolj79's Team is only one point behind with another 5 teams at 50 points or better.  Pops's better drink his prune juice, because things are about to get murky!
You can see how you stack up against Pop's and micoolj79's Teams in the The 2014-15 RCL Master Standings table, and here's how the action went down in week 4 across our 12 RCL Leagues:
JB's Random Commenter League – After I handed the hair follicle-challenged Hayward Ginobili a win last week, they MANUevered a 7-2 win to stay atop the league at 24-12.  That record is good enough for a tie at 8th overall in the RCL standings with 48 points.  Viva la Spurs!  Your's truly eeked out a 5-4 win and my RCL teams are playing as average as Luc Richard Mbah a Moute right now…
EmasculatingHoopsLozengesRCL – With 7-2 wins, Heisenberg and Barking BassetHounds shot up the standings for 1 and 2 in the Emasculaters.  Huge win for Walter White over Drew says '#KD2DC!', breaking bad with his epic combo of Knight and Brow.  All Brow teams are unfair!
Slim's RCL – After the immaculate 8-0-1 start, Hinrich Maneuver still won with a 5-4 victory, but has been overtaken by WrongSideof27 by a half game, with a record of 24-12.  Still no Hinrich on your team, Mr. Maneuver!  But, shocker!  WrongSide has Brow and has moved into first.
Hoops fanatics only league – The juggernaut that is Medley is still crushing through the Fanatics with a 23-12-1 record, even though they're off a 4-5 loss.  Love having a cushion!  Lebron Kawhi & Batum had the big 8-1 win this week to creep into the top 4, led by, you guessed it, his namesake.
Razzball League Awesome – After takings the top spot, Big Deng Theory took a nosedive in the TV Ratings getting beat 3-6 last week.  Welcome to #1 AWESOM-O!  Huge 8-1 win over last place Brian's Team, led by big weeks from Boogie and Danny Green.  Way to not have a mercy rule!
Take On The Jay(Wrong) – Pop's Team and that RCL best 27-8-1 record looms over the JayWrongers like the Hindenburg.  Only winning by 5-4 last week, Pops still got a W without Rose and Gasol, both returning last night.  A healthy Pop is a dangerous Pop!
JB vs. Slim – It's still razzball rookie's p0wning leading the likes of us n00bs like Slim and I.  Beginner's luck!  25-10-1 and near the top of the RCL standings, rookie hit on a big week from Danny Green and heeded our advice for Jrue Holiday.  Still, playing the worst team in the league always helps for a 7-2 win!
Take on SethDaSportsMan – A tight race atop the Sethers, with aCHANGEY narrowly losing the top spot on a 4-5 loss and Dr. Dirkenstein and Mas Gasolina taking #1 and #2 spots with 5-4 wins.  All three are within a game of each other as the worst team is 15-21.  So much parody, it's like no child left behind!
Kap vs. Razzball – Those lovely winos at Amalbec Stoudemire with another big 8-1 win for a 26-9-1 record, good for 3rd place in the RCL standings.  Big games up and down his line-up, but it's yet another case of unfairness owning Brow.  This year shouldn't count!  I bet 60% of Brow teams win it all, if not more.
Razzball Snipers – The Hannover Hotspurs continues to lead to Snipes, but is falling like Wesley!  A 4-5 loss, but still a very solid 25-11 record.  Akron Lebrons is trying to make some noise with a 6-3 win, now in second place and only 2 back of da Spurrrrrs.  A Lebron/Hotspurs championship would be baller in this league!
Jedball – Second place in the RCL standings, micoolj79's Team is still steamrolling with a huge 6-3 win over second ReasoNoahble Doubt for an overall ballin' 27-9 record.  I'll give you one guess as to who is micoolj79's best player.  His first name starts with Bro and ends in W.
Latecomers! – The armament of Brixton Guns, off an 8-1 win, rocked another big win beating the Hound Dogs 7-2 for a 25-11 record.  Too many weapons in Brixton!  But they certainly need Tobias Harris back healthy to keep the good times a shootin'.
Thanks again for playing in 14-15 RCLs and good luck to your squads in Week 5!