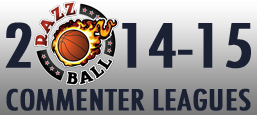 It's championship week baby!
144 teams entered, only 24 remain, and we're less than a week away from crowning the 2014-15 RCL Champion.  And the champion will be a…  champion (?) of endurance!  Navigating these DNPs, injuries, and tanking teams have driven many-a-fantasy-player to neurosis!  So may the healthiest and strongest, and well – sanest team prevail!
Check out how your teams stacked up in the final 2014-15 RCL Master Standings table, and here's how the finals will look across our 12 RCL Leagues:
JB's Random Commenter League – Jooooooonnnnaassss came into the playoffs one of the hottest teams, knocked off the #3 seed (me) then dismantled #2 seed #Occupy DGreen to try and win the league title as a 6.  Cinderella story!  And 4th place Hayward Ginobili advanced past Metal Face Doom to make it a 4 vs. 6 final.  Upset central during March Madness!
EmasculatingHoopsLozengesRCL – #3 seed Cronos's Team will face 4th seed Hibbert Forever in another final with no #1 or #2.  The bye week is a curse!  Both teams aren't carrying too many injuries, but a concussion for Rudy Gay might keep Cronos from donning the gay apparel!
Slim's RCL – Finally, a bye week team advancing!  And who other than our own Slim – Razzball moving on to play 6th seed Hibbert Forever.  David vs. Goliath!  Slim advanced even without Whiteside, and may have to stream out Schroder's spot.  But other than that, how the hell do you have a healthy team Slim?!
Hoops fanatics only league – Medley has been strong all year, and advances from the #2 spot to take on #4 Super Splash Bros in the final.  I like you Medley, but man sick logo from Super Splash Bros and owns both of them!  Unlike that Hinrich Maneuver in the RCLs this year, not owning Kirk Hinrich…. For shame!
Razzball League Awesome – Another league with no bye week contenders!  3rd seed dan's buzzer beaters advanced alongside #5 02NBAChampsSacKings,  Vlade Divac leading the champs to victory!  Whoa, I need to get on my history, didn't know those playoffs were part of the Tim Donaghy fix!  Crazy…  Well, let's hope he's not secretly a Yahoo programmer from his prison cell!
Take On The Jay(Wrong) – RCL final of the year!  This one is going to be an absolute slugfest with 1st place Pops's Team vs. #2 seed My dog Lucy.  On the overall leaderboard, #2 overall vs. #4 overall.  Unfortunately for the field, it limits the chances for an RCL title to anyone below 4.  Way to ruin it guys!  And dogs!
JB vs. Slim – razzball rookie playing with some moxy, that's for sure!  Rookie is not showing any signs of amateurism and will face 6th seed Hairbooze in the championship.
Take on SethDaSportsMan – One of the few 1 vs. 2 matchups in RCL land, Cronos's Team will take his heavily-favored #1 seed vs. GottaBasketballJones for the league title.  Both teams seem blessed with fairly good health, so may the best team win!
Kap vs. Razzball – Nice work My Heart will Goran!  That team name got some well-deserved props last week, and rode the buzz to the league final.  They'll face 5th seed Connor's Team, whose team name is… um…  Not "quite" as good…
Razzball Snipers – RCL nation, everyone keep this league bookmarked!  The Akron Lebrons, the #1 overall seed, has indeed advanced and it's all up to #2 seed Prestige Worldwide to defeat the evil empire.  Uh oh… only the 2 games from Kyrie Irving for Akron!  "So you're saying there's a chance!"
Jedball – Well, strike my comment of the rarity of #1 vs. #2!  Another league where the best advanced, with #1 micoolj79's Team taking on #2 ReasoNoahble Doubt.  Nice work ACTUALLY owning Noah, Mr. Doubt!  A lot of team name commandeering out there!  At 3rd in the overall standings, Mico has a decent shot to sneak out the overall title.
Latecomers! – Hah, usually I hate the team name changes, but 5th seed team name of oops is pretty funny.  I feel like I should've changed my team name to that a ton of times!  oops will face off against #2 seed Brixton Guns.  That's not a good combo…  Guns+oops!  Hah!  Good luck in the finals guys!
Thanks again for playing in 14-15 RCLs and good luck to your squads in the finals!