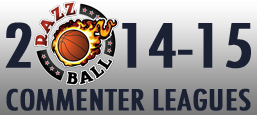 Moving into the semis!
Our top-flight bye week teams are now unleashed, which means we need some #1 and #2 seed upsets!  Nice work to the teams moving on through the playoffs, as my disappointing year in the RCLs is mercifully over.  No more reaches or drafting hurt guys!  Dead to me KD, dead!  Slim Reapered yourself!
Check out how your teams stacked up in the final 2014-15 RCL Master Standings table, and here's how the action went down in first week of the playoffs across our 12 RCL Leagues:
JB's Random Commenter League – Yo, Jooooooonnnnaassss, did knocking me out of the playoffs make up for the two losses in the REL?  I'm just shocked my REL team is still alive!  About to be murdered though… Nice will and you'll face #Occupy DGreen in the semis with Hayward Ginobili moving on as well to try and upset #1 Metal Face Doom.
EmasculatingHoopsLozengesRCL – The top seeds won out, with #4 Hibbert Forever set to face Drew says '#KD2DC!' and #3 Cronos's Team ready for the Barking BassetHounds.  It's like this year's March Madness!  Almost only top teams from the big divisions moving on!
Slim's RCL – Upset central!  Both the #5 and #6 won, but #5 Smooth Like Butter surely will have their work cut out for them vs. Slim – Razzball.  Butter won't make Slim slim!  …like a kryptonite…?  No…?  The winner of that matchup will get #2 Moscow Spartakers or #6 Hibbert Forever in the final.
Hoops fanatics only league – #1 seed Injuries Fo Dayz will have to keep up their big run against #5 Super Splash Bros with #2 Medley getting another Hibbert Forever, the #6 seed. So many Hibberts!  Nice run in the RCLs man!
Razzball League Awesome – The Hibberts never end!  #1 Hibbert Forever who locked up the best regular season in the final week gets #5 02NBAChampsSacKings and #3 dan's buzzer beaters moved on through the first round to try and upset #2 AWESOM-O.
Take On The Jay(Wrong) – Well, time for #2 overall RCL team Pops's Team to go after the overall title going up against 4th seed The Appalachians 2.  Let's do this, Appalachia!  But don't count out #2 seed My dog Lucy who had an unreal 2nd half.  They've got to beat Hibbert Forever (attack of the clones!) to advance.
JB vs. Slim – Well, the league I crapped the bed in sees #2 seed Primo Pasta's MVP vs. Hairbooze and #1 razzball rookie taking on #4 Daddy Swag.  Swag beat Slim's team in the quarterfinals, and what did Slim's team have in common with my non playoff team?!  Kevin Durant!
Take on SethDaSportsMan – #1 seed Cronos's Team steamrolled in the regular season, but will have a tough contest against #4 Bloopers.  #2 GottaBasketballJones and #3 Mas Gasolina face off to take on the winner.  Let's upset Cronos, Sethers!
Kap vs. Razzball – 5th overall team Drew Holiday has been the favorite all year, and will take on #5 seen Connor's Team to try and win the league.  #2 Old Navy 8 gets a very awesomely named #3 seed that I don't think I've mentioned before – My Heart will Goran!  You eschew that Celine Dion, eschew it!
Razzball Snipers – Aight RCL Nation, all eyes on the Akron Lebrons who leads the RCL field and needs to be upset for any other team to win.  You can do this #4 seed Hannover Hotspurs!  You just have to believe!  If Akron advances, they'll face the winner of #2 Prestige Worldwide vs. #6 If All Ellis Fails.
Jedball – A strong year for micoolj79's Team, as they'll need a few losses up top to have the #3 overall regular season finish nab a title.  Mico's got #5 seed Uncle Drew, and the winner will take #2 ReasoNoahble Doubt vs. #6 Duncan's Donuts.  The 5 and 6 moving on!  A league built for upsets…
Latecomers! – Another league with 5 and 6 seeds advancing! #1 seed Men lie women lie gets #5 Who's Wondrous Team (who?!) and #2 Brixton Guns will be up against #6 Middle Tier All-star.  Need you to be a top-tier all-star to pull off the #6 league title!
Thanks again for playing in 14-15 RCLs and good luck to your squads in Week 2 of the playoffs!