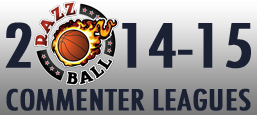 Another week, and another Pop's Team domination!  Only gets better with age, amiright?!  Jay has been taken on in his RCL so hard, that he's the Titanic to Pop's iceberg.  Worst metaphor of the year award! Hey, I'm still reeling since both of my teams are in the .500 zone.  It's like the friendzone, but worse.  Friendzone with that friend trying to hook you up with other people.  What I'm trying to say is, "Pop's, wanna go out and see Hunger Games this weekend?"
You can see how you stack up against Pop's juggernaut in the The 2014-15 RCL Master Standings table, and here's how the action went down across our 12 RCL Leagues:
JB's Random Commenter League – Ewwww, I had a vomit-inducing week, losing to the now 1st place Hayward Ginobili 3-6.  Big win for the baldies!  Rebounds by 3, dimes by 11 and blocks by 6 (Steven Adams on Sunday can kiwi dance himself right out of my nightmares!) were tough losses…  Damn the Ginobilis!
EmasculatingHoopsLozengesRCL – With a 6-3 win, Hibbert Forever tied Drew says '#KC2DC!' at 17-10-0 for the top spot atop the Emasculaters.  Trey Burke diming like it's 1999 and Courtney Lee unable to miss a shot has been Hibbert's key to success.  Somebody call Lee to coach me on my jumper!
Slim's RCL – After the 8-0-1 start, Hinrich Maneuver is losing some of that maneuvering ability with a 6-3 win in week 2 then 4-5 loss this past week.  We all know the problem!  You don't own Kirk Hinrich!  Otto Porter is still a droppable guy, get him on your team to pump up that juju!
Hoops fanatics only league – Team Medley is still rockin' out with his Horford out, sitting atop the league at 19-7-1.  No one can stop Jimmy Buckets!  Virtually an all big man team, looks like Medley is going to have Chris Paul be his only true PG.  The punt is working!
Razzball League Awesome – A big 8-1-0 win for Big Deng Theory has shot him up to 20-7-0 and numero uno for TV show ratings.  They get like, a million bucks an episode for that shizz!  Although with Rubio and several other minor injuries, Big Deng Theory isn't feeling like a million bucks…
Take On The Jay(Wrong) – Pop's Team, while ardently avoiding my advances, is focused on the court going 6-2-1 and leading RCLs with a 22-4-1 record.  A lead by 3 points already in the master standings!  Even in the depths of the vets, was able to scoop up Evan Fournier.  Man this team is good.  "Why don't you love me!?"
JB vs. Slim – Of my 12-team leagues, my JB BEATS SLIM!!!!!!! I think is my best squad.  It's starting a little slow at 13-13-0, but a nice 6-3-0 win last week and I still have Kevin Durant waiting in the wings.  Hairbooze had the big week winning 8-1-0, but it's still razzball rookie's show to this point, with an 18-8-1 record.
Take on SethDaSportsMan – aCHANGEY with the aSweepy!  9-0 win over Crono's Team, as pretty much all of aCHANGEY's players were top 100 last week.  Crono's is gonna need to aCHANGEY his pants after that one!
Kap vs. Razzball – Amalbec Stoudemire (sounds like a wine) with the big 8-1-0 victory in week 3 over R-R-R-Randy' Team shot up the vineyard to top spot in Kap's league.
Razzball Snipers – The Hannover Hotspurs continues to be a juggernaut, with a 6-3 win and a 21-6 overall record.  So, so hot!  Hitting on a guy like Tobias Harris and no real swings and misses on draft day is keeping those spurs on fire!
Jedball – Another 21-6 RCL leader, micoolj79's Team put together an impressive 8-1 beatdown to stay atop the league.  But look out for ReasoNoahble Doubt, off a 9-0 immaculate victory over The Mayo Clinic.  The nice week from Trey Burke and low TO kept it a clean sheet.
Latecomers! – A new leader has shot atop the Latecomers! standings, with Brixton Guns off an 8-1 win for a 18-9 overall record.  Guns don't kill people, I kill people!  Reggie Jackson's awesome run with the keys to the OKC O and Tobias Harris being an absolute stud has led Brixton to 1st.
Thanks again for playing in 14-15 RCLs and good luck to your squads in Week 4!