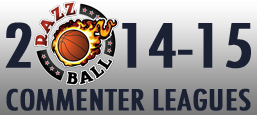 One regular season week to go!  Only one week left before regular season records are locked in, then the best of the best that wins their league title is looking at RCL Glory!
We're still chasing the juggernaut of Pops's Team with a 116-54-1 record and 233 RCL points, but My dog Lucy has been on fire and will challenge Pops for that league title in the Take On The Jay(Wrong) league.
Check out how your teams stacked up this past week in the The 2014-15 RCL Master Standings table, and here's how the action went down in week 19 across our 12 RCL Leagues:
JB's Random Commenter League – Back-to-back 7-2 wins for first place Metal Face Doom, who all but an unforeseen mathematic anomaly has the #1 seed locked up.  Good work Mr. Doom!  My 98-73 team, good for 26th on the leaderboard, is still only 5th in the league standings!  Ugh, such a caste system… That said, Jooooooonnnnaassss insisted he had a chance to make the playoffs after looking like there was no shot, and is only 2 games out of the 6th playoff spot!
EmasculatingHoopsLozengesRCL – Wow, two straight weeks with both Drew says '#KD2DC!' and Barking BassetHounds coming away with 7-2 wins, and looking like legit RCL Title contenders.  Gotta love that bye week!
Slim's RCL – Yet another 6-3 win for Slim – Razzball locking up the #1 seed in his RCL and the pursuit of the RCL Title.  You were able to add Mirotic on top of your other moves, Slim?!  Your league falling asleep!
Hoops fanatics only league – What a huge, huge win for Injuries Fo Dayz over Medley in the RCL game of the week!  Injuries notched a monster 7-2 win, taking over a big lead for the #1 seed at a 4.5 game advantage.  Likely locked up the #1 seed in the playoffs!
Razzball League Awesome – Back-to-back losses for AWESOM-O, falling to 3rd place dan's buzzer beaters 3-6 last week.  So many buzzers beaten!  Hibbert Forever also struggled with a 4-5 loss, or else they'd be looking at overtaking that #1 spot from Mr. AWESOM-O at 1.5 games behind.
Take On The Jay(Wrong) – Pops's Team owns our souls!  A 6-3 win maintains Pop at the #1 overall spot, with My dog Lucy also winning 6-3 and only 3.5 games back.  If both squads make it through the semis, it's going to be a ridiculous final!
JB vs. Slim – Well, my squad missed the playoffs, thanks KD in the first round!  Hey, I think my logic was sound, but kudos to commenters speculating injuries would linger.  With "only" a 5-4 win, Primo Pasta's MVP lost the league lead to razzball rookie by a half game.
Take on SethDaSportsMan – Tough 4-5 loss for Cronos's Team, but even with the L has a 6 game lead over the field and the #1 seed locked up.  At 12th in the overall standings, a league title could still bring the RCL championship!
Kap vs. Razzball – Oh no!  Drew Holiday lost 4-5 after tying 4-4-1 the week before, and has dropped to 6th on the overall leaderboard.  The RCL nemesis!  Why changing your team name mid-season is bad karma!
Razzball Snipers – A slightly down week for the Akron Lebrons winning 5-4, but maintains a ridiculous 15.5 game lead over the Snipers field.  At 2nd overall in the master standings with 230 RCL points, Akron is looking like a major contender for the overall title.
Jedball – Whoa, micoolj79's Team with a monster 8-1 victory!  Even with Jimmy Butler out, it was a huge win albeit against a dead team.  Donald Sloan, Tony Wroten and Larry Sanders as starters?!  Hey, it's part of the fun of the 100% free RCLs!
Latecomers! – In another #1 vs. #2 matchup, the Brixton Guns narrowly prevailed over Men lie women lie 5-4 to extend their lead to 2.5 games.  Brought the big Guns!  What other cliches can I use…  Blasting their way towards a #1 seed!  They're loaded for the playoffs!  Got their scope on the RCL title!
Thanks again for playing in 14-15 RCLs and good luck to your squads in Week 20!