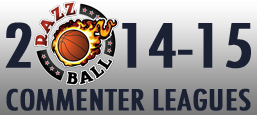 And the race for #1 heats up!  Surviving a 5-4 win, Pops's Team also survived the push from the Akron Lebrons, who went 7-2 to move to 110-52-0, only a half game behind Pops.  Pops might kick Akron in the nards!  It's gonna get scrappy!
Check out how your teams stacked up this past week in the The 2014-15 RCL Master Standings table, and here's how the action went down in week 18 across our 12 RCL Leagues:
JB's Random Commenter League – Big 7-2 win for first place Metal Face Doom, which clinched a playoff spot and a 5 game lead over the field.  Even at 92-70, I'm 10.5 games out?!  C'mon bottom half teams, let's get some upsets to help my seeding!
EmasculatingHoopsLozengesRCL – Both Drew says '#KD2DC!' and Barking BassetHounds came away with 7-2 wins to extend their lead over the field.  Looks like the bye weeks teams are decided!
Slim's RCL – With the 6-3 win for Slim – Razzball, Slim has beaten me to a playoff berth.  At 104-57-1, Slim has dominated his RCL league and looking forward to that first week bye.  Let's get loaded for some playoff upsets, Slim's league!
Hoops fanatics only league – Whoa, brutal loss for Injuries Fo Dayz!  Went down 2-6-1 Hibbert Forever and after carving out a decent lead, is now a half game behind Medley.  Bye weeks are still up for grabs, with Medley vs. Injuries in the RCL matchup of the week.  Fight to death for the #1 seed!
Razzball League Awesome – Tough 4-5 loss for AWESOM-O, but they've still got a 2.5 gave lead over the Awesome's version of Hibbert Forever.  After a 9-game win streak, AWESOM-O picked a rough time to start going cold!
Take On The Jay(Wrong) – All hail Pops!  A 110-51-1 record leads the RCL field, but Pops's Team better keep an eye out for the continually surging My dog Lucy!  Another win for Lucy going 7-2, and is only 3.5 game back of Pops with the hottest 2nd half in the RCLs.  Shot up to 3rd overall on the RCL leaderboard!  A mad run.
JB vs. Slim – Man, embarassing I'm going to have an RCL team not make the playoffs.  When you draft Durant, Al Jefferson (missed a month) then reach in the 5th or 6th round or whatever it was for Jabari and he tears his ACL, you're really behind the 8-ball.  I've got 5 games to catch up and moved Durant to try and make it happen.  Primo Pasta's MVP still leads the league with a 101-58-3 record.
Take on SethDaSportsMan – Huge 8-1 beatdown for Cronos's Team, moving into an 8 game lead over the field with 97-59-6 record.  It took a while for anyone to emerge in this league, but Cronos is the easy favorite!
Kap vs. Razzball – Two weeks, and two upset alerts!  Drew Holiday fell again to a lower opponent, tying 4-4-1 with 9th place Run TMC Lives!.  "Drops" Drew to 104-55-3 and tied for 4th place in the master standings.
Razzball Snipers – Right now the prince of the Akron Lebrons is coming close to ending as the king!  Nice 7-2 win this week and half an RCL point out of the overall lead.  17.5 games over the field, Akron is the big favorite to come out the champion sniper.
Jedball – micoolj79's Team took a tough 4-4-1 tie this past week, as teams with Anthony Davis continue to struggle.  Mico's got Jimmy Butler too!  Late season injuries killing a lot of teams…  Still 14.5 games over the field, mico should waltz into the #1 playoff seed.  Get healthy man!
Latecomers! – A nice 6-3 win for the Brixton Guns keeps the first place firearms in the league, but Men lie women lie came through with a huge 8-1 victory to move to only 1.5 games behind.  Men may lie and women may lie, but if they catch Brixton Guns there is going to be some mad shooting going on!
Thanks again for playing in 14-15 RCLs and good luck to your squads in Week 19!