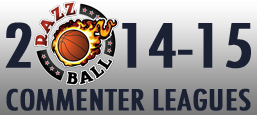 Through the All-Star Break shortened week #2, we're now all further away from the behemoth that is Pops's Team!  A shortened week, and Pop has elongated his lead.  That sounded dirty.  A 6-3 win moves Pop to 105-47-1, leading the first five teams to top 100 wins.  And #2 Akron Lebrons at 103-50-0 takes home the honor of the first RCL team to clinch a playoff berth.  Lebron's always been making the playoffs, it's just getting that title that's hit-or-miss!  Gus Ayonin'!
Check out how your teams stacked up this past week in the The 2014-15 RCL Master Standings table, and here's how the action went down in week 17 across our 12 RCL Leagues:
JB's Random Commenter League – Heating up in the first RCL league with Jooooooonnnnaassss making strides to try and sneak into that #6 seed.  You were right Green Beans, it wasn't over yet!  7 games out of 6th, while Metal Face Doom continues to lead the pack at 95-57-1.
EmasculatingHoopsLozengesRCL – Big 7-2 win for Drew says '#KD2DC!' who after losing their lead to Barking BassetHounds for the sole #1 spot, takes back a 3 game lead with the Hounds falling 4-5.  With a 12 game gap between 7th and 8th, this looks like a clear 7-team race to be sure and make the playoffs.  Photo finish!
Slim's RCL – Slim is unstoppable!  Another 6-3 win for Slim – Razzball to move to 98-54-1.  Couldn't get to 100 wins yet?!  Then again, who am I to talk…
Hoops fanatics only league – Nice week for the top 4 teams of the fanatics all picking up Ws, with Injuries Fo Dayz keeping a 2-game lead over the field.  Fight to the finish for those byes!  But the top 6 look fairly locked in, just some jostling for seeding.
Razzball League Awesome – Whoa, big one for AWESOM-O!  8-1 win to climb into a 4.5 game lead, but had some unreal fortune in the W with a .001% FG win, .002% FT win, 3 trey win , 1 block win and 1 TO win.  Talk about toeing the line!
Take On The Jay(Wrong) – With that 6-3 win, Pops's Team continues his reign of elderly terror over the RCLs!  But clipping on Pops's heels is My dog Lucy with a 7-2 win to become one of the first 5 teams to hit 100 wins at 100-53-0.  Lost in the allure of Pops taking over, is My dog Lucy winning 3 straight weeks of 8-1 before 7-2 last week, for a 4-week run of 31-5.  Pops might not even get the league's #1 seed at this rate!
JB vs. Slim – Ugh, well I am feeling the pain of being a KD owner in this league, falling to 73-75-5 after some horrible bust draft picks and rough injuries.  Primo Pasta's MVP keeps on trucking with a 4-game lead, but 2nd place razzball rookie gets to play my inured/scrub ass team this week so it might make it a deadlock at #1.
Take on SethDaSportsMan – Cronos's Team continues their huge second half, with a 6-2-1 win last week to move to 89-58-6.  Even with a 5.5 game lead, Cronos only ranks 39th overall in the master standings as the league's parity is making it a bloodbath!
Kap vs. Razzball – Whoa, super upset alert!  DK Razzball with a monster 7-2 win over first place Drew Holiday, knocking Drew from one point away from being the #1 RCLer to 9 points back.  Injuries to Jarrett Jack and The Brow hurt Drew, but don't take anything away from the nice shortened week from DK.
Razzball Snipers – Playoffs?!  We already talking playoffs!?  The Akron Lebrons took home a 6-3 this past week, and even with a 4-5 loss the week prior, Akron is the first RCL team to clinch a playoff berth.  History made!
Jedball – A hard fought 5-4 win for micoolj79's Team, but even without a huge victory, mico is looking at a 14 game lead over the pack and sits at tied for 3rd overall at 100-51-2.  Dominating the Jedders!
Latecomers! – The Brixton Guns keep firing on all cylinders (for the easiest cliche ever), winning 6-3 last week and maintaining a 3 game lead.  The battle for the playoffs should be mad fun to watch, as spots 5-8 are 2 games apart with 9th a mile away.  Anyone that makes the playoffs has a chance!
Thanks again for playing in 14-15 RCLs and good luck to your squads in Week 18!