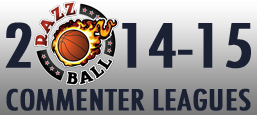 An All-Star Break shortened week, but no shortage of the Pop!  Pops's Team narrowly remained on top with a 5-4 win, getting them to 99 wins and 199 RCL points.  Couldn't be our official first 100-game winner or 200-point RCL scorer huh?!  I am disappointed in you!  You lack discipline!
Speaking of lacking discipline, I'll be back with the Daily Notes tomorrow morning.  Ain't much going down!  But using the break to get my 2015 SP ranks done over there on Baseball… Man there's a lot of pitchers…
Check out how your teams stacked up this past week in the The 2014-15 RCL Master Standings table, and here's how the action went down in week 16 across our 12 RCL Leagues:
JB's Random Commenter League – I'm bringing the Doom this week, son!  Utilizing the lucky short week, I beat up #1 seed Metal Face Doom 7-2, but Mr. Metal still has a game lead over the field.  Even at 82-62 I'm stuck at 6th!  The top 5 seeds are conspiring against me!
EmasculatingHoopsLozengesRCL – Shake up up top!  Up up up up!  Just wanted to double the consecutive ups…  Drew says '#KD2DC!' lost sole possession of #1 with a 3-6 loss while the Barking BassetHounds put up a 6-3 W for a tie for #1.  Short week clusterf*#*!
Slim's RCL – Slim, ya know, the guy who refuses to have a bad fantasy basketball team except our co-managed, injury plagued Friends & Family, can't ever lose even with a shortened week/injured team.  Slim – Razzball going 5-4 even with Tobias, Kemba and Collison giving goose eggs.  I want an Oompa Loompa now!
Hoops fanatics only league – Heading into the break on a sour note, Injuries Fo Dayz fell to 8th place Johnny Bananas III 4-5.  Hah, awesome icon Mr. Bananas the Third!  Despite the loss, Mr. Fo Dayz remains 2.5 ahead of the pack and tied for 14th in the overall RCL standings.
Razzball League Awesome – AWESOM-O with the 6-3 win continues their reign of terror of the Awesom-o League-o, moving 1.5 games ahead of Hibbert Forever.  Hibbert took down dan's buzzer beaters in a bloody 5-2-2 finish to flip flop 2nd and 3rd.
Take On The Jay(Wrong) – The old, the legendary, the stately… The Pops's Team!  Even with only a 5-4 win, our longtime RCL frontrunner hangs onto #1 overall by a thread, with only Darren Collison of all people hurt!  He ain't old!
JB vs. Slim – Rough 6-3 win for yours truly as it should've been an easy 7-2, and making it a clear 8 teams in the mix for the 6 playoff spots.  Primo Pasta's MVP got a nice 6-3 victory while #2 razzball rookie took a tough 2-7 loss to fall to 5 back.  C'mon rookie, bring back that beginner's luck!
Take on SethDaSportsMan – Cronos's Team cannot be stopped!  9-0 win 3 weeks ago, 6-3 after that then 7-1-1 last week.  On fiya!  At 83-56-5, Cronos has shot into a tie for 18th.
Kap vs. Razzball – Twas so, so close for Drew Holiday, winning 5-3-1 and only a half game behind Pops's Team for the overall RCL #1 spot.  Took last week off like it was a holiday, that's what happened!  Just kidding, 2nd place Red White Blues gave it all their stripes, but fell even further down the standings.
Razzball Snipers – Down with the king!  The Akron Lebrons taking a tough 4-5 loss to 11th place Fartsmello.  Let's hope that team name gets shut down faster than Melo!  At 97-47-0, Akron had a great shot to hopscotch into the overall lead, but laid a big fat Fartsmello…
Jedball – RCL title contender micoolj79's Team also had a good chance to do some damage up top the leaderboard, but did just fine with a 5-3-1 win last week.  Long live mico!  At 95-47-2, mico has a 13 game lead over the rest of the Jedders.
Latecomers! – The rich get richer!  Brixton Guns secured a nice 7-2 win, but clipping at their heels is Who's Wondrous Team with the monster 8-1 win to move to only 2 games behind.  I think this is Who's first mention!  Going 15-3 the past two weeks will do that…
Thanks again for playing in 14-15 RCLs and good luck to your squads in a shortened Week 17!