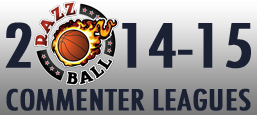 A new week, and another RCL leader is taken down!  With an 8-1 win the Kap vs. Razzball league, Drew Holiday vaults into the top spot with 177 points and a half game over former leader Akron Lebrons.  Pop's Team is just a half game behind that, and the gramps are falling apart…  Getting intense at the top!
Check out how your teams stacked up this past week in the The 2014-15 RCL Master Standings table, and here's how the action went down in week 14 across our 12 RCL Leagues:
JB's Random Commenter League – Woooo, a shocking upset of Hayward Ginobili by my suddenly good MCW squad, winning 7-2.  I didn't win TO though, that's for sure!  A big part of the W was a rough week by Lillard, who pressed trying to prove he wasn't an All-Star snub.  I think Hayward did the same this week!
EmasculatingHoopsLozengesRCL – In the epic RCL game of the week, Drew says '#KD2DC!' held onto the #1 seed by besting Barking BassetHounds 6-3.  A big week from FA pickup Augustin for KD2DC!  With the W, KD2DC is up 3 games on the league and 12th in the overall standings.  Does DC really want KD with all these injuries?!
Slim's RCL – The fearless aboriginal!  Slim – Razzball with a 6-3 win keeps him 9.5 games over the field and 5th in the overall standings.  Millsap rainbowing it back up!  But wait, Slim, you own Eric Gordon?!  Blasphemy!
Hoops fanatics only league – Whoa, Injuries Fo Dayz surging back into the lead with an 8-1 beatdown of 12th place Reymarco Sanchez.  Such a dirty Sanchez!  Kyrie going absolutely ham, on top of a pairing with Anthony Davis is making Mr. Dayz look like the hottest club in Arlington (wow, yeah only people from Arlington would get that…).
Razzball League Awesome – AWESOM-O with the awesomo win!  Beat up on 12th place Nick's Notable Team with a notable 7-2 victory.  Solid performance up and down AWESOM-O's line-up, but lost dimes to a dead team.  Let's get some Awesome trades going in the Awesome league!
Take On The Jay(Wrong) – After a few tough weeks, Pops's Team is back on the prowl with a 6-3 win.  A ton of production with low TO for Pops!  After losing Kobe, Pops dropped Wade as well, only to be picked up by his oppo last week.  The aging vets are raining like cats and dogs on the wire!  But that probably ended up helping Pops, with his opponent having a dead spot.  It's like psychological warfare out here!
JB vs. Slim – Ugh.  My team is awful, and I somehow have more injuries than Pops's Team!  Haribooze with the big 8-1 victory hopscotched him into 6th place with my 405 loss moving me to 7th, and the big Primo Pasta's MVP vs. razzball rookie 1 vs. 2 went to Primo 5-3-1.  Such good pasta!  Primo moves to 80-44-2 and first place in the league, good for 7th overall in the Master Standings.
Take on SethDaSportsMan – Whoa, an immaculate victory!  Cronos's Team shut out aCHANGEY 9-0, with a pretty big gap in all cats.  Nasty!  The W brings the parity back to the Seth league full force, with GottaBasketballJones and Emperor of Ice Cream tied at #1, Cronos a game behind at #3, and the top 5 teams separated by only 2.5 games.  Fight to the finish!
Kap vs. Razzball – The new head honcho!  Drew Holiday with that big 8-1 win vaulted his squad into the #1 overall RCL team, and the target is on your back, fellah!  Drew will live and die with the production from Brow, but getting that kind of breakout game from Jarrett Jack is unfair!
Razzball Snipers – So close to another flawless victory!  The Penetrators with a solid 8-0-1 victory over The Juice is Loose.  So much loose juice!  Only TO were a tie, and the Penetrators penetrated into the #2 spot and within 8.5 games of the mighty Akron Lebrons.  Those Akronites with a 6-3 win moves them to 88-38 and only a half game out of the overall RCL lead.
Jedball – Nice bounce back for RCL title contender micoolj79's Team, winning 6-2-1 and moving to 85-40-1 good for 4th overall in the master standings.  Another team led by the Brow, mico is shrugging off this Jrue injury in stride!
Latecomers! – Big weeks for the #1 and now #2 teams in the latecomers, with Brixton Guns racking up a 6-3 win and a monster 8-1 victory for DunkercornApocalypse to vault the corns into 2nd place.  Late season surge!  Only 3.5 back of the Guns, it's another league with a tight race up top.
Thanks again for playing in 14-15 RCLs and good luck to your squads in Week 15!