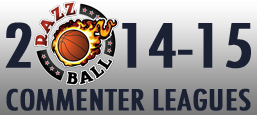 A shake-up at the top!  After weeks of reigning terror over the RCL Leagues, Pops's Team hath been dethroned!  With Pops suffering a 4-5 loss, the Akron Lebron's are hoping to finally bring a championship to Cleveland.  After an 8-1 win last week, Akron won 7-2 and moved into a half game lead on the RCL field with 164 RCL points.
With the shake-up up top, it's tightened the standings in the The 2014-15 RCL Master Standings table, and here's how the action went down in week 13 across our 12 RCL Leagues:
JB's Random Commenter League – Hayward Ginobili keeps balding his way towards the #1 seed in the playoffs, but not if I have anything to say about it this week!  Even though Jooooooonnnnaassss is trying to dispute our caste system, there's a 10 game dichotomy between 6th and 7th and the playoffs teams from the not.  Now to beat Hayward to improve my seeding!
EmasculatingHoopsLozengesRCL – Drew says '#KD2DC!' with the big 7-2 win, to pull dead even with the Barking BassetHounds with 71-46 records.  Both tied for 10th in the overall RCL standings!  And in the epic RCL game of the week, both titans face each other in what could be an RCL champion deciding game.
Slim's RCL – Even with only a 5-4 win, our own Slim – Razzball maintains a 7 game lead over the field and sits at 6th overall on the RCL leaderboard.  But things are going to go horrifically wrong with that Brian Roberts add!  He's terrible!
Hoops fanatics only league – Hibbert Forever with the surgring victory!  An 8-1 win vaulted Hibs into 1st place, well technically tied with Medley, but Yahoo says Hibs is #1!  The victory came at the expense of Rock Steady as James Harden went uber-beard.  This week Medley gets Rock Steady, so Mr. Rock is looking like a punching bag of the top teams.
Razzball League Awesome – dan's buzzer beaters had the immaculate victory two weeks ago, but had struggled since with a 3-6 loss this week shaving their lead to half a game.  "Augustus, save some for later!"  AWESOM-O with a 6-3 win is in second, with iteration #2 of Hibbert Forever in 3rd only one game beahind.  Tight as a tiger!
Take On The Jay(Wrong) – Age has caught up to Pops's Team!  A 4-5 loss has crumbled Pops down to 2nd place in the RCL standings after weeks of domination and seething epithets.  Kobe is the first grandpa to be dropped from Pops as he struggles with age.  Get Pops's Team some prune juice!
JB vs. Slim – A solid 5-4 win over iteration #2 of Hibbert Forever keeps me in 6th place, as my horrible start hopefully won't keep me out of the playoffs with KD and Jefferson finally healthy and together.  Primo Pasta's MVP and razzball rookie both with wins tied them up for first in the standings and tied for 7th overall in the RCL leaderboard.  I'ma get you guys in the playoffs!
Take on SethDaSportsMan – A 6-3 win for GottaBasketballJones and a 4-5 loss for 2nd place Mas Gasolina has put the first gap in place for the #1 seed all year in the brutal Seath league.  No survivors!  In a very close second RCL game of the week, the two top teams play each other this week.  If Mas can come out with lots of Gasolina, that gap might disappear as soon as it was built!
Kap vs. Razzball – Drew Holiday keeps on rolling, even though they're suspected of performance enhancing drugs.  He's deflating the competition!  Our RCL enemy with a 7-2 win moving to 80-36-1 good for 3rd overall in the RCL standings.  C'mon Kappers, let's end this evil empire!
Razzball Snipers – Our new RCL leaders!  The Akron Lebrons shot from 3rd to 1st with a 7-2 win moving to 82-35 and a half game ahead of our former longtime leader Pops's Team.  Akron is proving to be the All-American Sniper!  Just don't be ready to come home, we need you soldier!
Jedball – Ohhhhhh man, tough, tough, brutal, bloody loss for micoolj79's Team, going down 2-7 in a week where a 6-3 win would've vaulted him to 1st overall.  JVMoney with the epic upset led by Klay Thompson's ridiculous quarter and a big week from Eric Bledsoe.  Mico had a rough week from Conley and has lost Jrue Holiday.  You can do it Mico, bounce back strong!
Latecomers! – Epic week for the leaders of the Latecomers, with Brixton Guns beating the Middle Tier All-star 5-4 to maintain the #1 spot by 3.5 games.  Brixton having Klay Thompson is unfair!  Middle Tier tried to rally Sunday in FG%, but a mere .003 gave the match to Brixton.  You're still a hot team Middler Tier!  And you'll need to keep it up with the top 6 teams 5.5 games apart with 7th only 7 games behind from first.  Photo finish!
Thanks again for playing in 14-15 RCLs and good luck to your squads in Week 14!