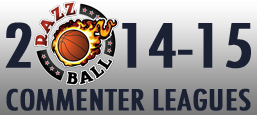 It's getting tighter and tighter atop the RCL Leaderboard, but for now it's another week where we crane our necks and look up at Pops's Team!  155 points with a 77-30-1 record is good for the top spot, but the streaking micoolj79's team is now a single point and half game behind.  Mico es rico!
You can track how your teams stack up against our two leaders in the The 2014-15 RCL Master Standings table, and here's how the action went down in week 12 across our 12 RCL Leagues:
JB's Random Commenter League – Hayward Ginobili continues to dominate the original RCL, racking up a 6-3 win over Hobo 2 E-Boogaloo.  Hayward getting better with age!  As much as Jooooooonnnnaassss is trying to climb into the playoff discussion, I kept him at bay with a 4-5 loss.  Wooooo!  That's right, feeling good with a 4-5 loss.  Ugh.
EmasculatingHoopsLozengesRCL – Big win for the Barking BassetHounds with a 6-3 victory, breaking up the deadlock at first to move a game ahead of Drew says '#KD2DC!'.  Tough tough loss for The Handsome Lads, with a 2-7 defeat moving them down from first to third.
Slim's RCL – Slim was telling me yesterday about how his Slim – Razzball team was up 6-2-1 but ended up with a 3-6 loss at the hands of Russell Westbrook.  Been Westbrook'd!  Took Slim from 3rd on the RCL leaderboard down to 6th, as injuries to Tobias and Kemba have been rough.  Welcome to my REL hell!
Hoops fanatics only league – A little bit of a clearer playoff picture with Injuries Fo Dayz extending their lead to 1.5 games with a 6-3 victory.  Survived even with Brow out!  Luckily Brow was only an injury fo dayz!  Medley keeps on truckin' at 1.5 games behind, very much in the race for the #1 seed.
Razzball League Awesome – After that huge 9-0 victory last week, dan's buzzer beaters fell 3-5-1 to 10th place Brian's Team.  Upset central!  Luckily for dan, Hibbert Forever and AWESOM-O had a #2 vs. #3 slugfest, going to AWESOM-O 5-4, keeping dan with a 3 game lead.
Take On The Jay(Wrong) – The legend that is Pops's Team!  Pops with a tough 4-5 loss this past week though, as Granny Shots took down our leader.  Nice work Granny!  While Pops is still not too ravaged by his old man syndrome, Kobe looks close to done, LeBron has influenza, and there's still a lot of old man issues…  Pops needs one last hurrah from his pops!
JB vs. Slim – Woooooooo!  Big 5-3-1 win against Slim in our versus RCL moving me into the 6th seed.  Playoffs need to start today!  My team has been up and down, but with KD and Al Jefferson healthy, it's time for my run!  #3 Slim as well as #1 razzball rookie and #2 Primo Pasta's MVP took losses, so I need some hot team at the right time mojo!
Take on SethDaSportsMan – Big week for GottaBasketballJones!  Was jonesin' with basketball for a 8-1 win to vault into first place.  Our parity league maintained its reputation yet again, with spots 1-3 separated by 1.5 games.  Slug fest til the end!
Kap vs. Razzball – Drew Holiday just can't be stopped, even at the behest of my slammings!  A 7-2 win moves Drew into 4th place on the overall RCL leaderboard with a 73-34-1 record.  Turning into a runaway!  Drew's got an 11.5 lead over the field and even survived last week without a full Brow.
Razzball Snipers – Whoa, the Akron Lebrons not messing around with an 8-1 win to move to 75-33-0 and third place in the RCL overall leaderboard with 150 points.  As with Drew Holiday, Akron also has built a double-digit game lead up 10 over the field, and it'll be up to The Juice is Loose to slow him down.
Jedball – micoolj79's Team is so so close!  Half a game back from Pops, mico won 6-3 and is in yet another runaway league up 11 games on the field, and 20.5 games ahead of 3rd place.  C'mon Jedball, fight the power!  I keed mico, you're my RCL team I'm rooting for over my own!  Which let's be honest, mine probably can't compete even if I won a league title…
Latecomers! – The Brixton Guns are surely looking over their shoulder as Middle Tier All-star is certainly looking like an upper tier one lately!  A huge 8-1 victory moved All-star into 2nd place and only 2.5 games behind Brixton.  I don't think I've mentioned All-star yet this year, as they've surged the past month with a 27-9 record over the past four weeks.  Keep it rollin' All-star!
Thanks again for playing in 14-15 RCLs and good luck to your squads in Week 13!