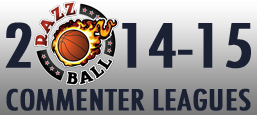 Oh no, the Pops losin' his hops!
Our RCL leader fell 4-5 this past week, but he had amassed such a surplus of wins and butterscotches that he's still got a 5 point lead on the RCL leaderboard.  Everything is better with age!  Plus he's getting LeBron back…
We mere mortals hope Pops will lose once again in Week 12 and fall in the The 2014-15 RCL Master Standings table, and here's how the action went down in week 11 across our 12 RCL Leagues:
JB's Random Commenter League – Twas a nice win for me against #Occupy DGreen winning 5-4, and making the gap between 6th place and 7th 9 games.  Both Hayward Ginobili and Metal Face Doom had big weeks winning 7-2 and 8-1 respectively, with those baldies at Ginobili tied for 6th in the master standings with a 66.6 winning % perfectly at 66-33.
EmasculatingHoopsLozengesRCL –  Those The Handsome Lads are so handsome right now!  "That Hansel is so hot right now…"  A big 6-3 win moves them into first, with both Drew says '#KD2DC!' and REL member Barking BassetHounds a mere game back.  Three horse race!  Hibbert Forever, off the big win against Pops's Team in JayWrong's RCL, is ready to take The Handsome Lads to the glue factory.
Slim's RCL – Slim is just killin' it with his Slim – Razzball team, winning 6-3 and at 3rd in the RCL leaderboard with a 68-30-1 record.  All hail Slim!  Great former D League pickups in Robert Covington and Hassan Whiteside is going to keep replenishing you with the blood of your opponents.  That kinda got weird…
Hoops fanatics only league – Whoaaaaa, major shake-up in the Fantatics league! LeBron Kawhi & Batum look a heatbreaking, shocking 1-8 loss to Broken Team, and went from 1st to 5th.  So much parity!  Teams 1-6 are 5 games apart, and this huge win moves Injuries Fo Dayz back into a half game lead with Medley and Broken Team only a half game out.  Shizz is crazy with the Hoops Fanatics!
Razzball League Awesome – The shizz is even crazier in the Razzball League Awesome!  It is indeed awesome!  Everything is awesome!  Except for Big Deng Theory, who might have had the most shocking loss of the RCL season with dan's buzzer beaters pulling out the immaculate 9-0 victory.  Over the former league leader!  Moves dan into first place with a solid 3.5 game lead.  Kemba Walker going ham with some good health made it possible, as Deng is without Rubio, lost some Tobias time, and now might be without Jrue.  Get healthy, Deng-it!
Take On The Jay(Wrong) – Pops's Team isn't infallible!  Wait, that'd be Popes's Team…  Anyway Hibbert Forever took it to the Pops with a 5-4 win, and could've been a 7-2 trouncing with 17 more points and 5 less turnovers.  Won 54-19 in treys!  Pops without LeBron is a tough blow, but the oldies going down too!  Very little Kobe!  Pops needs to pull some Cerrano from Major League to get some nice voodoo for his old guys.
JB vs. Slim – Primo Pasta's MVP is on fire right now, beating me 7-2.  Eh, he won by 9 boards and 7 dimes and it was close all through the week.  I didn't stream too hard and got a free Thaddeus Young through waivers vs. streaming, so I'ma get ya in the playoffs!  razzball rookie put together a nice 8-1 win to move into a half-game lead and good for 6th in the RCL standings.
Take on SethDaSportsMan – The league of the MOST parity! Emperor of Ice Cream and Dr. Dirkenstein both with 7-2 wins and remain tied for first.  3rd and 4th place GottaBasketballJones and Cronos's Team both with 6-3 wins to stay 1 and 1.5 games behind, respectively.  A playoff spot might be decided on the final regular season Sunday!
Kap vs. Razzball – Drew Holiday, RCL rapscallion, kept the charge going with a 6-3 win and maintains a double-digit lead over the field.  At 66-32-1, Mr. Holiday is #5 in the RCL standings.  You don't deserve a mister!  Especially since you don't even own Jrue Holiday and can't commiserate!
Razzball Snipers – After that tough loss to the Hannover Hotspurs, the Akron Lebrons got right back on the horse for a 7-2 victory while Hannover tied the 3rd place Penetrators 4-4-1.  Nobody wants to tie a penetrator!  Akron is back on track for the RCL title at 4th in the overall standings.
Jedball – Our good friends at micoolj79's Team with another big 7-2 win gained some much needed ground on Pops's Team, moving them to 71-28-0 and only 5 points behind Pops in second place.  You can do it mico!
Latecomers! – A big deadlock in the top of the league had 1st place Brixton Guns and 3rd place DunkercornApocalypse tie at 4-4-1.  "We'll call it a draw!"  Helped Who's Wonderous Team move into second place with a 7-2 victory.  "Just let the animals wipe each other out!"  Thanks Denzel from Training Day!  Or was that Ethan Hawke?  I dunno…
Thanks again for playing in 14-15 RCLs and good luck to your squads in Week 12!