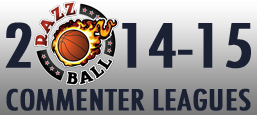 Happy 2015 to the RCL world!  Just like celebrating a new year with your family, ol' gramps has gotta perk up and remind everyone that he is above you and your elder.  "Back in my day, we didn't InstantGram to show pictures to anyone and we had to drink bootleg moonshine!"
And on our calendar flip, we get to look up at Pops's Team running away with the RCL lead, racking up an 8-1 victory to move to 69-20-1 on the season good for 139 RCL points.  micoolj79's Team is in second with 128 points, and OH! – lookie here – Slim's Team in his RCL doing work with a 62-27-1 record good for 125 RCL points and third on the leaderboard.
We younguns are all hoping Pops calms it down a bit in Week 11 in the The 2014-15 RCL Master Standings table, and here's how the action went down in week 10 across our 12 RCL Leagues:
JB's Random Commenter League – Ughhhhhh.  A tough week for me without Kawhi and constantly out of town traveling… Excuses excuses!  I lost 2-7 to O SOUVI, who took some performance enhancing eggnogs!  Spend more time with your family!  Haha, of course kidding.  Hayward Ginobili still leads the league at 59-31 and I get a shot at redemption against a top-3 team going against #2 #Occupy DGreen.  Can't stop my Nurkic!
EmasculatingHoopsLozengesRCL – Drew says '#KD2DC!' and The Handsome Lads continue to be neck-and-neck like a pair of hickying Turkeys.  I mean that in a good way!  Both put together 7-2 wins to keep Drew says a game ahead of the Handsomes.  Week 16 is gonna be a bigun between these two!
Slim's RCL – The almighty Slim and his Slim – Razzball squad is churning through his RCL like Steve Buscemi in the wood chipper, winning 8-1 last week and 3rd in the RCL overall.  Teach me your ways!  Kemba being on fire and the Manimal coming to life are serving you well…
Hoops fanatics only league – Who wouldn't want to party with LeBron Kawhi & Batum?!?!  Then again, that's a rough mix of fantasy assets to be winning with these days, but they made it happen!  Won 6-3 and moved into first place over Injuries Fo Dayz & Medley that both took 4-5 losses.  The most improbable first place leapfrog!
Razzball League Awesome – After that tough 2-6-1 loss for Big Deng Theory, the Dengs picked it back up with a 6-3 win this week to stay 3.5 games ahead of the field.  Resiliency!  In a big mid-season matchup, Big Deng is going to have to fend off #2 dan's buzzer beaters to maintain the #1 seed.  Let's hope to see some Sunday buzzer beaters!
Take On The Jay(Wrong) – All hail Pops's Team!  Crushing through the competish, but let's be honest, a few popsicles in there.  But I like popsicles!  Pops will get a good test against Hibbert Forever while Pops is without LeBron.  LeBron out with leg and back strains… Sounds like old man problems!
JB vs. Slim – Wooooo!  A nice 6-3 win moves me into the top 6 as I've struggled mightily in this league, mostly without Durant.  Now's the time to shine!  After leading the league most of the year, razzball rookie took a heartbreaking 4-4-1 tie while Primo Pasta's MVP's 8-1 win shot them a half game into first.  Don't worry rookie, I got Primo this week, I'll get ya back to first!
Take on SethDaSportsMan – Whoa!  The all parity league with a nearly unprecedented amount of parity!  Four teams, yes count em – four – are all tied for first.  Mas Gasolina at 48-40-2 and Emperor of Ice Cream, Dr. Dirkenstein, and GottaBasketballJones all with 49-41-0 record.  It's so even!  And 12th/last place is only 11.5 out of first.  We'll break up this logjam this week, but I don't think I've ever seen a 4-way tie for first this late in a H2H season…
Kap vs. Razzball – Drew Holiday, still the RCL villain, won 6-3 and maintains a big lead over the Kappers.  C'mon guys!  At 60-29-1, Drew is 4th in the overall standings but is losing 6-2 to OldNavy 8 through one day this week!  C'mon Old Navy, let's get that 9-0 win!
Razzball Snipers – Upset alert!  The Akron Lebrons were 2nd in the RCL standings last week, but after losing 3-6 fell all the way down to 5th with 120 RCL points and a 60-30 record.  That big matchup against #2 Hannover Hotspurs went to Hannover in a hard-fought week with almost all categories close.  What RCL is all about!  Hannover cuts the gap to only 4 games as they try to catch up to that #1 seed.
Jedball – micoolj79's Team crushing with a 8-1 win, vaulting them right back into that #2 spot in the RCL standings.  Been a little bumpy lately, but mico is rico!  Is that Spanish for rich?  I have no idea…  They'll have to stay hot against #3 Uncle Drew to keep pace with Pops's Team.  I'm cheerin' for ya man!
Latecomers! – The immaculate victory!  Brixton Guns shootin' on all cylinders winning 9-0 over last place SmokinTreesStrokin3s.  Beating up the dead team!  Fantasy necrophilia?  Anyway, Brixton moves to 55-33-2 good for 10th on the RCL leaderboard and 3.5 games ahead of the Latecomers.
Thanks again for playing in 14-15 RCLs and good luck to your squads in Week 11!