With the lockout likely to linger well into October and perhaps into November, trying to preview the season of 30 teams that might not actually have one seems about as worthwhile as raking leaves on a windy day. But I love raking and the wind only makes it last longer. We here at Razzball have you covered, even if you didn't want to be covered. That's love. You'll appreciate it when you're older. Look at it this way, the only way any of this stuff can be disproven is if the season starts. So go ahead, NBA, make me a fibber! I dare you. Until then, consider this fantasy basketball gospel. Don't even bother reading anything else – dem's all lies. From now until the start of the season, we're bringing you the 2011 Fantasy Team Previews, which will focus on each team in order to paint a clearer fantasy picture. Who's starting? Who might surprise you? And who might make you want to hurl yourself off a bridge in a few months. Enjoy! Next up – The Indiana Pacers (First Peyton Manning goes down and now you have to read about THIS team? My bad, Indy. My bad.)

Gained – George Hill
Lost – T.J. Ford (if you count that as a loss), Brandon Rush (probable), Josh McRoberts / Solomon Jones (one is likely to leave)
Probable position depth –
PG – Darren Collison, George Hill, Lance Stephenson, A.J. Price
SG – Paul George, Mike Dunleavy
SF – Danny Granger, Dahntay Jones, James Posey
PF – Tyler Hansbrough, Josh McRoberts
C –   Roy Hibbert, Jeff Foster, Solomon Jones
Surprising Team Fact From Last Season – The Pacers drew the fewest number of fans with 555,077. That's an average of 15,548 fans per game, or 1,743 fewer fans per game than the NBA average and 6,244 fewer fans per game than league-leading Chicago Bull.

Number of Top 20 Fantasy Players   (par 0-1) – 1, Granger
Number of Top 50 Fantasy Players   (par 1-2) – 2, Hibbert
Number of Top 75 Fantasy Players    (par 2-3) – 0
Number of Top 100 Fantasy Players (par 3-4) – 4, Collison, Hill
Number of Top 200 Fantasy Players (par 6-7) – 6, Hansbrough, George
3 Concerns Heading Into the Season
1. How much will George Hill muck up the value of DarCo, George and Stephenson?
That's a question with two answers. The first answer is that Hill will muck things up for the Indy guards about as much as he did for the San Antonio guards – not at all. The second answer is there's far less to muck up with Collison, George and Stephenson than Parker and Ginobili. I like Hill on this team. His role should be similar to San Antonio's, but more fruitful given the players for whom he's coming off the bench. I'm less convinced of Hill's potential coming into this season than I was a year ago, and having a hyper-intelligent Spurs franchise send him packing doesn't do anything to dispel that feeling, but the minutes will be there in Indiana. He's averaged 28.6 mpg in his last two seasons. He'll average at least 30 on this Pacers team.

2. Jeff Foster looks like Freddie Mercury, right?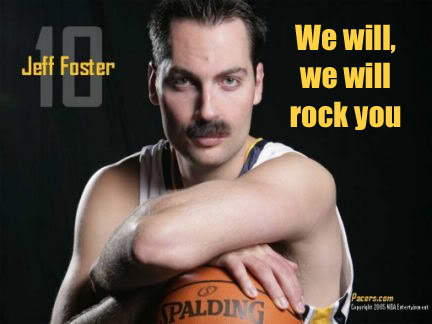 Right. And considering he's been on the Pacers in all 12 of his professional seasons. Did they just forget he was there, or what?
3. Sell me on Paul George.
Larry Bird called George "one of the five best young guys I've been around in all my years in the game." In other news, Larry Bird may be suffering from long-term memory loss. And also maybe short-term memory loss (depending on the term). And also, I've done a bad job selling Paul George.
Fantasy Disappointment in '11 –  Tyler Hansbrough. People went psycho over T (see what I did there?) toward February's end and throughout March of last season. He was averaging 30 mpg, 17/7/1 and ceased having dizzy spells. That's a huge post-trade deadline pickup. The problem is, it was only a 20-game span over the course of his two-year career. Current rumors that the Pacers are interested in David West (or, at the very least, some other big name PF) doesn't make me feel great about how the Pacers feel about Hansbrough. He'll get his shot at starting and averaging 30+ mpg, but I'm not reaching on him.
Biggest Fantasy Contributor in '11 – Danny Granger. This is a soft buy, which I imagine is like paying for something in dollar bills that were run through the washing machine a few dozen times. Them dollars are like silk, bro. If Hibbert hits the top floor of his game this year and proves more valuable than Granger, I wouldn't be shocked. If Solomon Jones does it, I'll be shocked.
Deep Sleeper– Lance Stephenson. George is your deep sleeper, Stephenson is mine. Potato-potahto. tomato-tomahto. Stephenson-Steppin, son! On the Indy guard depth chart, I'm putting Collison first, followed by Hill, George, Stephenson, Dunleavy, Price. In keeping with the "Larry Bird Says" theme, the Pacers' GM said Stephenson "is [the Pacers'] best player." So just to recap: Bird has one of the five best young guys in basketball and he doesn't consider that guy his best player. Nor does he consider the team's best player Danny Granger, Roy Hibbert or Dahntay Jones. Screw it, might as well draft Stephenson in the second round!