I was fortunate enough to be invited to Earth's most classy and famous expert league – the FakeTeams Hoops Tournament.  The league has 14 teams consisting of three FakeTeamers (the hosts of this shindig), two guys from ESPN, one from Canada's The Basketball Jones, one rep from Give Me the Rock, one from Fox Sports, one from Dime Magazine and fbasketballblog, RotoWorld, Damn Lies and Statistics, Life is Just a Fantasy … Basketball Blog and a partridge in a pear tree (I'm either the partridge or the tree, I'm not sure). You may recognize most of those stellar publications from their permanent presence on the right blogroll, or their ethereal presence everywhere else.
The format is a 14 team, 9 category, H2H, snake draft with the following roster format:  PG/SG/SF/PF/C/G/F/3 UTIL/3 BENCH
I happened to have scheduled another draft 30 minutes before this one, so at one point, I felt like a fancy Wall St. trader scanning from one monitor to another, only I was wearing frog pajamas, which I'm assuming most Wall Street traders don't do.
Everyone's strategy is to draft as good of a team as possible. Usually, that manifests in picking three players with similar skill sets in the first five rounds and deciding that THAT is their team's identity. Me? I wanted a balanced team. From round to round, I wanted the players that filled the most stats cats that I had neglected the round or two before it.
Overall, I think ol' Razzball has a shot at this thing.  I got one of the most well-rounded point guards in the game (Evans), the number one pick in the draft (Durant) added to a lock for FT% with Martin and the Bumpus Hounds (West and Hibbert) as my deadeye bigs. We also have a few exciting upside guys like Hickson, Hill, Anderson, Udoh and Shumpshump mixed in with glue guys like Odom and Jamison. Running the team's rosters against my projections, no one's catching this team in PTS and FT% and I finish top 3 in 3PT, AST (almost everyone on this team tosses out assists) and TOV.  This team might be in trouble with BLKs and FG% (which is lucky, because those two categories are often connected). The draft is the first step and I avoided tripping and cracking a tooth on the pavement, so that's nice.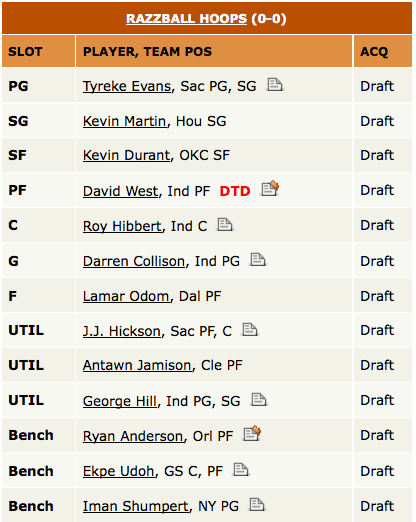 David Pincus over at FakeTeams, our league commissioner, did a nice write-up on the draft, which you can read here if you're into it. He's also compiling every owner's thoughts on how they drafted. Check that out over the next week. I mostly babble about going completely neurotic alone in a room lit only with the twinkle of Christmas tree lights. Pulitzer, here I come!
Anyway, let me know what you think of the team …