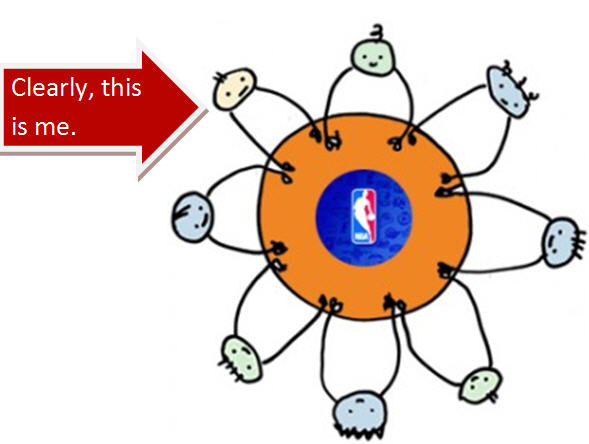 Sometimes it's good to put a cork in your own thoughts and sip on someone else's for a while. Razzball was invited to take part in a weekly roundtable discussion with a panel of other fantasy basketball writers from yonder blogosphere.
Nels over at Give Me The Rock was charged with this week's question, this time focusing on Stephen Curry. My response is below, click here for the full panel's responses.
Q: What do you think of Stephen Curry going at an average of 7.9 in Yahoo drafts? That's above Danny Granger, Deron Williams, Dwight Howard, Pau Gasol, Amar'e Stoudemire, and David Lee … What do you think of Curry's prospects compared to those other potential first round picks?
A: I'm in a league where we draft according to how hypnotizing a player's eyes are. In that league, Curry's 7.9 ADP actually seems a tad low. In other, less homoerotic leagues, grabbing Curry anywhere between picks five and 14 seems rational. The top tier of picks should always go to the largest talent and the safest play. Save the upside for later. But this year, there's a surprising dearth of safe top-tier picks and Curry's upside is too compelling (… As are his eyes! Sorry. I'll calm down). Yeah he's being picked above guys like Granger and Amar'e, but one's got a ton of health concerns heaped on him and the other plays for the Knicks! I've seen Curry picked over Kobe (knee/finger?) and 'Melo (effort?) and Pau (Bynum?) and Wade (LeBron?) and I can't really blame the thought process behind any of them. I don't think he'll improve on his stats from last year, nor do I believe he'll dip far below them. Whatever Curry loses from playing in an organized Warrior offense instead of the bonkers pop-a-shot program Don Nelson installed, he'll make up in natural development and defensive/efficiency stats. Despite Curry only being a sophomore, he's as good of a bet as anyone after Durant and LeBron. Honestly, the first tier hasn't been this wide open since fantasy owners wrestled endlessly with having to choose between Nate Thurmond and Billy Cunningham with the fifth pick back in '69! Remember that!? Of course you do. Why wouldn't you? I wouldn't go for Curry until sometime after the 10th pick, but I understand why others would.