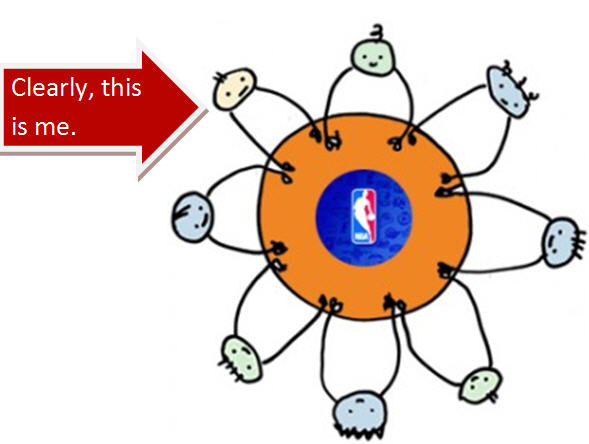 It's easy to get lost in one's own thoughts writing an unending stream of fantasy basketball foofaraw. Just yesterday I wrote a letter to EA Sports requesting they program Eva Longoria and Khloe Kardashian into the new NBA Jam Wii cheat codes so I can settle a bet with my buddy who would make the best player among all the NBA wives and girlfriends. "Khloe's got the height and the box-out hips." "No way! Eva would just run past her for the teardrop!" Dude, I'm pretty sure Sheldon Williams' wife would cream both of them. Keep out of it, third voice! Okay, I fibbed. 'My buddy' was also me … as was 'third voice.'
Anyway, sometimes it's good to put a cork in your own thoughts and sip on someone else's for a while. Razzball was invited to take part in a weekly roundtable discussion with a panel of other fantasy basketball writers from yonder blogosphere.
Ryan over at Lester's Legends got the ball rolling with a question about LeBron James. My response is below, click here for the full post.
Q: How will LeBron's taking his talents to South Beach affect his fantasy production?
A: A successful masseuse – above all else – should relax and comfort the client. Knock the knots out of their neck. Massage the Charley horses from wherever one gets Charley horses. In the end it's about de-stressing. Attaining this lack of stress is usually a great thing … unless the client becomes so relaxed that they tear open a fart forceful enough to skip the exotic waterfalls CD playing quietly in the background. We're all human. Chill farting is a part of nature, but it shouldn't be a COMMON part of nature. These tranquilized toots are proof that too much relaxation can be problematic.
Miami is LeBron's masseuse.  And while his change to South Beach is great for the Florida economy, club promoters, and Dwyane Wade's nine empty ring fingers, it's not great for the stats of the best player in the league.
Don't misunderstand me; there are enough stats to go around on this team. On nights where Wade takes the wheel or Bosh or whomever, it's more than possible LeBron will happily fill in the non-scoring parts of the stat sheet. That's what makes him dangerous – he can do it. But realistically, this Heat team could blow out half the league this season and LeBron could watch those fourth quarters from the bench. The Cavs won 18 games last season by 15+ points, and this Heat team is better than that Cavs team. And although James averaged over 35 mpg in those 18 blowouts, Cleveland didn't have two of the 10 best players in the league standing alongside him (according to everyone except Mo Williams). Then there's the end of the season after a playoff spot is wrapped up. Will LeBron sit another four straight games? Or six? Or eight?
When he's on the floor, he'll be the best fantasy option possible. Easily. The problem is that with the army he's got around him, he won't need to be on the floor 36+ minutes per game. He'll play relaxed, he'll play breezy, but come fantasy playoff time or an easy string in Miami's schedule, that relaxation could turn to gas in owners' faces a few too many times.