I almost titles this entry, "Even Burt Reynolds Can't Touch Ronny Anderson," but I decided against it because I'm pretty sure Burt Reynolds, could, in fact, touch Ron Anderson. Anderson was selected third overall in this year's draft, mainly as an insurance policy against either Danny Manning or Benoit Benjamin going el-busto. And not the good kind of el busto, like the adult dance parlor filled with top-heavy talent in Sante Fe I went to on a winter bender back in '83. It's a tough thing for a franchise to understand how unlucky it is to burn a third draft-pick in order just not to mess up. Turns out, Smith is playing like a third overall pick should. He scored a career-high 34 points for Philadelphia, giving him 62 in his last two games. Benjamin has only averaged 4.5/5 in his last two (18/11 in the previous eight, to be fair). For now, I'd grab Smith for the same reason the Clips dis: insurance. I'd also ask the question why can't you be more like Ron, Benoit? By the way, "Why Can't You Be More Like Ron, Benoit?" is the title of a new play I'm writing about two brothers who both suspect the other was adopted.
Anyway, here's who else did some basketballin' last night.
Vern Fleming – Indy won it's first professional basketball game of the season last night on Vern's 20/3/10. Maybe if Vern had stopped listening to Ernest all this time, they'd have more than just one W on the board. Sorry about that last joke. No dessert for me tonight.
Scott Skiles – He had eight assists in 17 minutes last night. He's averaging 9 assists per 36 minutes this season from the bench. That, mon amis, is a clear cut case of trade me-nengitis.
Jeff Grayer – Debuted and scored 13 points in said debut. He's been out since training camp with chicken pox. He's been telling everyone he's been out because of the five guys who shanked him from the shadows though.
Shelton Jones – Golden State popped its Jerome Whitehead from the roster to make room for Jones. That concluded the last time you'll hear about either player on a fantasy basketball post.
Kareem Abdul-Jabbar – 12/6/3, played his final game at MSG. Looked like he was playing his final game before losing all feeling in his extremities.
Isiah Thomas – 6/3/8, with a steal. Shot 2-for-10 in 35 minutes. Combined with Adrian Dantley to go 3-for-18 and they still beat Charlotte by six. This is a not a comment on Thomas or Dantley. This is a comment on the Charlotte Hornets.
Kurt Rambis – 16/14/1, with 4 stl. Okay. Yeah, but can he play the piccolo? Get outta here? Really? Well, um … can he whistle?
Danny Schayes – 5/5/3, with four fouls in 11 min. Foul trouble + Nets = wasted fantasy day.
Terry Cummings – Shot 9-for-23, ended with 19 points. He celebrated by quietly getting dressed in the locker room and going out for a nice dinner at a quaint Italian bistro near his home.
Johnny Newman – 22/4/0, with his 16th and 17th three-pointers. The league's in trouble if he makes a habit of contributing in any way other than scoring. Like a dolphin developing opposable thumbs.
Bill Cartwright – He averaged 11/5 last year with the Knicks. He's averaging 14/6 in his first 10 games as a Bull. Call it the Air Pressure.
Vinny Del Negro – He shot 7-for-8 in 24 minutes and finished with a 15/3/7 line, with three steals. Nine games into his career, he hit all career-highs in everything. He's available in almost every fantasy league roster. I would not have put those two sentences together if I didn't mean for them to share a connection with one another.
Kevin Duckworth – And now let's play, "Take a chill pill. Kevin Duckworth is going to be okay." After averaging 11/7 all last week, he ended with a 27/11 line. So, take a chill pill. Kevin Duckworth is going to be okay. Until next time, this was "Take a chill pill. Kevin Duckworth is going to be okay."
Olden Polynice – Five fouls limited him to 21 minutes. He did have 12 points and seven rebounds, but that's like complimenting the frame of a painting you don't like.
John Lucas – Why is he starting? 'Kay thanks.
L I N E   O F   T H E   N I G H T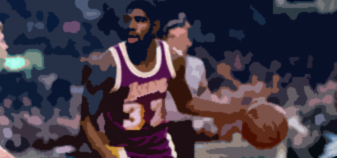 .500 / 1.000 / 0 3ptm / 25 pts / 12 rbd / 13 ast / 6 stl / 0 blk / 5 tov
Magic Johnson – First triple-double of his season. That's why you drafted him. Enjoy it. Lie in it. Roll around in it like a pig in slop.