The Clippers' "other" top draft pick, Charles Smith,  is averaging 18.1 pts/6.1 rbd for the maligned squad in his first three weeks. He's started every game so far, which is nice. But he's also committed either four or five fouls in every game so far, which has limited his production. That's less than nice. He's also going to need a nickname. Charles Smith ain't gonna cut it. He's not even the second most famous Charles in the league and "Smith' doesn't make him any more memorable. Rearrange the letters in his name and you get Hatch Rimless, which I grow increasingly partial to the more often I repeat it. Anyway, Rimless went 23/7 Saturday night, which shows just a fraction of his potential. He turned the ball over six times and fouled five times, which shows the reality of the situation. Give this rookie time, then give him a dang chill pill.
Here are a few more rookies to ponder and a many more who aren't.
Danny Manning – 20/11/2 in team-high 38 minutes. Maybe the Clippers' cursed history is set to turn around, with Hatch Rimless and Manning on board, but little is going to change until they bring Manning into the starting rotation. He's getting swallowed up on many plays once the defense realizes he's the only good player in secondary rotations. If you had to bet on the bigger name a decade from now, you going with Manning or Benoit Benjamin?
Ralph Sampson – Remember last year, when everyone freaked out about the Rockets throwing away Sampson for "Sleepy" Floyd and Joe Barry Carroll? Well, Sampson hasn't scored 15 points or grabbed double-digit rebounds once in the first three weeks of the season.He's only shot better than .445 from the floor once. Ralph's back still ain't right. Ralph ain't never going to be well again. Trade Ralph to someone holding out faith, if you can. Now if you'll excuse me, I'm gonna go ralph all over the back alleyway.
Joe Barry Carroll – Oh, I love a natural segue! Joe Barely Cares' doctor announced that he's got a torn ligament in his left wrist. The Nets' center was injured Tuesday after a fall against the Hornets. He'll miss at least two games, probably more.
Spud Webb – Started in place of the injured Doc Rivers. He pretty much covered Doc's offensive output, dishing out seven assists and only missing two shots. (Note: he only took two shots).
Jack Sikma – Exactly four assists in each of his first six games this season. He's fun.
Paul Pressey – Pressey earned his first dub-dub of the season (12 pts/ 12 ast) and is nearly averaging his career high in points (16.1) and I'm told he doesn't seem as selfish as I was told he seemed last season. I'm just going by what I've been told. I can't be sure either way, as I've never actually seen this guy play. That would entail watching a Milwaukee Bucks game. No one enjoys basketball enough to do that.
Akeem Olajuwon – Played 39 foul-plagued minutes that eventually ended with the Dream fouling out. Before he went, he had a 34 pts / 12 rbd / 4 stl / 6 blk line. More importantly, the Rockets handed the Pistons its first loss of the season. What's that? … I'm sorry, I've just been informed that Detroit's defeat is, in no way, more important than Olajuwon's final line. Olajuwon's six blocks (good) + six fouls (bad) = 6 blocks (still good). How does that work out? Dunno. This is why I hate math.
Ron Anderson – Averaging 21 points in his last five, starting. Well worth an add. Not starting, but shaping up to be this team's sixth man. Suffers from Charles Smith's name recognition issues.
Rod Strickland – 14/6/8 in just 20 minutes from the bench. Her's a hanky, wipe off your drool. New York was playing in a blowout against the worst-defensive team in the East. Let's see him do it against the Pistons.
Rik Smits – The number two overall pick in this year's draft has only scored more than 11 points once in nine games and has yet to crack double-digit rebounds. So when you wonder why the Pacers haven't won a game yet, I've got your square one right here.
Ed Pinckney – Scored 26 points, the second-highest total in his four-year career. In his previous seven games, he'd averaged 7 ppg. Going to E-Z Ed for fantasy production is like going to Ted Turner's new TNT channel for basketball games – there's none to be had.
Mugsy Bogues – 4/3/11. I'd pay upwards of $250 to see Mugsy rest on Spud Webb's shoulders and play 1-on-1 with Manute Bol.
Scottie Pippen – Friday's game marked the return of Chicago's sophomore swing guard, who had an operation for a herniated disk last July. None of the newspaper reports I read explained why in the world he'd want an operation giving him a herniated disk. He scored 15 points in his debut. That's about his ceiling.
John Stockton – Twenty-one assists, the highest single-game total of the season so far. Amazingly, this wasn't even one of Stockton's five highest assist totals in the last four seasons. It was his seventh-highest.
Jeff Malone – The other other Malone put the Bullets on his back, scoring 36 points. His back was big enough to fit the whole team on, so D.C. somehow beat Boston. You read that right.
Reggie Lewis – Last week I suggested a run on Lewis. The week before that, I suggested a run on Brian Shaw. Saturday night, they combined for 8/2/5 on 2-for-7 shooting. So that happened.
L I N E   O F   T H E   N I G H T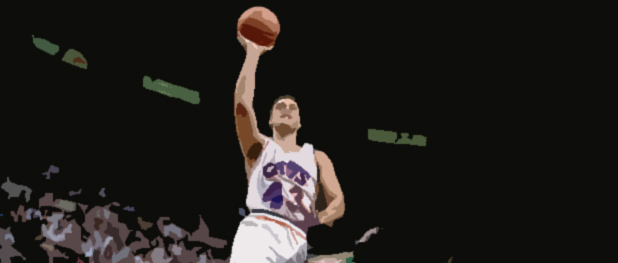 43 min., .818 / .814 / 0 3ptm / 31 pts / 15 rd / 2 ast / 0 stl / 0 blk / 5 tov
Brad Daugherty –  Yeah, I know Akeem had the better night, but who do you expect to see with the Line of the Night more often: Olajuwon or Big Dukie? Hooch had perhaps the best game of his brief career. He's scored more than 31 points four other times and grabbed more than 15 rebounds thrice before, but never in the same game and never after sinking more than .815 with at least 10 shots. He had 33/12/8 once on February 18, 1987, which I've always thought of as his best game … y'know, 'cause I'm always thinking about Daughtery's all-time best games a little over two years into his career. April 14 from last season was also a good one. Prove me wrong.